Greentree Naturals hosting organic gardening workshops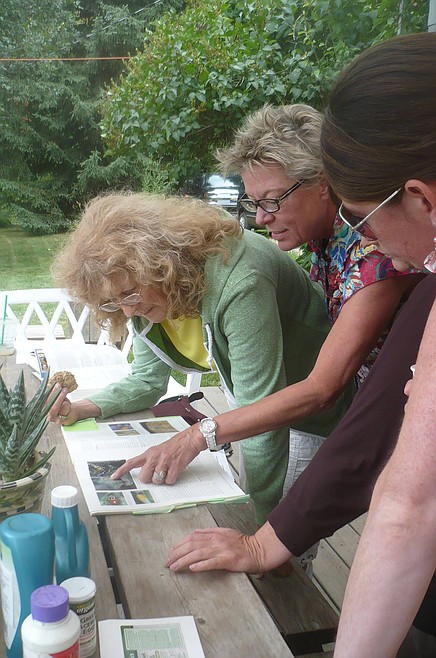 Greentree Naturals organic gardening workshops are back. The seven workshops are designed as a hands-on basic introduction to the principles of successful organic gardening.
(Courtesy photo)
Greentree Naturals organic gardening workshops are back.
"If you are already gardening, or thinking about starting a garden, it makes sense to do it organically, without the use of synthetic fertilizers, toxic pesticides and herbicides," Diane Green of Greentree Naturals said in announcing the workshops' return after a two-year pause due to the COVID-19 pandemic. "Organic gardening is all about growing food in a sustainable, environmentally sound, and nutritionally dense manner."
Growing food organically not only maximizes the health benefits of raising and eating home-grown food, it also enriches your garden soil, Green said.
However, it's easy to get overwhelmed by the vast quantities of gardening information that are available. To help, the farm offers a comprehensive set of organic gardening workshops for both beginners and for experienced gardeners to cultivate their skills throughout.
These workshops are designed as a hands-on basic introduction to the principles of successful organic gardening, Green said.
"We strive to provide you with the information and experience to grow a successful North Idaho garden," said Green, who has been teaching the on-farm workshops since 1996 and is a certified farmer mentor/instructor for University of Idaho Cultivating Success Small Farms program
Workshops are scheduled on Saturdays from 10 a.m. to 12:30 p.m. and are designed to coincide with what is happening in the gardens. Sessions will cover all aspects of organic production and management practices that restore, maintain and enhance ecological harmony in a rural farm and garden setting. Class size limited and is kept small to ensure individual attention and to meet COVID safe distancing protocols. Fees include materials and supplies needed.
Those interested can pick and choose a workshop, or pre-pay and sign up for the entire seven-workshop series. Individual workshops are $35 per person, while the full series is $245 (a 7% discount). These workshops take place outside on a covered deck overlooking our gardens with a portion of each session spent in the field, rain or shine. Please be prepared for inclement weather. Participants must register in advance for workshops. 
Workshops include:
April 23 - Seed starting
This workshop is for gardeners who want to start their own seedlings at home or in a greenhouse to be used as transplants in the spring. You will learn about equipment, containers for indoor seed starting, soil and seed starting mixes, grow lights and more. The workshop will be held inside the greenhouse.
May 7 - Planning your organic garden
It is important to think through your garden project before you buy seeds or transplants. What should you plant? How much should you plant? And where?
May 21 - Fertilizing organically
Fertile soil is the first step in increasing yields. When it comes to adding nutrients, there are many organic options.
June 11 - Natural weed control
On any organic garden or farm, particularly newly cultivated ground, weed control will likely command a major part of the gardeners' time. The workshop will look at using different types of organic mulches and weed prevention strategies used to control unwanted plants.
June 25 - Natural pest control
The workshop offers tips on how to find out what's "bugging" your garden and what you can do about pests using informed decisions and sustainable approaches for pest control.
July 16 - Harvesting the bounty
Learn how to harvest all of the veggies in your garden and techniques for getting optimal yields for vegetables, herbs, cut flowers along with best practices for post-harvest handling.
July 30 - Seed saving
Start saving your own vegetable, herb and flower seeds and save money, adapt plants to your garden's conditions and have seed to share with friends and family.
Information: Diane Green, diane@greentreenaturals.com or 208-263-8957
Recent Headlines
---