Easter egg hunts, parades planned in community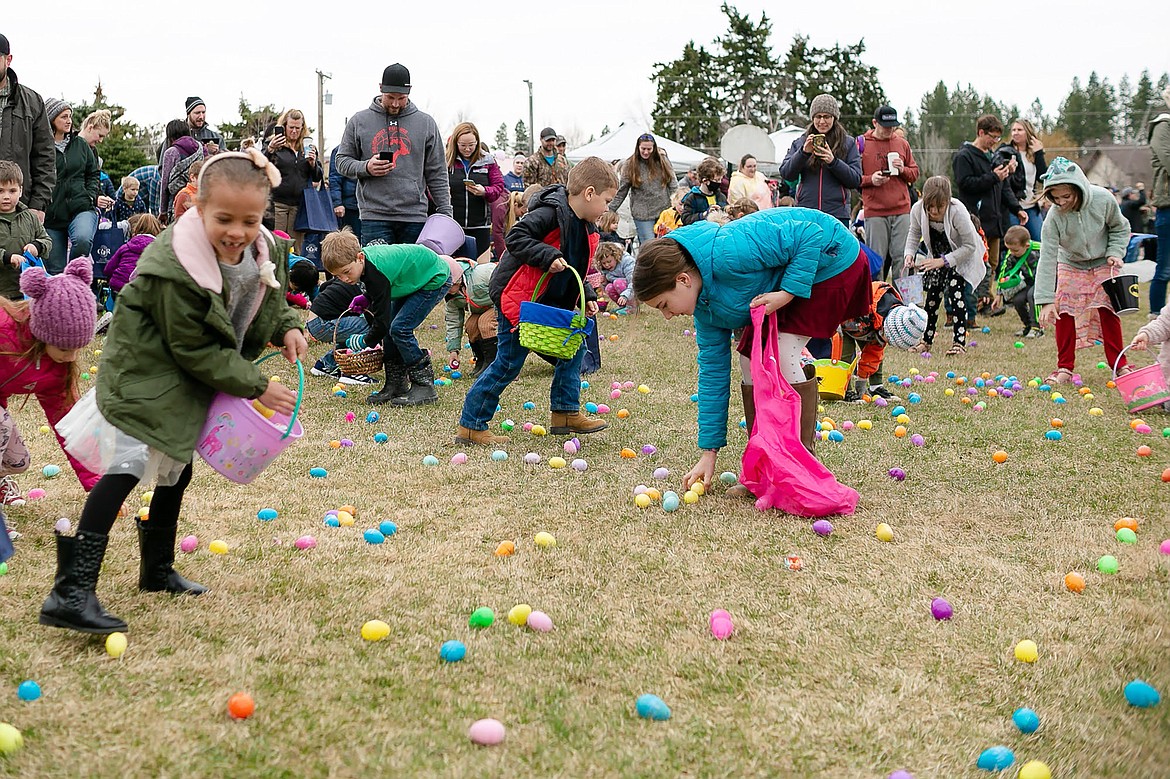 Youngsters race to grab candy-filled Easter eggs at last year's 10,000 Egg-stravaganza. This year's hunt will take place on Sunday, April 10, at Christ Our Redeemer Church, 1900 Pine St., Sandpoint.
(Photo courtesy CHRIST OUR REDEEMER LUTHERAN CHURCH)
by
BEAUX WHITE EAGLE
Staff Writer
|
April 7, 2022 1:00 AM
It's time to get excited about Easter and a number of local festivities are planned in the Sandpoint and Ponderay areas.
Christ our Redeemer Lutheran Church is hosting its annual 10K Egg-stravagnza Sunday, April 10. The hunt begins at 11 a.m. sharp and will be held at the church located at 1900 Pine St.
Children between toddler age and 12 years old are welcome to participate in the egg hunt. This event and complimentary refreshments will be available for everyone. Find more information on corsandpoint.org.
The Sandpoint Lion Clubs with hold the annual Easter egg hunt on Saturday, April 16, starting at 9 a.m. sharp at Lakeview Park. The event is for children 3 years and older can participate.
Hot coffee will be provided by Starbucks, and Kaniksu Dental Health will be handing out toothbrushes. In addition, there will be a bike giveaway for each age group.
More information can be find on the Sandpoint Lion Clubs Facebook page or website.
Cedar Hills will be throwing an "Easter Jam" on Saturday, April 16, from 4-5 p.m. at the church. The community is invited to join the congregation at 227 McGhee Road for worship, games and, of course, an Easter egg hunt. More information can be found on the Cedar Hills Church Sandpoint Facebook page and by searching "Easter Jam" on Eventbrite.com
The Assembly of God Church in Sandpoint will be holding an Easter egg hunt on Sunday, April 17. The hunt will be held from 11 a.m. to 12 p.m. at Great Northern Park.
Last, but not least, the city of Ponderay will be having a parade starting at 9:35 a.m. on the corner of Fifth and Birch. The city's Easter egg hunt will follow at 10 a.m. in Triangle Park.
Find more information on the city's website at cityofponderay.org.
Recent Headlines
---