Big plans on tap for Arbor Day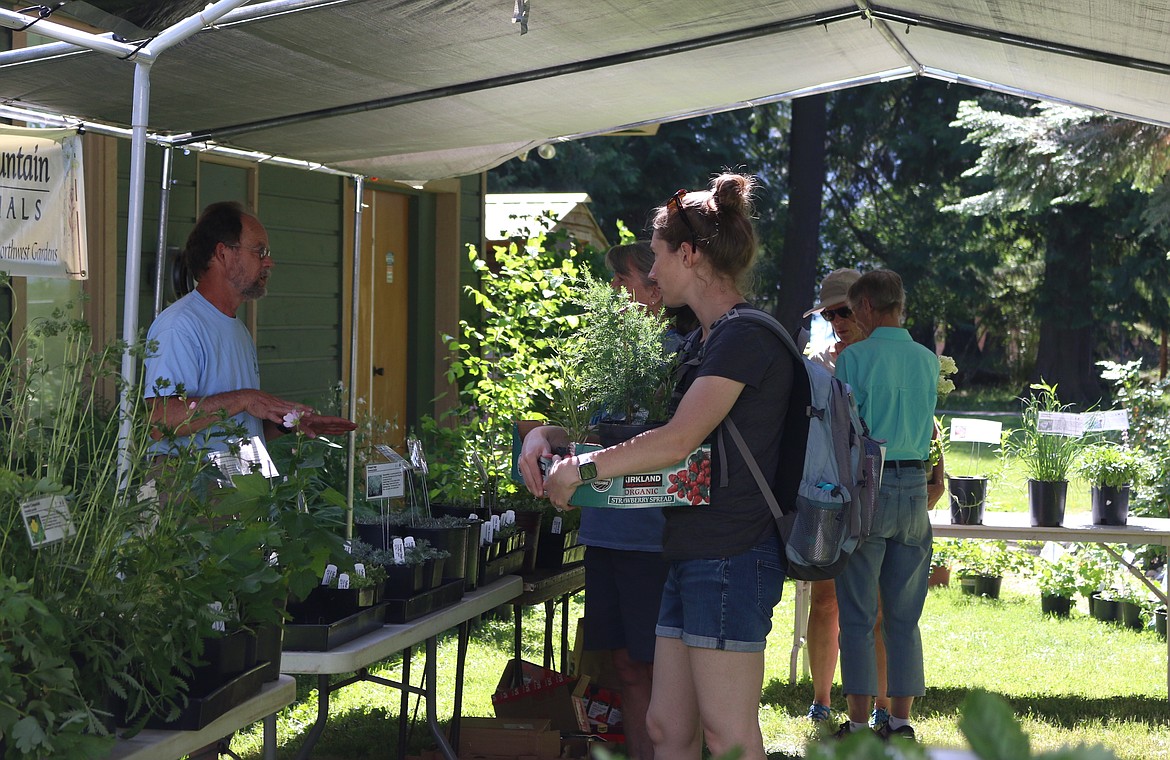 (Photo by MARY MALONE) Bob Wilson, left, from Cedar Mountain Perennials, talks with some shoppers during the Kinnikinnick Native Plant Society's Arboretum celebration and native plant sale on Saturday.
SANDPOINT – The city's Tree Committee is planning a bigger Arbor Day celebration this year.
The committee is aiming for "a much much bigger event than Sandpoint has ever seen for Arbor Day," Bob Wilson, Urban Tree Committee president, said..
Wilson credited Maeve Nevins-Lavtar, the city's parks planning and development manager, for her "take the bull by the horns" approach and bringing "a lot of enthusiasm and creativity" to the planning of this year's event.
To kick off the celebration, there will be the traditional tree planting, paid for by a $300 grant from Idaho Nursery and Landscape Association, at Lakeview Park. Following, there will be a reading by tree committee members of the proclamation and an official ceremony for the park's newest addition.
Organizations like the Bonner County Historical Society, Idaho Department of Forestry and many others have partnered with the committee to put on workshops, every hour throughout the event hosting up to 18 people. Among the activities will be a design and landscape workshop that has been organized by landscape architect Karen Olsen.
"So that's pretty unique and something different" said Nevins-Lavtar
The committee has also planned a scavenger hunt that will have participants following a map to participate in and collect a sticker from specific workshops. At the end of the scavenger hunt, those who have not only collected the sticker but also learned to be a good steward, will be rewarded with a free seedling.
The committee has done a number of things over the years to preserve, what Wilson calls "not just a town of streets, buildings and powerlines[ but] living [and] thriving community." The group's activities range from planting 800 trees in the city right of way to local artist and committee member Gayle Lister together an annual display for the library.
Sandpoint has met criteria over the years, including having a tree committee and celebrating Arbor Day, earning the city membership, in Tree City USA.
"[It's something a lot of people value," Wilson said.
This year's celebration will mark the 150 anniversary of Arbor Day in the U.S.
While Arbor Day is April 30, the city's celebration will be Sunday, May 7, from 10 a.m.-2 p.m. in Lakeview Park.
Recent Headlines
---