Carousel of Smiles hops to help Sir Hops-a-Lot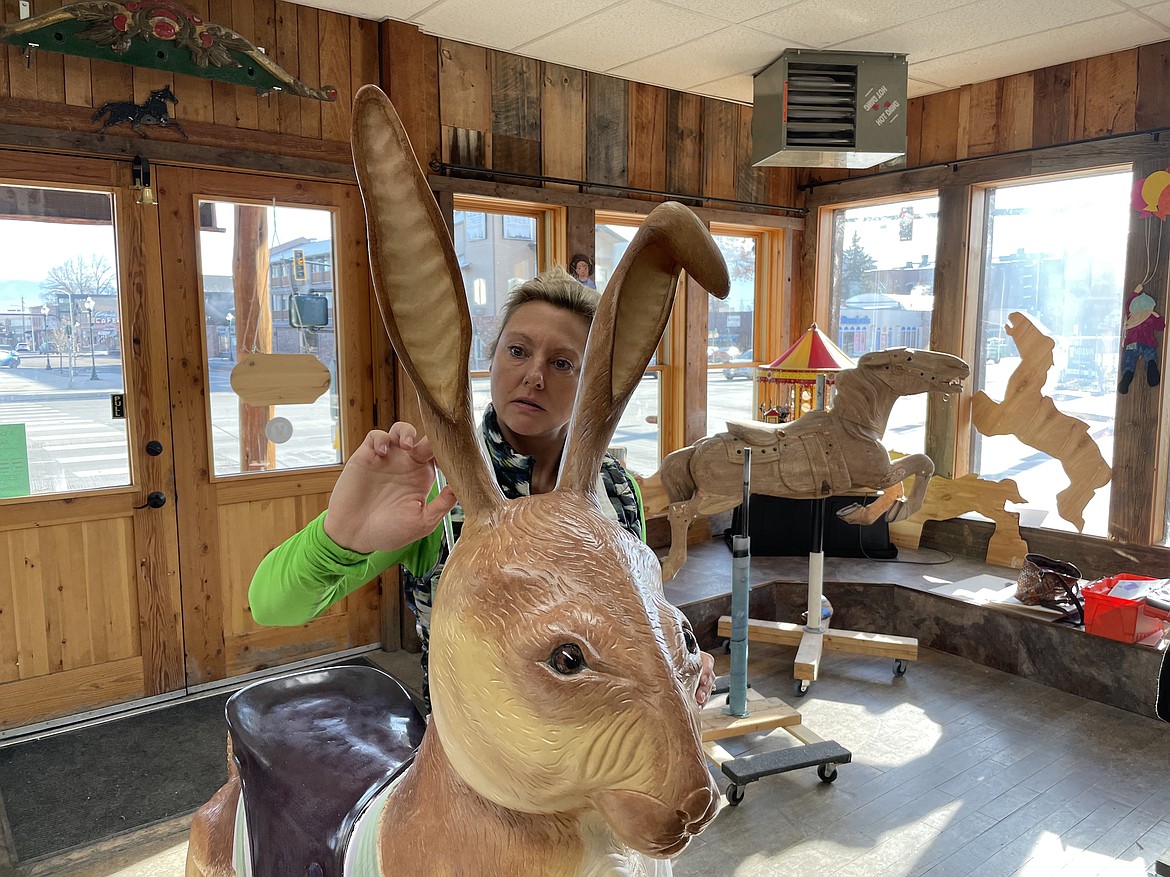 A member of the Carousel of Smiles paint team concentrates as she adds a detail to Sir Hops-a-Lot, an Easter rabbit that recently visited the Sandpoint carousel studio. The Sandpoint team pitched in to help paint the rabbit for the Kennewick carousel after its original painter, Sue Baldwin suffered a health emergency and worried she wouldn't be able to complete it in time.
(Photo courtesy CLAY and RENO HUTCHISON)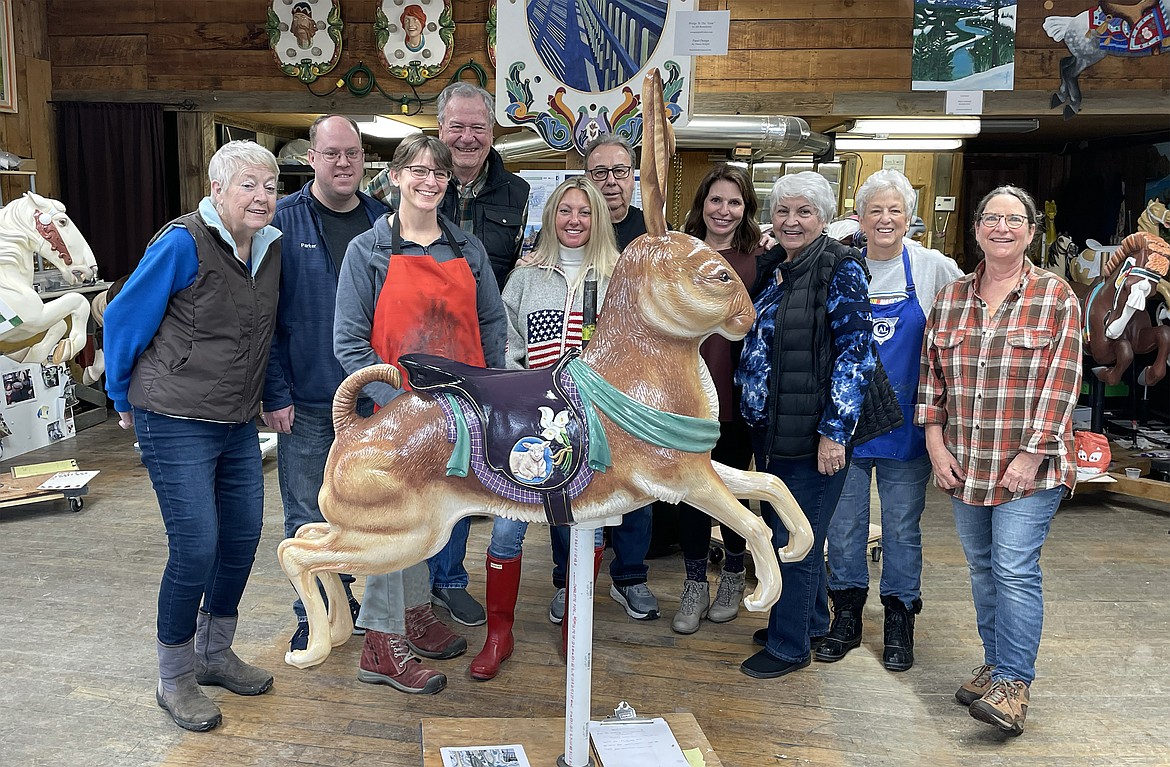 Members of the Sandpoint Carousel of Smiles painting team pose with Sir Hops-a-Lot after painting was completed and before he headed off to his permanent home with the GESA Carousel of Dreams in Kennewick, Washington.
Previous
Next
by
CAROLINE LOBSINGER
Staff Writer
|
April 13, 2022 1:00 AM
SANDPOINT — For a short period of time, an Easter rabbit made his home among the ponies at the Carousel of Smiles in Sandpoint.
The rabbit — known as Sir Hops-a-Lot — made the visit to Sandpoint when his original painter Sue Baldwin of Republic, Washington, suffered a health emergency. Baldwin reached out to the Sandpoint carousel's Reno Hutchinson to ask if the local paint team could help out. It took only seconds for Hutchinson to say yes.
While it was a little scary at first, Hutchinson said they were honored to be asked to help out. Hutchinson was determined to be true to the vision of Baldwin and carver Mike Thornton.
"My very first reaction was honor, to be honest," Hutchinson said. "Honor that she felt that we were capable of taking on her project. It just just made my heart feel so full and so pleased to be a part of that project."
Baldwin brought the rabbit to Sandpoint in November. Hutchinson and the paint team were given a rundown of what color palette was planned, and what she imagined Sir Hops-a-Lot would be like.
"Then she just kind of stepped back, looked at it from the door and said, 'I know you guys are going to do a perfect job' and left it in our care," Hutchinson said.
When the paint team came in, there was an initial moment of surprise that there was a rabbit peeking out among the several dozen carousel horses in various stages of restoration. But there was also excitement, Hutchinson said.
"So when they first came in and saw the rabbit, they were like, 'Oh, there's an interloper in the studio and he looks so out of place among all the ponies,'" she said. "But they, too, have such respect for Sue and what she's helped us to learn. I think they had that same level of feeling of, 'You know, wow, she's entrusting us to take on this project.'"
They immediately jumped in and wanted to get to work to make Sir Hops-a-Lot come to life, in order to make Thornton, Baldwin and the Kennewick carousel team proud, Hutchinson said.
The rabbit made his arrival at the Sandpoint studio in early November and the team got to work. The team made sure to match the vision outlined by the Kennewick team — and they were determined to do a good job.
Application of the various coats of paint took time, Hutchinson said. Each time a different color of paint is added, it needs to dry before the next color can be applied — especially when different colors are next to each other — such as when the blanket under the saddle is carefully painted to resemble a plaid or texture is added to the ribbon.
"The shading, I think, just turned out phenomenal," Hutchinson said. "And the shading on the ribbon, too, it just makes it come to life. It's very three dimensional."
When Mike and the rest of the Kennewick team came in early April to pick up Sir Hops-a-Lot, they arrived earlier than expected, Hutchinson said. She'd planned to stage the scene, with a blanket covering the Easter carousel addition so she could unveil him to the team.
"So I'm standing in front of the rabbit, trying to cover him with my hands, saying 'You can't see him yet,'" Hutchinson said. "When I stepped away from him, Mike looked at it and he just started to cry. 'This is exactly what I imagined.'"
That, Hutchinson said, made the entire Sandpoint paint team beyond proud. According to Hutchinson, being asked to participate in the project means a great deal and is part of the teamwork that you see among carousel groups and organizations.
The Kennewick team, among many others, have helped the Carousel of Smiles effort in many different ways. From leases to organization — to painting tips and more, being able to give back to the Carousel of Dreams team was more than fitting, Clay Hutchinson said.
"It's just keeping the circle of carousels actively working together so that we can someday have a carousel tour and have a map and all that kind of stuff," he said.
Sir Hops-a-Lot will be available to ride at the Kennewick carousel until April 24 — a week after Easter. He will then be stored until next year, the Hutchinsons said.
Information: thecarouselofsmiles.org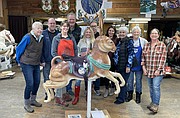 Recent Headlines
---