Howard draws heat for comment
by
HANNAH NEFF & KAYE THORNBRUGH
Hagadone News Network
|
April 19, 2022 1:00 AM
COEUR d'ALENE — Citing the potential for bias, some community members have called on a soon-to-be former North Idaho College trustee to resign from the presidential search committee.
A handful of Kootenai County residents emailed The Press, as well as The Idaho State Board of Education and other entities, demanding that longtime NIC Trustee Ken Howard step down because of comments he made about Interim President Michael Sebaaly.
Howard recently announced that he will resign from the board of trustees effective May 3, alongside Trustee Christie Wood.
The State Board of Education is empowered by statute to appoint trustees to fill the vacant positions with community members who will serve until the next trustee election in November.
"(Sebaaly) needs to be replaced," Howard told The Press on April 8. "Not in November, but now."
He also said then that he hopes the three trustees appointed by the State Board of Education immediately "thank (Sebaaly) and dismiss him from his current role."
Howard said Monday that his comments were not a reflection on Sebaaly's work at NIC.
"The college needs a permanent president as soon as possible, and that's why we are doing a presidential search," he said, reiterating that he believes Sebaaly should be thanked for his service so far.
The presidential search committee includes 27 people from the college community and the community at large.
Howard said Monday that the role of trustees on the search committee is largely ceremonial.
Co-chairs traditionally don't vote on candidates, he said. Nor do they speak for or against any candidates — though he noted Trustee Todd Banducci, the other co-chair, may decide to change that.
Howard said he serves on the search committee at the pleasure of the board of trustees, which can remove him from the committee at any time.
By the time finalists are presented to the board for a vote, Howard will no longer be a trustee. He said he thinks the new board set to be in place May 6 — three days after Howard's resignation — should choose a replacement to serve in his stead.
The emails received by The Press contained several identical sentences, including duplicated typos, as well as formatting that suggested some of the text had been copied and pasted from another document.
Post Falls resident Summer Bushnell wrote that she believed Howard had opened the college to a potential lawsuit from Sebaaly.
"How can an applicant get a fair chance after the statements made by Howard?" she wrote.
Bushnell said Friday that Sebaaly is among the candidates who will be considered for the permanent president position.
However, Sebaaly told The Press Monday morning that he had not yet decided if he'll apply for the position.
Howard, who is an attorney, said he hasn't done anything to put himself or the college at risk of a lawsuit.
"A lot of people talk about lawsuits and they don't know anything about them," he said.
Coeur d'Alene resident Jeri Pleticha also called for Howard's resignation via email on Friday, using several lines that were identical to Bushnell's.
"If someone is clearly biased like Howard, on who should be NIC president, he needs to step down immediately," she said.
Pleticha said she was glad Howard and Wood resigned, saying they "bullied" their fellow trustees and members of the audience who attended meetings.
"I believe the CDA press also plays a roll (sic) in the bully pulpit along with Woods and Howard," she wrote.
In his years as a trustee, Howard has served on two other presidential search committees.
He said he's unaware of anyone asking for someone to be removed from a search committee in the past.
Angela Provart, president of Pauly Group, which is assisting NIC in the presidential search, responded to emails complaining about Howard with this:
"Thank you for your email and concern for NIC. Please know that Trustee Howard is one of 27 voices on the Search Committee."
As of Monday morning, 51 people had applied to be NIC's permanent president.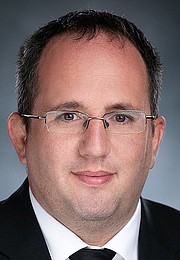 Recent Headlines
---