Moose death blamed on Japanese yew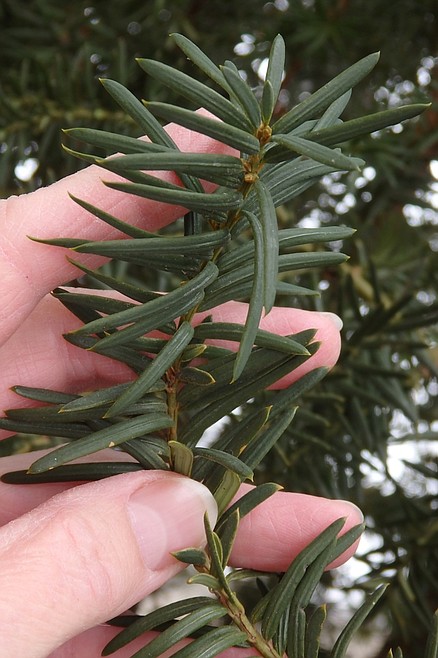 (Photo courtesy LINN KINTER/Idaho Fish and Game) Beautiful but deadly, non-native Japanese Yew (Taxus custidata) has killed deer, elk and moose in numbers in North Idaho.
by
BEAUX WHITE EAGLE
Staff Writer
|
April 22, 2022 1:00 AM
SANDPOINT — The death of a young moose last month is being attributed to being poisoned after it ate the needles of a Japanese yew plant at the Idaho Club.
The moose was discovered March 20 by Idaho Club resident Maryhelen Hall, who found the animal deceased in her yard.
An Idaho Fish and Game officer collected the animal and conducted an investigation. After discovering moose droppings at a neighboring home, the officer determined the animal had died of yew poisoning from a Japanese yew.
Fish and Game officials said it is likely the shrub was planted during the construction of The Idaho Club, which was completed in 2012. The poisonous shrub was found at multiple homes throughout The Idaho Club, unbeknownst to Maryhelen Hall and other residents.
Like its siblings, the Japanese yew is a coniferous evergreen shrub that can vary in size and is most notably distinguished by its red berries and dark evergreen needles. The needles are often tinged yellow underneath and the bark will be reddish-brown. During the fall the needles are known to turn the same shade of red-brown. The plant also produces small red berries during the summer. Then in the winter and fall, the flesh of the berries falls away exposing the seed inside.
While deadly to animals, the shrub is popular among some homeowners and landscapers due to its appearance and ease of pruning and shaping. As a result, it is often used for hedging or foundation planting.
"It's green all year, so it's attractive," Hall said. However, since this incident Hall said she no longer looks at the plant the same way.
"I was at home depot and saw some just sitting there," said Hall "it just made me sick"
However, the Japanese yew shares another yew family trait. With all parts of the plant but the red fleshy part around the seed of the berry being toxic, this home foliage favorite is also known as one of the most poisonous woody plants in the world.
The yew family is known to be toxic to humans, with the Japanese yew family being especially so, household pets, farm animals, and even some wildlife are in danger. According to
Japanese Yew contains toxins known as Taxine A and B. Ingested in any quantity these toxins can cause blockages in the sodium and potassium channels of the heart, which are responsible for heart beating. Large quantities of this plant can even cause sudden death due to cardiac arrest.
Symptoms of Japanese Yew poisoning differ between animals and humans. In humans, the symptoms are tremors, shortness of breath, nausea, vomiting, abdominal pain, and can cause cardiac arrhythmia.
However, in animals, the first symptom is often sudden death. Otherwise, an animal would display nausea, vomiting, diarrhea, and drooling.
Despite Idaho Fish and Game's effort to educate locals on the dangers of this plant, Idaho Fish and Game communications manager T.J Ross said the plant remains incredibly common in yards.
"This is a message we communicate as much as possible," Ross said
Idaho Fish and Game officials said incidents like this occur in residential areas once or twice during the winter, due to the lack of food available.
"They [wildlife] see that green popping out of the snow and just go for it," Ross said.
Currently, IFG is working with residents of The Idaho Club and has put a plan in place to prevent further incidents of animal deaths. This plan has residents removing as much Japanese yew as possible, while those plants that can't be removed so easily, will be covered during the winter months.
"The residents were extremely responsive," Ross said.
To find more information on this plant and how to protect local wildlife visit bit.ly/3y12KoH.
Recent Headlines
---