The hoarder next door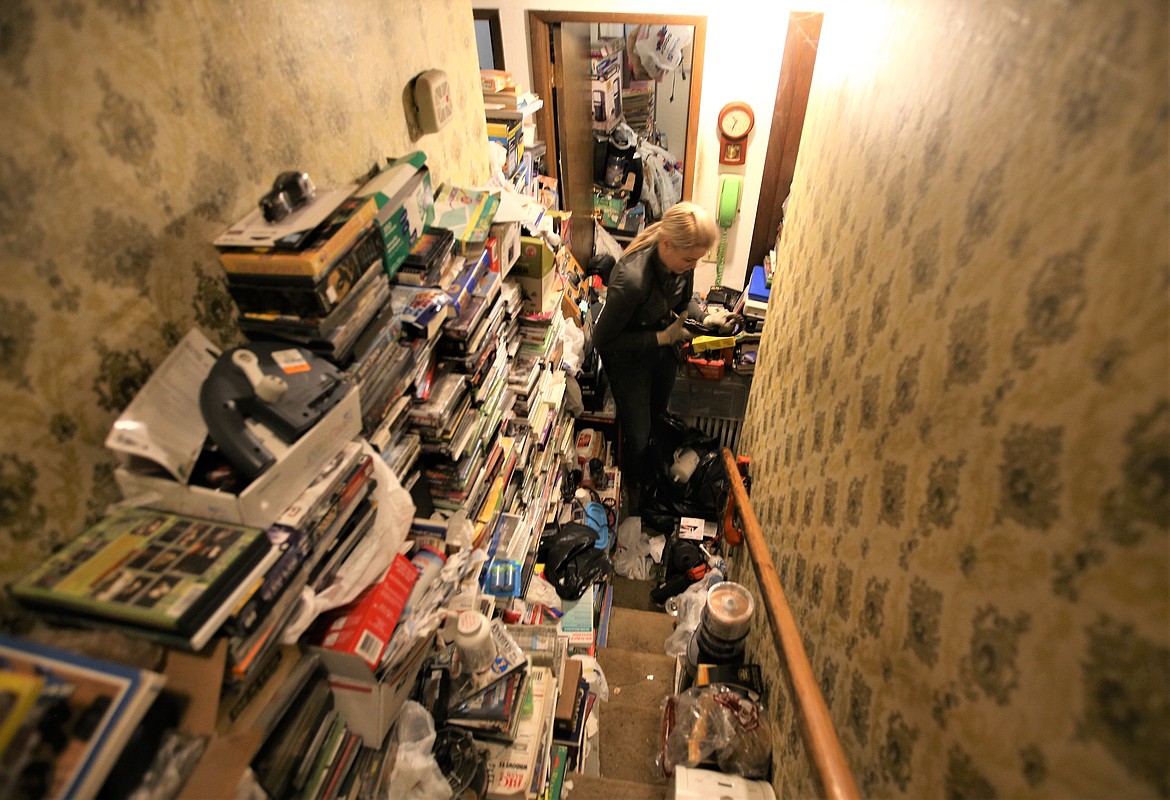 Gina Zawis, with Quality Estate Sale cleans out a hoarder's home in Coeur d'Alene Friday.
BILL BULEY/Press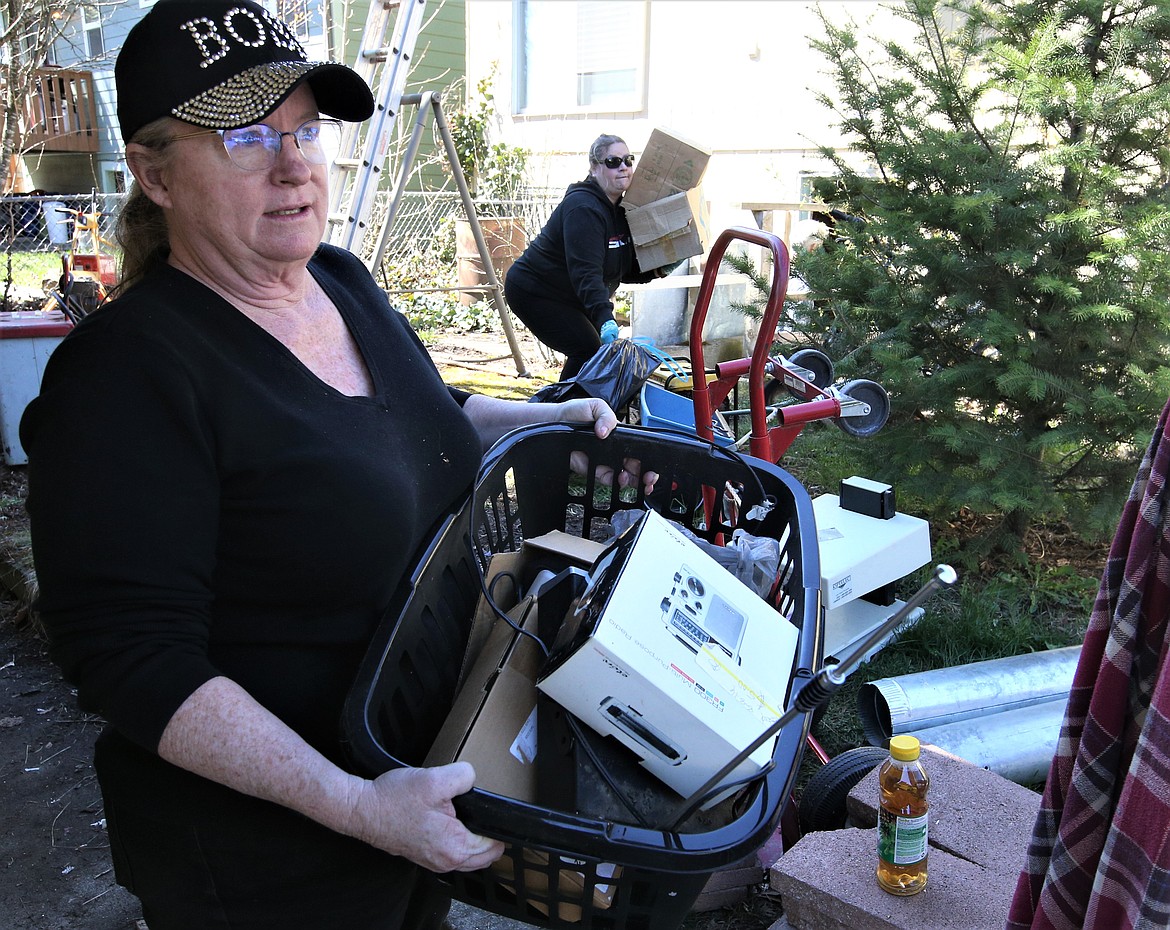 Kendra Shattles, owner of Quality Estate Sale carries a basket of belongings from a hoarder's home in Coeur d'Alene Friday.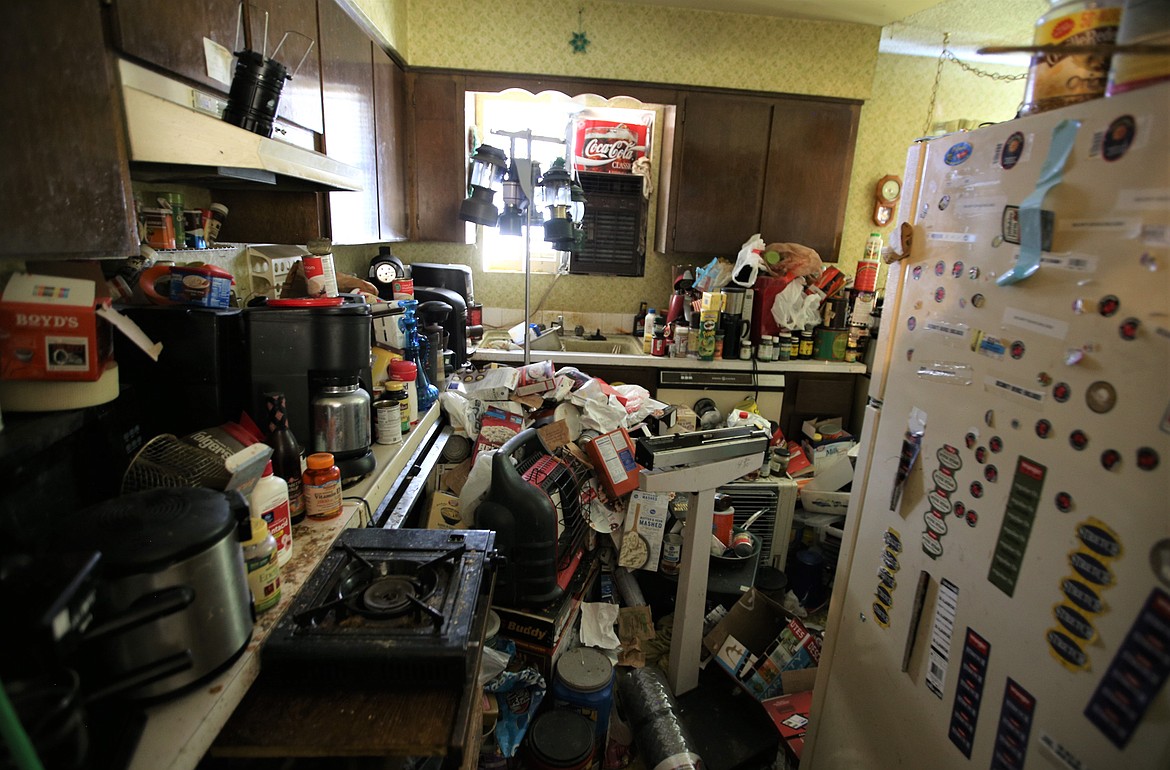 Extreme hoarding in a Coeur d'Alene home, left very little space in the kitchen for the former occupant to move around.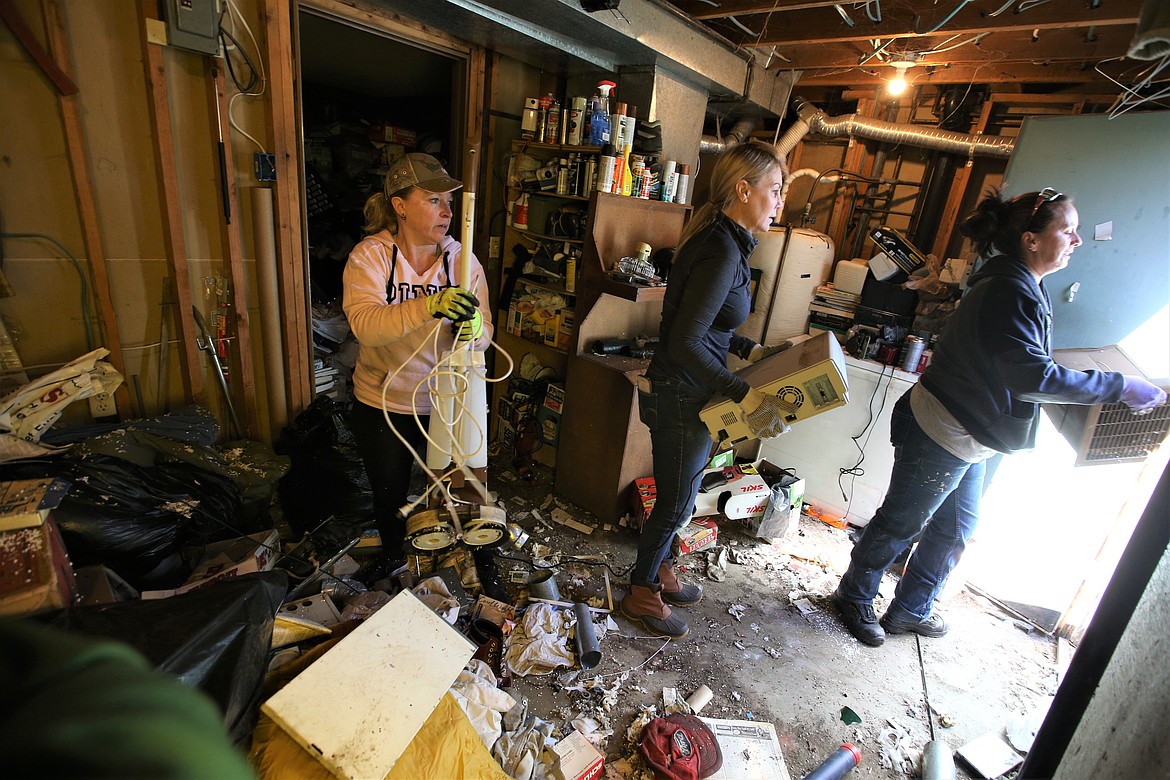 From left, Quality Estate Sale workers Carrie Thornton, Gina Zawis and Kari Penix work on clearing the basement of a hoarders home in Coeur d'Alene Friday.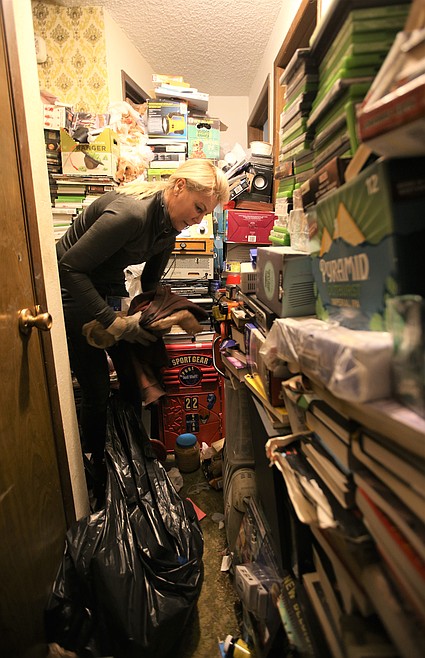 Gina Zawis with Quality Estate Sale squeezes through the narrow walk way of a home in Coeur d'Alene Friday.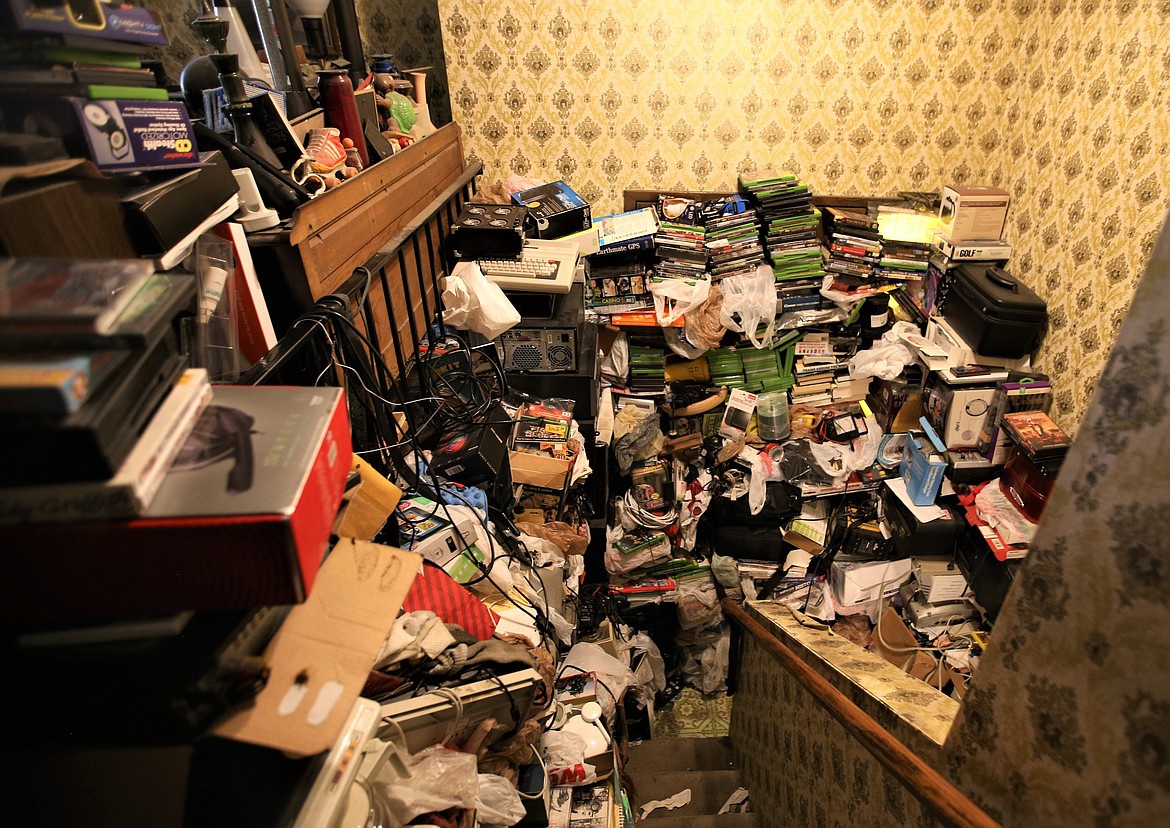 The scene from the top of the staircase in a home belonging to a hoarder in Coeur d'Alene Friday.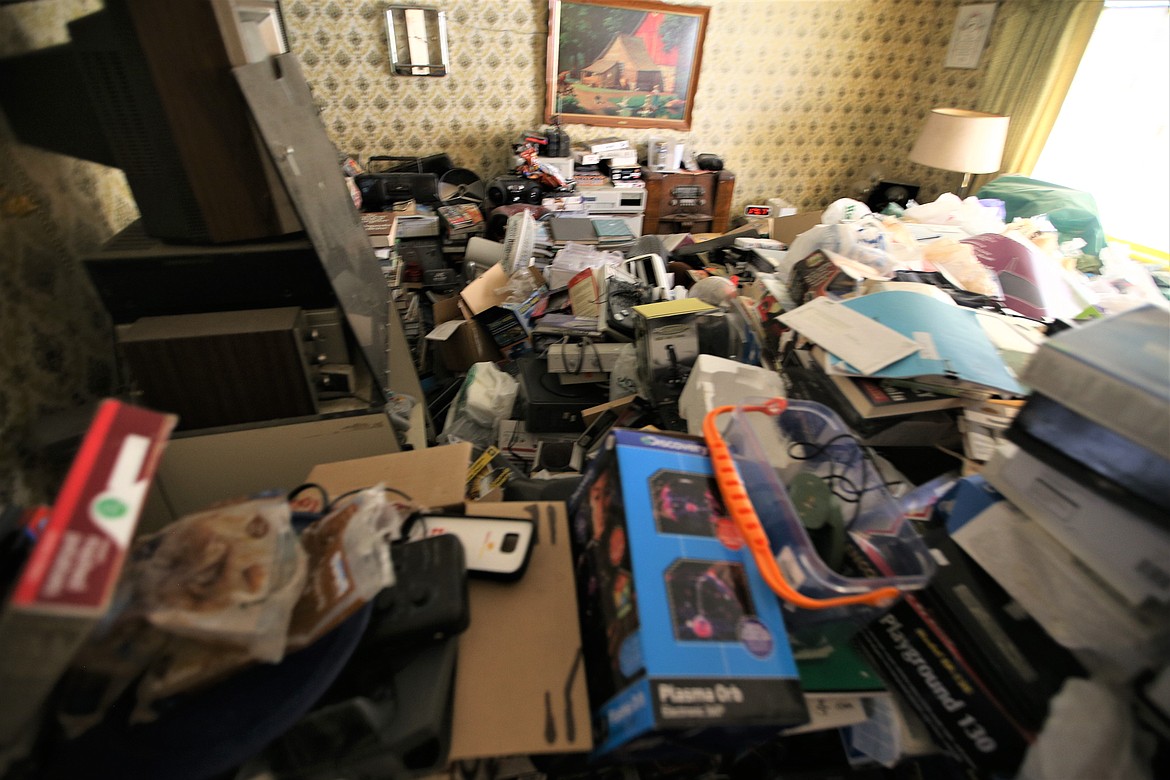 The inaccessible living room inside a Coeur d'Alene home, Friday.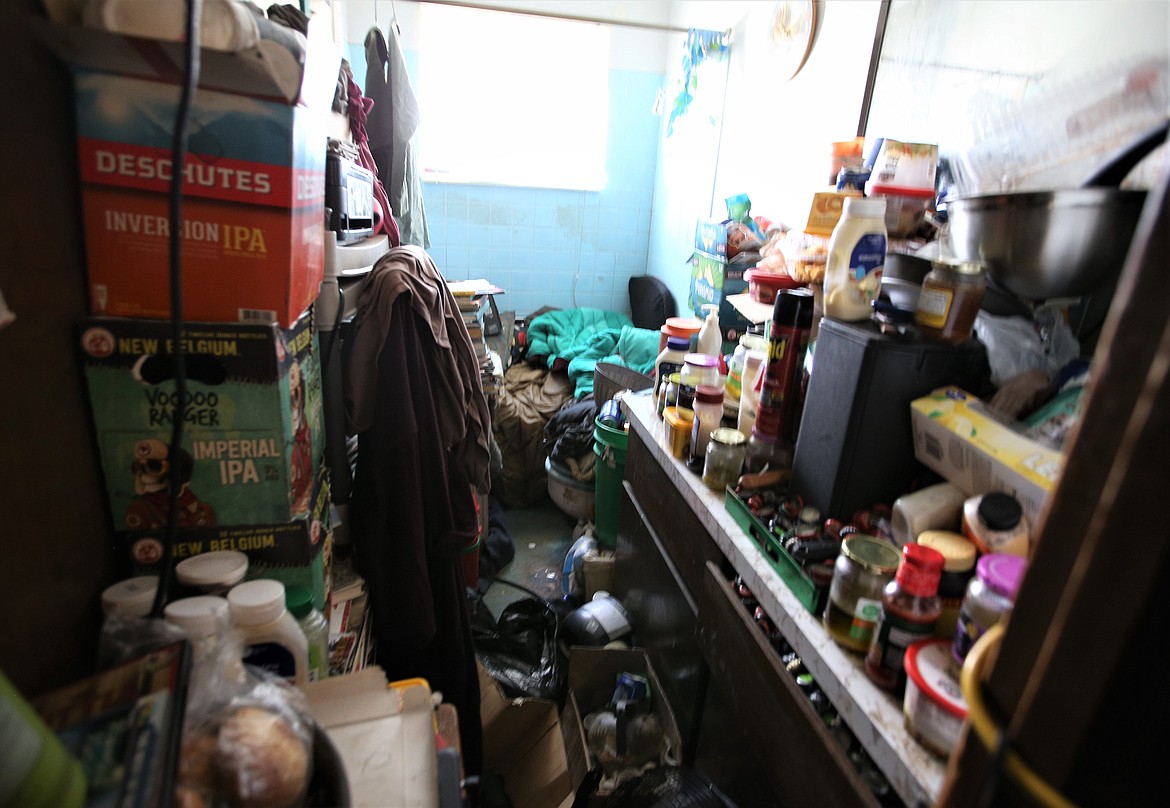 Because of a problem with hoarding, the owner of this Coeur d'Alene home, slept in the bathtub. Photo taken Friday while Quality Estate Sale worked to clean the home out.
Previous
Next
by
ELLI GOLDMAN HILBERT
Hagadone News Network
|
April 30, 2022 1:00 AM
COEUR d'ALENE — Unbeknownst to neighbors, a 72-year-old man who will only be identified as "John" was living in a hoard.
For decades John lived quietly off Best Avenue in a central part of town, and no one knew the conditions inside his home.
Books, boxes, trash, tools, food, DVDs, video games and more was piled floor to ceiling. Entire wings with multiple bedrooms and bathrooms were completely blocked off by hoarded belongings.
Hoarders often live reclusive lives or are good at hiding the problem. But hoarding disorder is not as rare as one may believe.
Researchers suspect that compulsive hoarding "affects at least one in 50 people," and possibly as many as "one in 20," according to data published by Recovery Village Rehabilitation Center.
"Like most mental health distresses, (hoarding) is probably multifactorial in cause," said Skip Frazier, a licensed clinical professional counselor in Coeur d'Alene.
"There's a genetic component, life stressors, life events which tangle together to create the hoarder lifestyle and environment," Frazier told The Press. "It may have an OCD component. Certainly it's anxiety based, and anxiety often is a genetic predisposition."
Scott Burke, a mental health therapist with Heritage Health, has a few clients with the disorder.
"It's a miswiring, a brain disorder as much as personality," Burke said. "Ask for help. The biggest thing is to get rid of the shame. It's not the person being lazy."
Burke recommends those living with hoarding disorder begin by seeing a general practitioner to get screened for depression.
Certain medications can "start the recovery process," Burke said. And therapy can "mitigate the needs" that hoarding satisfies, finding other ways to fill them.
As in John's case, those who hoard often won't allow visitors inside the home. John's family hadn't been inside in about 30 years, said Kendra Shattles, with Quality Estate Sale. Shattles was hired by John's family to clear out the home, sort the rubbish from the valuable items and host an estate sale.
John's family wishes to remain anonymous but spoke exclusively with The Press on Friday.
"It was an illness and a sickness that was going on for 30 years," said his brother-in-law, "Edward." "We knew, but not how bad it had gotten."
Edward and John's sister, "Madeline," lived in Coeur d'Alene until 1992, when Edward's job took them to Georgia. Though they had regular contact with John and visited him last summer, they weren't aware of the extreme conditions inside the home.
Aside from the mass of hoarded items, parts of the home lacked electricity, including the kitchen. Meals were prepared on a single burner propane camp stove. Numerous hanging Coleman lanterns provided the only light.
A walkway no more than one foot wide leads through the basement, up two flights of stairs and into the kitchen — leaving about 1.5 square feet the only space to stand in.
Though the plumbing is operational, not all facilities are functional.
With the hoard filling almost every square inch available, John had one small chair perched awkwardly in the hall outside the kitchen, in which to rest. The density of the hoard blocked access to bedrooms, beds or couches and left John to sleep in his bathtub.
Shattles anticipates the cleanup and sale of the estate will take about 240 hours. Quality Estate Sale has handled hoards before, Shattles said.
"But this is one of the worst. It's one of the most difficult," she said.
"Basically it's very typical. Not just him but (every hoarder), they fill and fill and fill. They see an empty hole and fill it," Shattles said. "What takes them a lifetime to fill, we need to get done in two weeks or less."
Three hours into the cleanup efforts, nine laborers had managed to clear some space into the garage, which was also a floor-to-ceiling hoard. Hiding underneath the pile was a classic VW Beetle.
"At least 80% of the house hasn't even been seen yet because of the hoard," Shattles said.
Like worker ants, employees carried bags and boxes out of the basement to sort through.
Dardi Flynn, a friend of Shattles and resident of Oldtown, had come to help with the work.
The sight of the hoard left her "in shock," she said.
"We couldn't even get in the garage," Flynn said. "We had to stand and work our way into it."
By the end of the day Thursday, the crew had succeeded in clearing one entire basement room and creating a pathway all the way to the front door, which had been entirely blocked.
The hoard would not have come to light were it not for a medical emergency. John had gone grocery shopping and upon his return fell down outside his home, striking his head on the cement. The impact rendered him unconscious, Edward said.
When John woke up, he went inside and rested for the evening. The next day he wasn't feeling well and reached out to his family, who sent an ambulance.
"John is comfortably recuperating in a local assisted living facility. He is ready to move forward in his life and enjoys 'three square meals a day,'" Edward said.
John is "not alone," Shattles said. Not wishing to bring shame on John or his family, Shattles hopes that talking about the issue will prompt others to reach out for help.
"The whole point is to get other people to step forward rather than live this way," Shattles said.
Readers interested in attending the estate sale may call or text Shattles at 208-964-2555 or selectkendra@gmail.com. While the sale of items in the garage was held Monday, April 25, the rest of the estate will be sold May 5-7. Contact Shattles for times and address.
Recent Headlines
---