Gibbons, Wilder united in marriage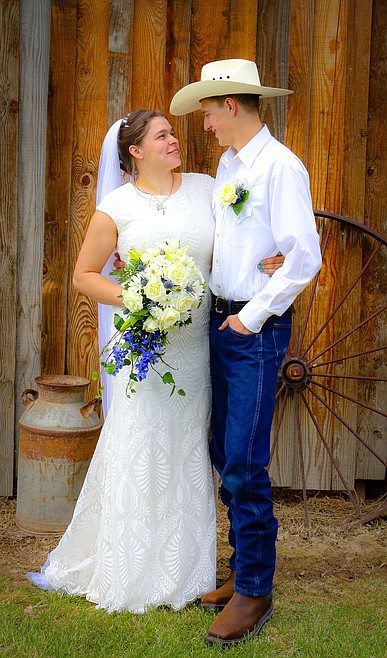 Kezia (Dolly) Ruth Gibbons and Brandon James Wilder are pictured on their wedding day on June 18, 2022.
(Courtesy photo)
Kezia (Dolly) Ruth Gibbons and Brandon James Wilder exchanged traditional wedding vows before God and witnesses at 3 p.m. on June 18, 2022, at the Jantz Barn, 302 Deer Park Road, Bonners Ferry.
The officiating minister was Elder Perry Ames, pastor of the Davenport Baptist Church.
The bride's bouquet contained white roses, white lilies, daisies, blue thistle and delphiniums.
Her bridesmaids wore floor-length, hunter green mermaid-style dresses while the groomsmen donned navy blue western shirts and blue jeans.
Bridesmaids were Jehasheba Gibbons, Megan Wilder, Rachel Schlabach, and Kassandra Yeoumans. Groomsmen were Jeff Wayne Wilder, Israel Gibbons, Lazarus Gibbons and Job Gibbons. Flowergirls were Keynna and Kayla Noon and ringbearer was Korbyn to complete a beautiful wedding party.
Kezia is the daughter of Christ and Rachel Gibbons of Sandpoint. Brandon is the grandson of Richard Wilder and the late Sandy Wilder, and the son of Jeff Wilder and Jaunita Miller of Boundary County.
Recent Headlines
---