15-acre fire burning near Priest Lake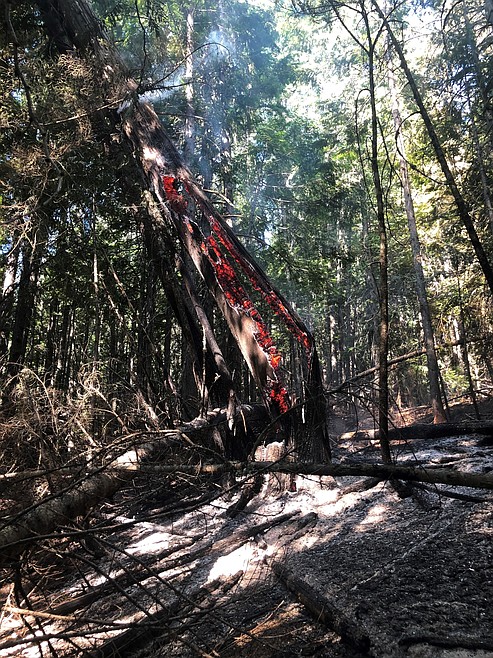 Embers can be seen in a tree burned in the Diamond Watch Fire, located 5.5 mile due west from Nordman, Idaho, in Pend Oreille County, Washington.
(Photo courtesy J. . HIRST/U.S. Forest Service)
by
CAROLINE LOBSINGER
Staff Writer
|
August 9, 2022 1:00 AM
A 15-acre fire is burning in an active logging job in the Lion Creek Drainage at Priest Lake, Idaho Department of Lands officials said Monday.
The fire, which was reported about 4 p.m., is located east of the Priest Lake State Park Lionhead Unit.
IDL officials said the fire is on state endowment lands and is burning in timber and logging slash. It is located in the Priest Lake Fire Protection District.
Four engines are on scene and a 20-person crew has is being called up to help battle the fire. Three fire bosses are also helping fight the fire as is an air attack unit, and both a heavy and medium helicopter.
Little has changed on the nearby Diamond Watch Fire in the past few days. The fire, which was started by lightning in mid-July, is estimated at 120 acres, and is being fought by 24 personnel. Located 5.5 miles due west of Nordman, the fire was reported July 14 and is listed at 0% containment.
Burning on a ridge to the east of Diamond Peak in Pend Oreille County, smoke from the fire can be seen from the Priest Lake area. The fire is burning in "timber litter" with jackpots of heavier fuels in a dense forest canopy.
Fire behavior is moderate with flanking, backing and isolated torching seen. Overall flanking and backing has been observed with some short uphill flanking observed.
Forest Service officials said firefighters are working alongside heavy equipment to bolster containment lines adjacent to area roads. In addition, crews are evaluating area creeks and ridges where there is a higher chance of success compared to the current fire perimeter.
A masticator — similar to a wood chipper — is taking place to remove brush and other fuels to support firefighting efforts while ground crews are working to build a hardline at the head of Diamond Creek, Kary Maddox, U.S. Forest Service fire information officer, said previously.
While there are no closures or evacuations associated with the fire, Forest Service officials said residents living in fire-prone areas should have an evacuation plan in place.
Forest Service officials asked residents and visitors to the area to be on the lookout for fire traffic and heavy equipment in the area. Crews are utilizing Forest Service roads 1362 and 308, with minor delays likely of FSR 308.
Information: Idaho Department of Lands, idl.idaho.gov/recent-wildfire-alerts; and InciWeb, nciweb.nwcg.gov/incident/8264
Recent Headlines
---