Camp Bay public access hearing on Wednesday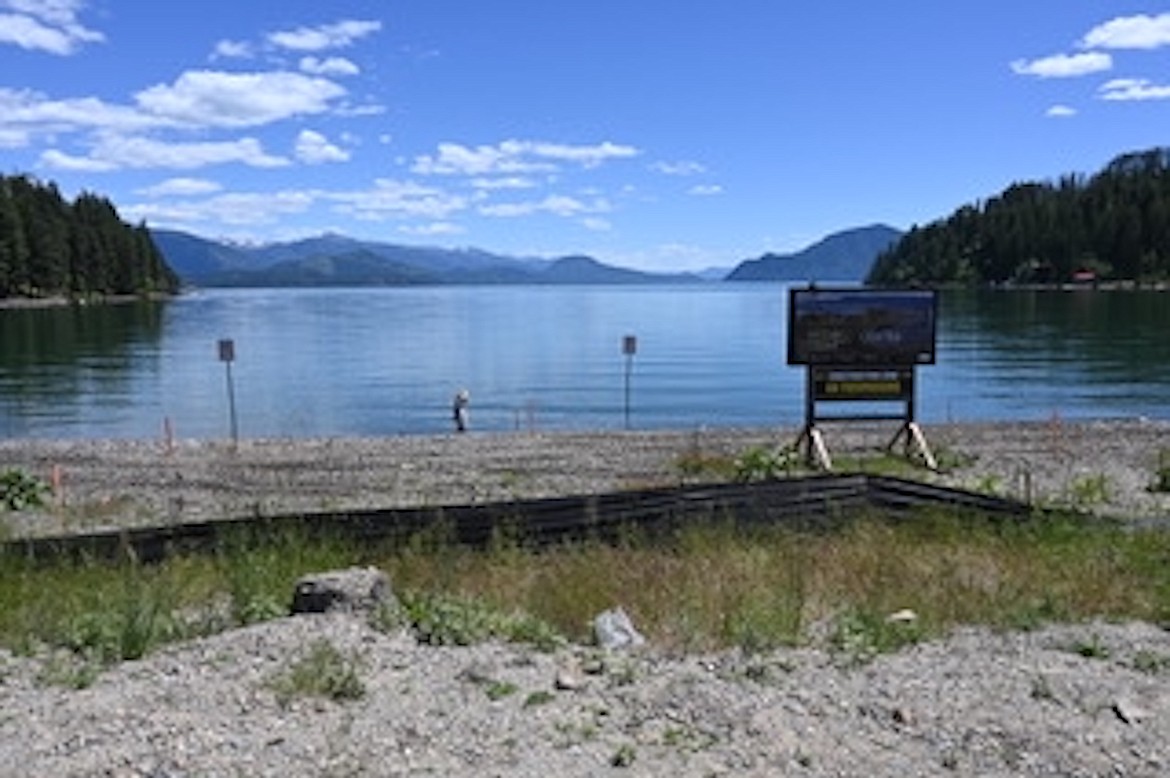 A photo shows the disputed Camp Bay area with some saying the public has historical access to the lake while other contend the area is private property.
(Courtesy photo)
by
DANIEL RADFORD
Staff Writer
|
August 9, 2022 1:00 AM
SANDPOINT — The court hearing in the civil case to determine public access to Camp Bay is scheduled for Wednesday, Aug. 10.
The hearing, originally scheduled for early July, had been delayed to allow for negotiations between Fred and Jennifer Arn and M3 ID Camp Bay, LLC. However, the Arns withdrew, saying M3 had been negotiating in bad faith.
"It was indicated to me that the public never had a beach down there and will never have a beach down there," Arn said in a July 27 interview with KRFY's Chris Bessler.
Arn shared the interaction with his attorney, who advised M3's attorney they would not continue with the negotiations. Both M3's proposal as well as the Arns' proposal agreed on 50 feet of public beach.
During a recess at a Bonner County Zoning Commission meeting to permit a wastewater facility in Camp Bay on July 21, M3's Bill Brownlee could be heard telling Fred Arn that he was "just trying to screw up my development" and that "there was never a public beach" at Camp Bay.
Arn said he did not believe that further negotiations would be fruitful after the interaction, as even M3's negotiating position at that time recognized 50 feet of public beach front.
The hearing is the latest chapter in a saga to determine whether the final section of the county easement for Camp Bay Road runs all the way to Lake Pend Oreille's original high-water mark, or ends at property now owned by M3 ID Camp Bay LLC.
The Arms filed suit last May after Bonner County commissioners voted to vacate the final portion of road, saying it was in the public's interest for the county to longer have to maintain the approximately half-mile portion of road.
In their lawsuit, the couple challenged the decision and said commissioners did not have the right to vacate the road for a variety of reasons. Among the complaints was that the commissioners failed to evaluate whether the road vacation was in the public interest and that at the time there was a conflict of interest involving members of the Road and Bridge Department.
First District Judge Cynthia K.C. Meyer found in favor of the Arns on Nov. 15, ruling the decision to vacate the road was not supported with substantial evidence, and that the commissioners exercised an "abuse of discretion" by cutting off a speaker during public comment.
In February, commissioners voted to void the vacation but said they were unable to determine where Camp Bay Road ended and asked for a judge to make that determination.
"At this point I can't make a decision either way until I can find out what's going on with this lake access — whether it truly exists or not," Commission Chair Dan McDonald said near the end of the Feb. 16 meeting.
"[McDonald's] recommendation to move to deny because we haven't seen a determination yet on whether or not there is truly legal access. I think that needs to be adjudicated by a judge, not by us." The civil case was filed March 8.
Wednesday's hearing begins at 3:00 p.m.
Information: To research the case yourself, go to mycourts.Idaho.gov and search for the case file "CV09-22-0316." Court documents can be accessed at the public computers in the Bonner County courthouse.
Recent Headlines
---