Quartet funding gymnastics contests with lemonade stand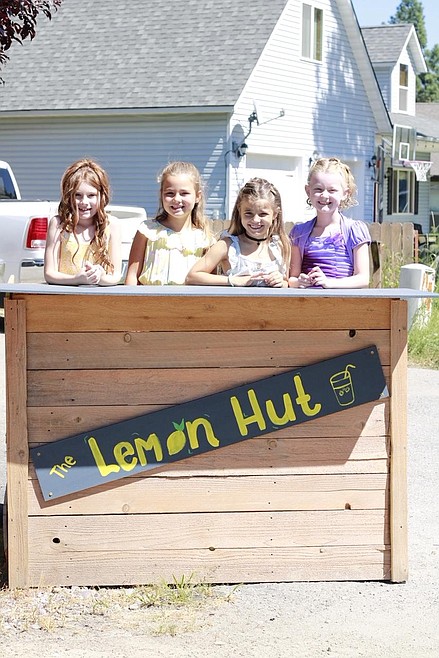 Crystal Pepperdine, Estelle Skinner, Oilvia Meyers, and Hayden Welsh the young minds behind Lemonade Hut pose for a photo before their next sale weekend August 13-14
(Photo by BEAUX WHITE EAGLE)
by
BEAUX WHITE EAGLE
Staff Writer
|
August 9, 2022 1:00 AM
PONDERAY – As they attempt to put an end to summer thirst, a quartet of young entrepreneurs are raising money for gymnastic competitions at the same time.
Hayden Welsh, Estelle Skinner, Crystal Pepperdine, students at Farmin Stidwell Elementary and Olivia Myers, a student at Selle Valley Carden School are the managers of the Lemon Hut, a lemonade stand reminiscent of many childhoods. The four girls opened for the first time this past weekend after Hayden came up with the idea to raise money for the girls' gymnastic competitions.
The stand is located on the corner of Starr Lane and Dustarr Lane - next to Home Depot - in Ponderay.
The girl's parents said they told their tiny tumblers with each competition cost being around $200 plus the cost of leotards, other necessities and a minimum of two competitions this summer, they would be expected to find a way to earn that money and "prove they wanted it."
The four did just that.
While it was Hayden who came up with the idea, it was her parents Ryan and Bethany Welsh who helped turn their daughter's entrepreneurial dream into a reality. Ryan Welsh built the lemonade stand by hand, while his wife Bethany Welsh decided to hit two birds with one stone, and organized a neighborhood yard sale. Most of the families participated in the yard sale along with neighbors of the Welsh family which not only helped each family get organized before school starts but proved to be a great way to generate traffic to the Lemonade Hut.
Running the yardsale and lemonade stand simultaneously during Aug. 6-7 , when all was totaled up Bethany Welsh said the girls had earned just as much as the yardsale, which will cover half the cost for all four girls to compete in one competition.
The young gymnasts and entrepreneurs not only gained support from neighbors and friends but were visited by Ponderay Police officers, who helped spread the word through Facebook and received a shoutout on Facebook from local business Origin 7B Lemonade and Tea, who will also be making tip donations near the end of the month.
"It's an expensive hobby for them to have an expensive hobby, but also know that they're willing to try to do something to chip away at that," said Bethany Welsh
With a menu of lemonade, cookies and raspberry drizzle, the girls plan to continue their business venture through the summer including the weekends of Aug. 13-14 and Aug. 20-21.

Recent Headlines
---