Open house set for PLMG welcome shelter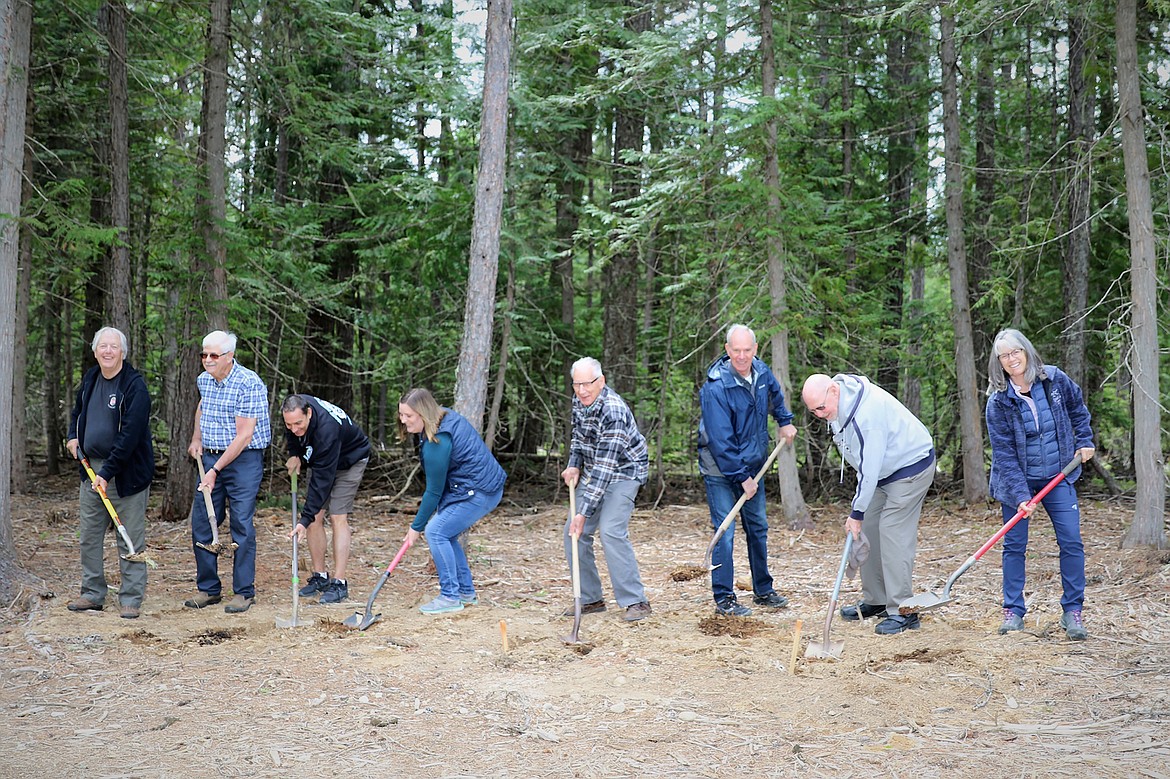 Priest Lake Memory Garden board members break ground in June 2020 for the facility's new welcome structure. Pictured, from left, are president Don Howell, executive director Ron Hardin, vice president Craig Hill, Autumn Kennedy, treasurer Doug Jamieson, Bob Stutz, secretary Dick Hamm and Doni Guyer.
(Photo courtesy PECKY COX)
|
August 10, 2022 1:00 AM
A public open house for the new welcome shelter at Priest Lake Memory Gardens will be held Sunday, Aug. 14, at the gardens.
The five-acre site, located adjacent to the Priest Lake Golf Course just off Highway 57, is a special place of serenity and reflection to spend time remembering and honoring loved ones with ties to the Priest Lake area.
Hours for the open house are noon to 4 p.m. Refreshments will be served. A visitation of the new welcome shelter will be the featured attraction. The new building features a public area, restroom and kitchen. It is designed to host local memorial services.
"We hope to see a good turnout at the open house," Brian Miller, board president, said. "People can see the progress we've made, learn about future plans and provide input on what they'd like to see at the Memory Gardens."
Donations to the Founder's Circle provided most of the funds to build the new welcome structure. A total of 254 donors gave $250 or more to see the building was completed.
"Construction is an ongoing project of Mike Dolan Construction," Craig Hill, board vice president, said. "We also appreciate the several local businesses and contractors who have contributed to the project with donations and in-kind giving."
Visitors to the open house will see 36 screens spread along picturesque pathways with 255 metal fish plaques honoring loved ones. Three benches also are placed throughout the gardens. Donors have funded a dock now installed on the reflecting pond. Later, a water feature will be constructed.
"Many thanks to all the people who use the Priest Lake Memory Gardens as a means of honoring their loved ones," Hill said. "We sincerely appreciate all donations."
Miller said donations have come from broad-based community support ranging from cash, labor, in-kind giving and products for the welcome shelter.
In all, over 550 people have providing gifts to insure the success and growth of the Priest Lake Memory Gardens.
Features such as memorial fish plaques, alcoves, benches, family screens and family memorials are now available for purchase.
Further information about Priest Lake Memory Gardens can be found on the web site www.priestlakememorygardens.com or by calling executive director Ron Hardin at 509-993-7143.
"Our board is extremely thankful to all those who have donated time and money to support his project," Miller said. "We look forward to continued support."
Plans call for ongoing improvements to the Priest Lake Memory Gardens each year as additional funds become available.
Recent Headlines
---