POAC's Arts & Crafts Fair celebrates 50th anniversary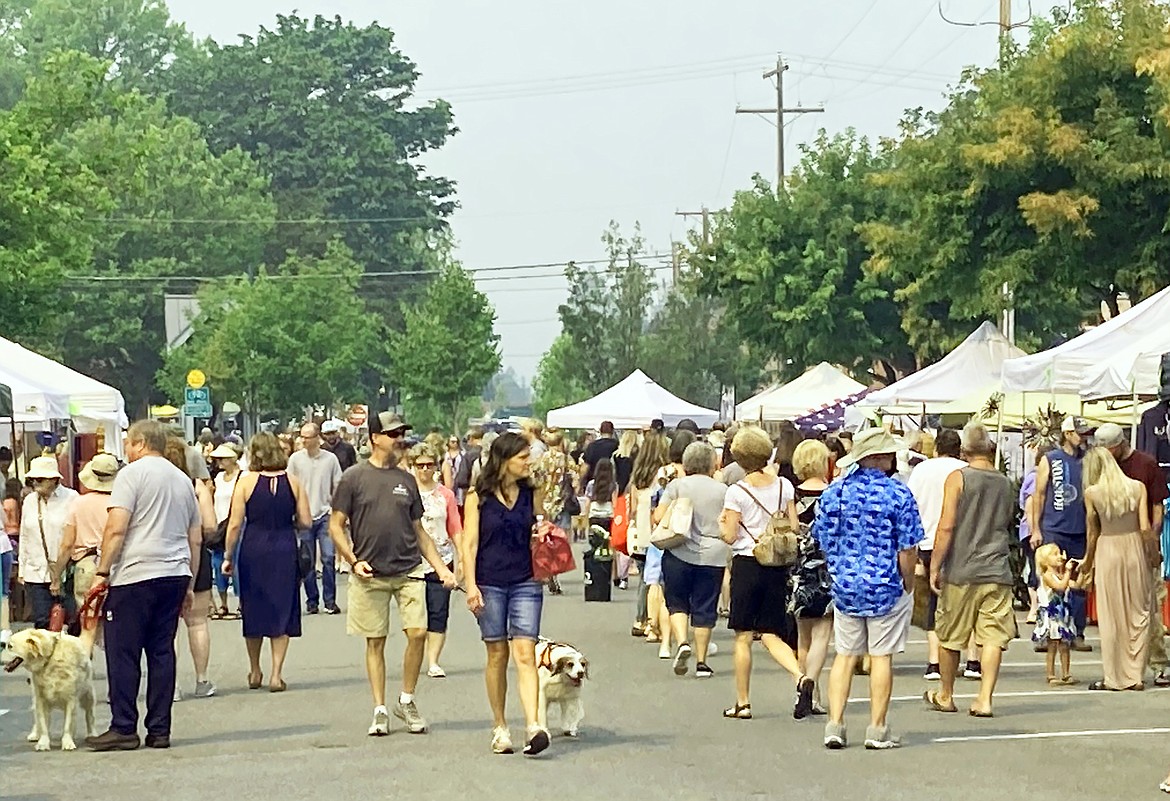 Artists and crafters from all over the country will sell their handmade wares at Pend Oreille Arts Council's 50th Annual Arts and Crafts Fair on Saturday, Aug. 13, 9 a.m. to 5 p.m. and Sunday, Aug. 14, 9 a.m. to 4 p.m.
(Photo courtesy PEND OREILLE ARTS COUNCIL)
by
KATHY HUBBARD Contributing Writer
|
August 10, 2022 1:00 AM
Most people who grew up in Sandpoint can't remember a summer there wasn't an Arts and Crafts Fair on the second weekend in August.
That's because there has been one for the last 50 years. But don't think for a minute that this event is old. Over 100 artists selling innovative crafts and artwork are signed up to offer the most amazing, diverse, and creative items ever offered for sale in our area.
The show opens on Saturday, Aug. 13, from 9 a.m. to 5 p.m. over 100 where vendors will have set up their tents from Main Street east of Farmin Park to First Avenue and across Second Avenue from Cedar to Church streets. The fair continues on Sunday from 9 a.m. to 4 p.m.
Artists and crafters are coming from all over the country to participate in this juried show. Whether you're looking for clever gifts, or trying to find treasures for yourself, this Fair is tailor-made for your discerning style. From metal art to pottery to jewelry to fine art to yard art, this show has something for everyone's taste and budget. And, speaking of taste, food vendors will be on hand to serve lunch and snacks.
"This show grows every year and we're thrilled that we have lots of returning artists along with several new and extremely original and inventive booths," POAC President Carol Deaner said. "We've been doing this show for a long time and I think this year will exceed everyone's expectations."
Deaner said that the number of applications to participate this year was more than expected. "This has given us the opportunity to choose the best of the best artists and crafters. We're excited to see downtown filled with tents offering incredible and unique items," she said. "I hope to see all of you there!"
For those who work and play downtown, please note that the streets of the Fair will be closed to vehicle traffic beginning at 5 p.m. on Friday, August 12, and continuing until 8 p.m. on Sunday. Cars parked in the zone will be subject to being towed. Access to the City Lot will be on Church Street only. For more information go to artinsandpoint.org or call the office at 208-263-6139.
Recent Headlines
---