Weather could impact area fires
by
CAROLINE LOBSINGER
Staff Writer
|
August 25, 2022 1:00 AM
Weather is expected to be a driving force for wildfires in the region, U.S. Forest Service officials said Wednesday.
With a flash flood watch issued for part of the Idaho Panhandle, including Boundary County where the Eneas Peak and Trout fires are being fought, fire managers said they are keeping a close eye on both the weather and the fires.
Lightning and wind gusts are expected along with scattered thunderstorms Wednesday evening through Thursday.
"Weather permitting, air support will continue to be utilized as needed to prevent spread of fires into areas with critical values," Caroline Mcgough, Forest Service fire information officer, said.
Eneas Peak and Trout fires
Fire personnel are continuing to assess management activities to contain and confine growth of both fires, including searching for potential holding lines adjacent to private homes near the Westside Road, she said.
The Eneas Peak Fire, mapped at 765 in the latest infrared flight, is zero percent contained. The fire is located about 15 miles north-northwest of Bonners Ferry with smoke visible from the Kootenai River Valley.
The Trout Fire, also zero percent contained, has burned 10 acres.
Crews fighting another Boundary County fire had to wait on air support after a civilian drone was spotted in the area. The Moyie Fire, which started Aug. 21, is located southeast of the Idaho Forest Group Mill in Moyie Springs.
Idaho Department of Lands firefighters led the response with assistance from local firefighters, but aircraft ordered for the fire could not immediately fly because of the drone, Josh Harvey, IDL Fire Bureau chief, said.
Flying civilian drones near an emergency scene is against the law and interferes with firefighting aircraft, works against the firefighters on the scene, and creates a serious safety issue.
"The residents of approximately 50 Moyie Springs homes living near the mill were notified of the fire and the potential need for evacuation," Harvey said. "Clearly, we needed to get air support for the firefighting effort as soon as possible and the drone use put that on hold. Unfortunately this type of situation is not uncommon. We are reminding the public that drones can put firefighters, homes, and resources at risk."
After the drone was gone, multiple firefighting aircraft went to work attacking the fire repeatedly while ground crews constructed a fire control line using hand tools. The fire was kept to 3 acres.
Diamond Watch Fire
Located 5.5 miles due west of Nordman, the Diamond Watch Fire was mapped at 813 acres during an infrared flight on Monday. Most of the heat from the fire appears concentrated on the southern slope of a ridge to the east of Diamond Peak.
Fire officials are hoping to call areas of the perimeter contained after the lines are tested by potential challenging winds from forecasted thunderstorms, Kary Maddox, Forest Service fire information officer, said.
Firefighters are utilizing heavy equipment to help reinforce containment lines along the forest roads surrounding the fire.
FSR 308 is being used as the southern and western containment lines and FSR 657 has been reinforced on the east connecting FSR 308 to Diamond Creek, which is acting as a natural barrier keeping the fire contained on the northern edge.
Closures and evacuations
On the Diamond Watch Fire, closure orders are in effect for Forest Service roads 311, 308, and 1362H in the vicinity of the fire. However, FSR 1362 remains open. Petit Lake and is associated campsites are within the closure area.
On the Eneas Peak and Trout fires, residents are asked to avoid Trout Creek Road (Forest Service Road 634) as well as nearby trails to allow for fire suppression efforts in the vicinity. Trails included are Fisher Peak (No. 27), Pyramid Lake (No. 13), Pyramid Peak (No. 7), Trout Lake (No. 41) and Ball and Pyramid Lakes Trail (No 43).
While there are no evacuations in place, when living in fire prone areas it is recommended that all area residents have an evacuation plan in place including having all important documents, pictures, prescriptions, and pets gathered up and easily transportable.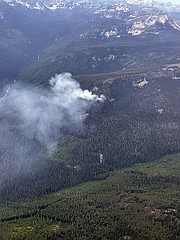 Recent Headlines
---