Storm brings new wildfires, but little rain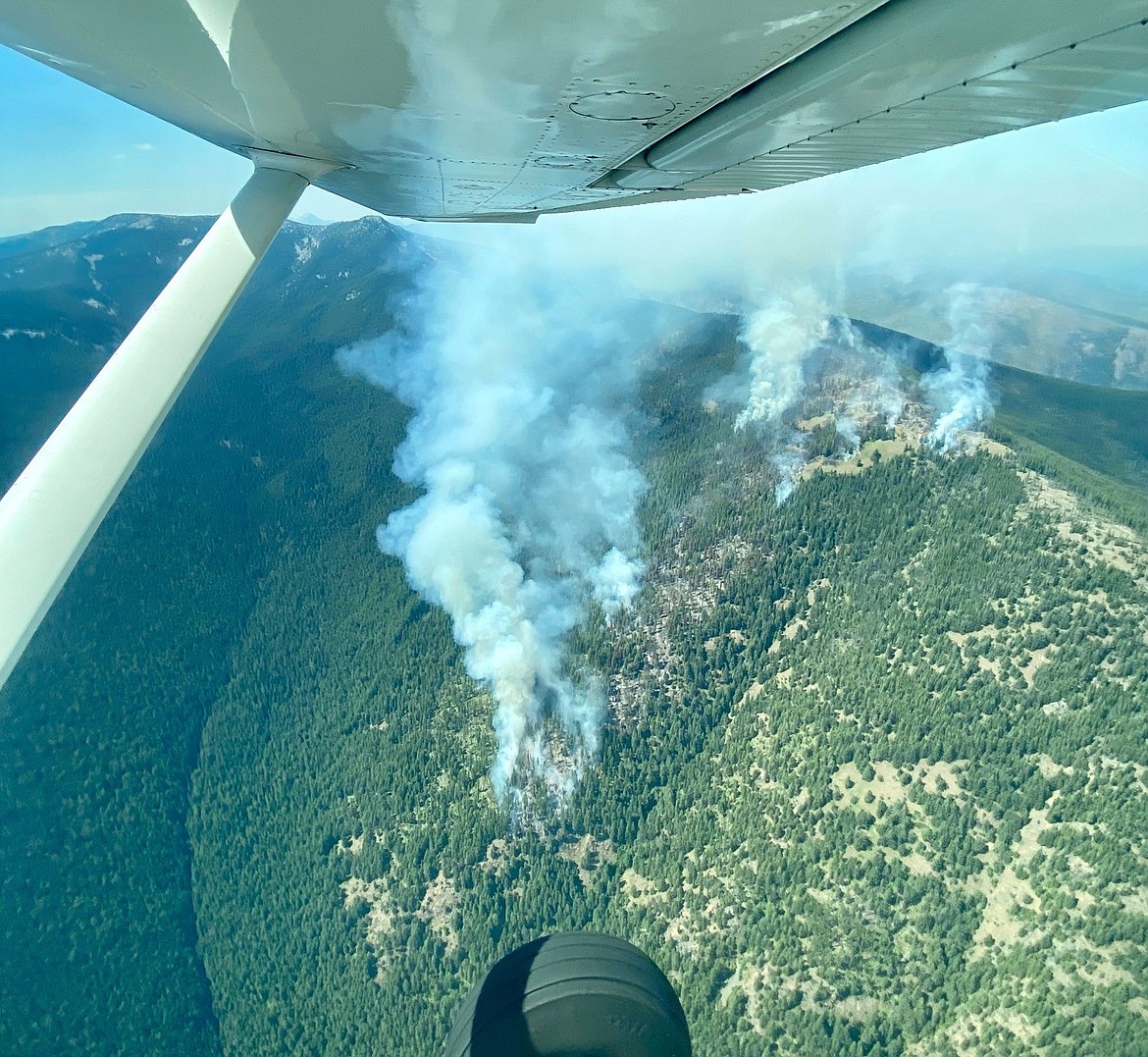 An aerial view of the Eneas Peak Fire from the southeast.
(Photo courtesy S. GOODE/U.S. FOREST SERVICE)
by
DAILY BEE STAFF
|
August 26, 2022 1:00 AM
A severe weather system Tuesday brought isolated rain — and a number of lightning strikes.
Among those strikes were several wildfires reported to the Bonners Ferry Ranger District with crews continuing to quickly respond and prioritize resources, Caroline Mcgough, Forest Service fire information officer, said.
Fires include the existing Eneas Peak Fire, now estimated at 773 acres, the Trout Fire, estimate at 13 acres, and the new Russell Mountain Fire, estimated at 10 acres.
The Russell Mountain Fire, located in the Ball Creek drainage, is burning above Ball Creek Road on a south aspect and is terrain driven, Mcgough said.
A Thursday reconnaissance flight checked the status of existing fires and also confirmed two new starts on Black Mountain.
"The Eneas Peak fire received the most precipitation through the night and both Eneas Peak and Trout fires showed minimal growth since yesterday," Mcgough said.
Due to the incoming weather system, resources were ordered to assist the district with initial attack. Resources include a Type 1 hand crew and a Type 1 helicopter. Thursday, the Type 1 hand crew was assigned to suppress the two new small fires in the Black Mountain area, both estimated at less than an acre in size.
Diamond Watch Fire
Located 5.5 miles due west of Nordman, the Diamond Watch Fire was mapped at 813 acres during an infrared flight on Monday. Most of the heat from the fire appears concentrated on the southern slope of a ridge to the east of Diamond Peak.
Fire officials are hoping to call areas of the perimeter contained after the lines are tested by potential challenging winds from forecasted thunderstorms, Kary Maddox, Forest Service fire information officer, said.
Firefighters are utilizing heavy equipment to help reinforce containment lines along the forest roads surrounding the fire.
FSR 308 is being used as the southern and western containment lines and FSR 657 has been reinforced on the east connecting FSR 308 to Diamond Creek, which is acting as a natural barrier keeping the fire contained on the northern edge.
Closures and evacuations
On the Diamond Watch Fire, closure orders are in effect for Forest Service roads 311, 308, and 1362H in the vicinity of the fire. However, FSR 1362 remains open. Petit Lake and is associated campsites are within the closure area.
On the Eneas Peak and Trout fires, residents are asked to avoid Trout Creek Road (Forest Service Road 634) as well as nearby trails to allow for fire suppression efforts in the vicinity. Trails included are Fisher Peak (No. 27), Pyramid Lake (No. 13), Pyramid Peak (No. 7), Trout Lake (No. 41) and Ball and Pyramid Lakes Trail (No 43).
While there are no evacuations in place, when living in fire prone areas it is recommended that all area residents have an evacuation plan in place including having all important documents, pictures, prescriptions, and pets gathered up and easily transportable.
Recent Headlines
---