Air support keeps fires in check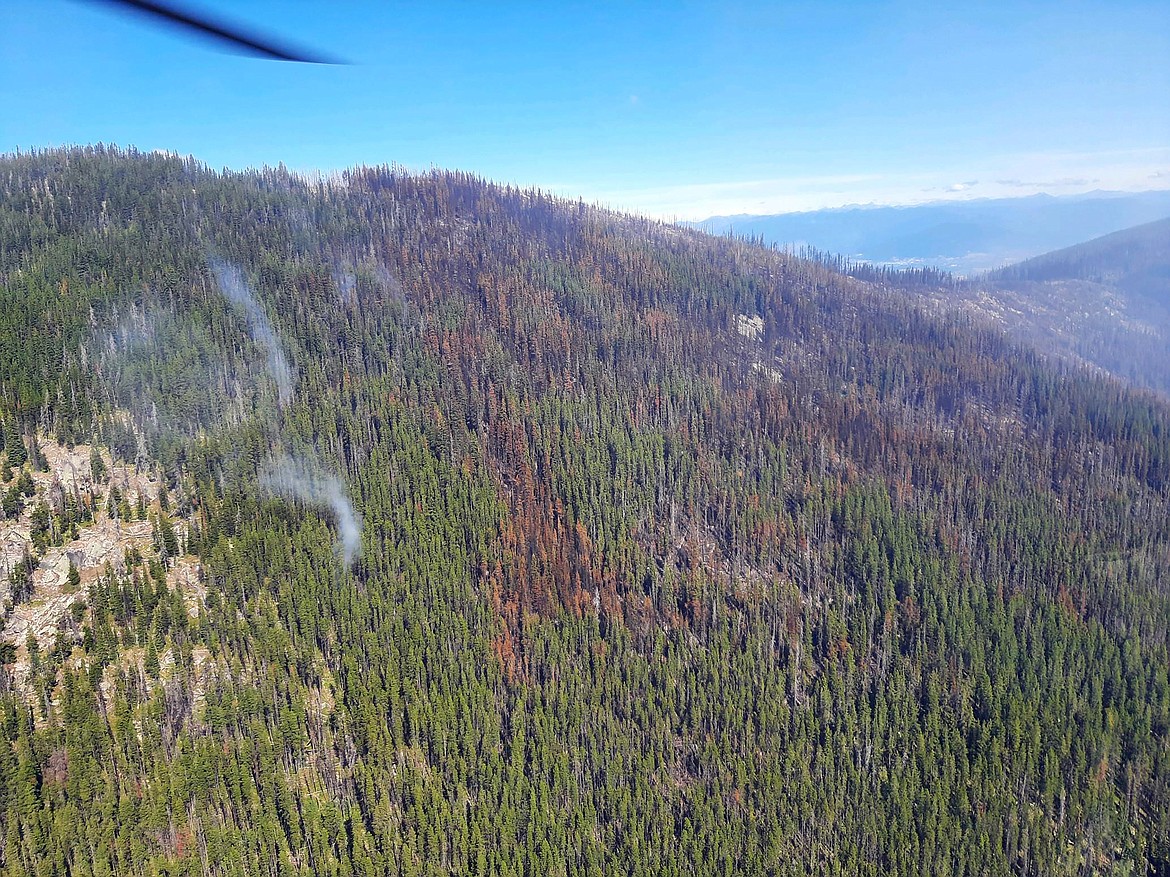 A photo of the Eneas Peak Fire taken during an Aug. 28 reconnaissance flight.
(Photo courtesy W. KUCERA/U.S. FOREST SERVICE)
SANDPOINT — Water drops on the Eneas Peak Fire's eastern front on Sunday have helped keep growth to the fire in check, U.S. Forest Service officials said.
As a result, the fire only grew 6 acres and is now estimated at 793 acres in the latest infrared mapping flight. The fire, which was sparked by lighting on Aug. 13, is listed at zero percent contained.
The nearby Trout Fire had no growth and the Russell Mountain Fire increased by 13 acres, most of which was up-drainage, Caroline Mcgough, USFS public information officer, said.
Detected during district fire patrol, the lightning-sparked Trout Fire has burned an estimated 16 acres since it was discovered Aug. 21. The Russell Mountain Fire, located 10 miles southwest of Copeland, has burned an estimated 66 acres since it was sparked by lighting on Aug. 24.
"All fires continue to remain in a contain and confine management strategy and will receive air support as needed," she said.
The Eneas Peak Fire is located about 6 miles west of Copeland in terrain with slopes of 60-80 percent and numerous dead and downed trees. No structures are threatened at this time, Forest Service officials said.
Diamond Watch Fire
Fire crews are continuing work on containment lines on the west, south and east sides of the fire. On the north side of the fire, Diamond Creek is serving as a natural barrier to keep the wildfire contained.
Crews are using a sprinkler system on the northwest flank of the fire and are assessing the ridge south of Diamond Peak for potential holding actions. Crews also are staffing the fire edge as it nears Forest Service Road 308, Kary Maddox, USFS public information officer, said.
Forest Service officials said direct action within the fire area
would be dangerous for firefighters due to the steep rugged terrain and the numerous by dead and down trees.
Thor Fire
Located on the Colville National Forest, the Thor Fire has burned roughly 190 acres since it was sparked by lightning Aug. 13.
A full-suppression strategy is being used with firefighter and public safety being the highest priority, Livia Stecker, public information officer, said.
Fire crews using heavy equipment are working to contain the fire using existing roads and natural barriers.
The fire is burning in an area where low to moderate fire activity does not pose a threat to wildlife habitat, recreation infrastructure, or private land.
Closures and evacuations
On the Diamond Watch Fire, closure orders are in effect for Forest Service roads 311, 308, and 1362H in the vicinity of the fire. However, FSR 1362 remains open. Petit Lake and is associated campsites are within the closure area. USFS officials reminds residents that all methods of travel are prohibited (foot, mechanized, motorized and stock) on the closed roads and area.
On the Eneas Peak and Trout fires, residents are asked to avoid Trout Creek Road (Forest Service Road 634) as well as nearby trails to allow for fire suppression efforts in the vicinity. Trails included are Fisher Peak (No. 27), Pyramid Lake (No. 13), Pyramid Peak (No. 7), Trout Lake (No. 41) and Ball and Pyramid Lakes Trail (No 43).
On the Thor Fire, FSR 2200300 is closed to public use.
All methods of travel are prohibited (foot, mechanized, motorized and stock) on the closed roads and area.
While there are no evacuations in place, when living in fire prone areas it is recommended that all area residents have an evacuation plan in place including having all important documents, pictures, prescriptions, and pets gathered up and easily transportable.
Recent Headlines
---