'Beautiful souls'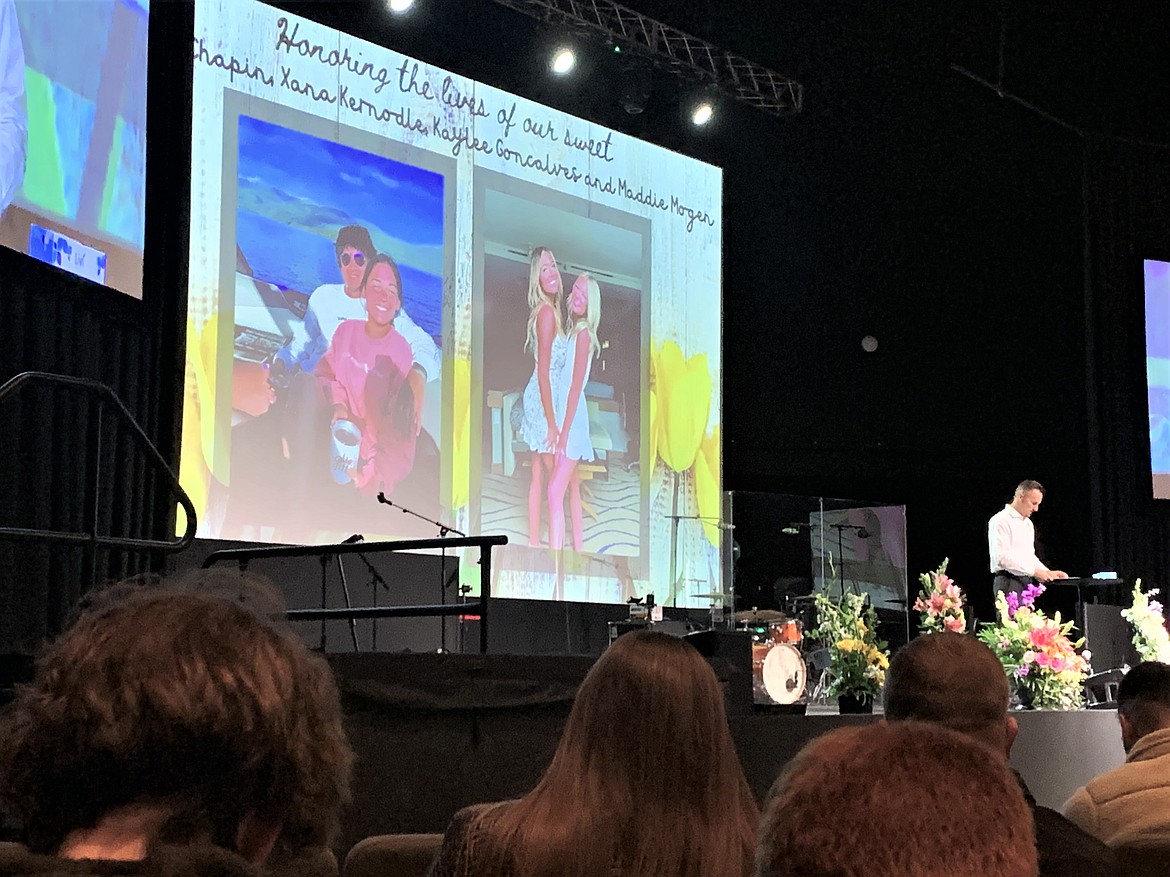 Real Life Ministries Pastor Sam Meredith speaks during Friday's celebration of life for Ethan Chapin, Xana Kernodle, Kaylee Goncalves and Maddie Mogen.
BILL BULEY/Press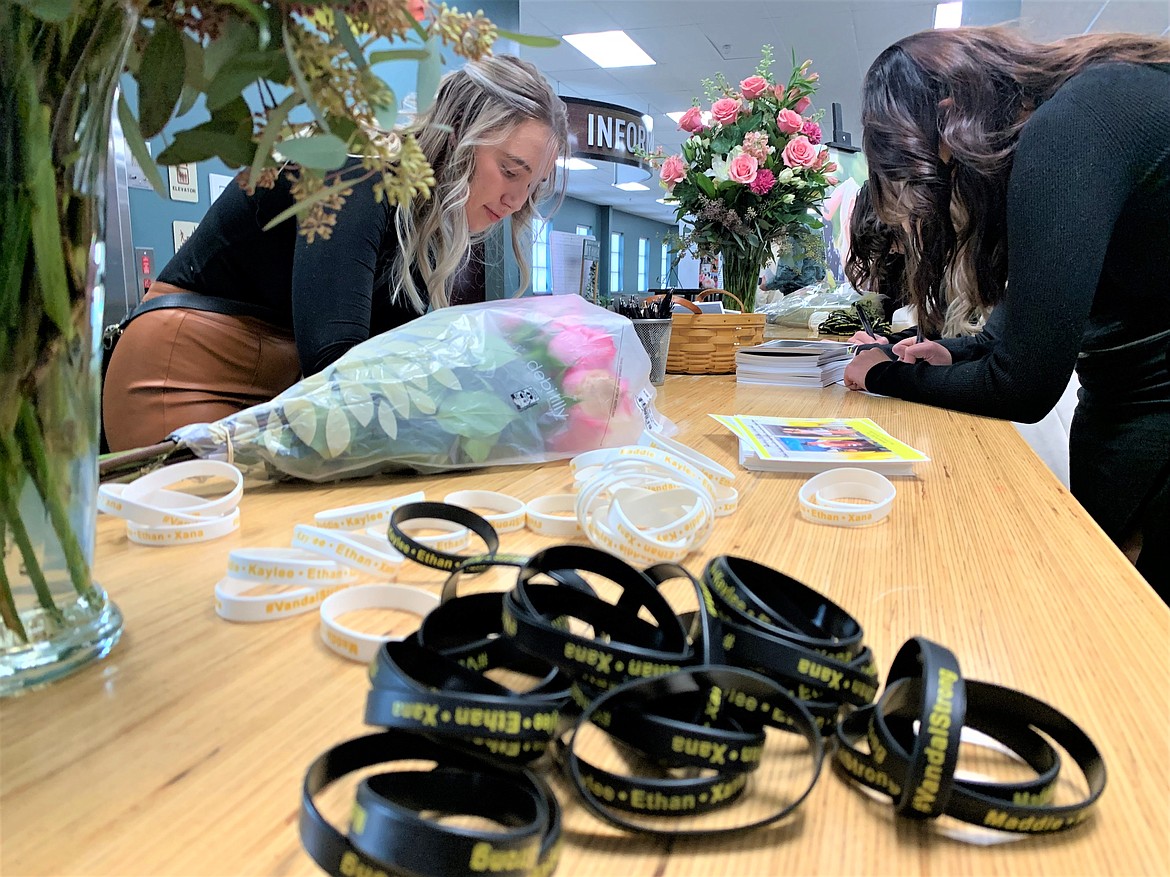 A University of Idaho student writes on a card following Friday's celebration of life at Real Life Ministries for the four slain UI students.
Previous
Next
by
BILL BULEY
Hagadone News Network
|
December 3, 2022 1:00 AM
POST FALLS - Jake Schriger struggled to find the words as he described his girlfriend, Madison Mogen. But one by one, they came.
Energetic. Happy. Loving. Strong. Kind.
"Maddie was the best at spreading love to all those who were close to her," Schriger said Friday during a celebration of life event for Mogen, Kaylee Goncalves, Xana Kernodle and Ethan Chapin.
The four University of Idaho students were slain Nov. 13 at their off-campus home in Moscow.
About 400 people, including roughly 50 UI students, attended the two-hour event at Real Life Ministries that included prayer and song. Law enforcement from the Post Falls Police Department and Kootenai County Sheriff's Office were present.
There were hugs, long embraces, tears and sobs as family and friends shared memories of the students who touched their lives in ways they will treasure forever.
All were described as "beautiful souls," joyful and smart, active and sharp, with close friends and bright futures.
There were also smiles and laughs as many vowed to remember the good times and to hold those moments in their hearts.
Pictures of Mogen and Goncalves, both 21, and Kernodle and Chapin, both 20, filled the big screen and served as a backdrop for speakers, many who cried and whose voices broke, full of emotion, were comforted by those standing near them.
More pictures in the foyer showed each student having fun, grinning, playing, full of life.
Mogen, of Coeur d'Alene, and Goncalves, of Rathdrum, were best friends, inseparable since the sixth grade. Kernodle was from Post Falls, and Chapin was from Mount Vernon, Wash.
Kristi Goncalves said her daughter Kaylee "was a beautiful girl."
A friend said, "to know her is to love her. She walked in her own sunshine."
Her dad, Steve, urged everyone to be part of the healing, starting now.
"Reach out and take care of each other," he said.
Jeff Kernodle said his daughter taught him how to be a dad. He said he would always remember Xana as being happy and sharing that happiness.
Knowing she was loved by so many, and impacted so many lives, was a comfort, he said.
"It doesn't make it better, but it does make it a little easier," Jeff Kernodle said.
Jazzmin Kernodle said her sister made life better.
"It was always so much more fun when Xana was there," she said.
A friend said Ethan Chapin, Xana's boyfriend, was unflappable, never upset, never angry, always there when needed.
"Everybody loved him," he said.
Schriger wiped away tears as he said he loved Maddie since the summer of 2020, describing her as "beautiful, inside and out."
"I was lucky enough to be able to explore life with Maddie," he said.
Schriger said they were together through highs and lows.
"She was the person I loved the most," he said.
Despite the heartbreak and anguish, Schriger said he knew what Madison would want her loved ones to do.
"She would want us to be strong," he said.
RLM Pastor Sam Meredith, in a 15-minute talk, said the deaths of the four are difficult to understand.
He cited questions most would have in this situation: Why did it happen? Why them? Where is God?
"How do we move on from this time? How do we remember our loved ones but not allow this tragedy to consume our lives?" he asked.
Meredith said the way through the pain is love. He called on people to look out for one another, to choose love and press in to the good.
"We need to do that. We need to do it together," he said.
He asked the crowd to trust God and "lean on him to be your strength."
"Even though things are difficult and you have questions you may never get answers for," Meredith said. "But know that God is good, he cares, and he loves."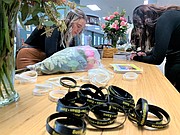 Recent Headlines
---