Audit gives county perfect marks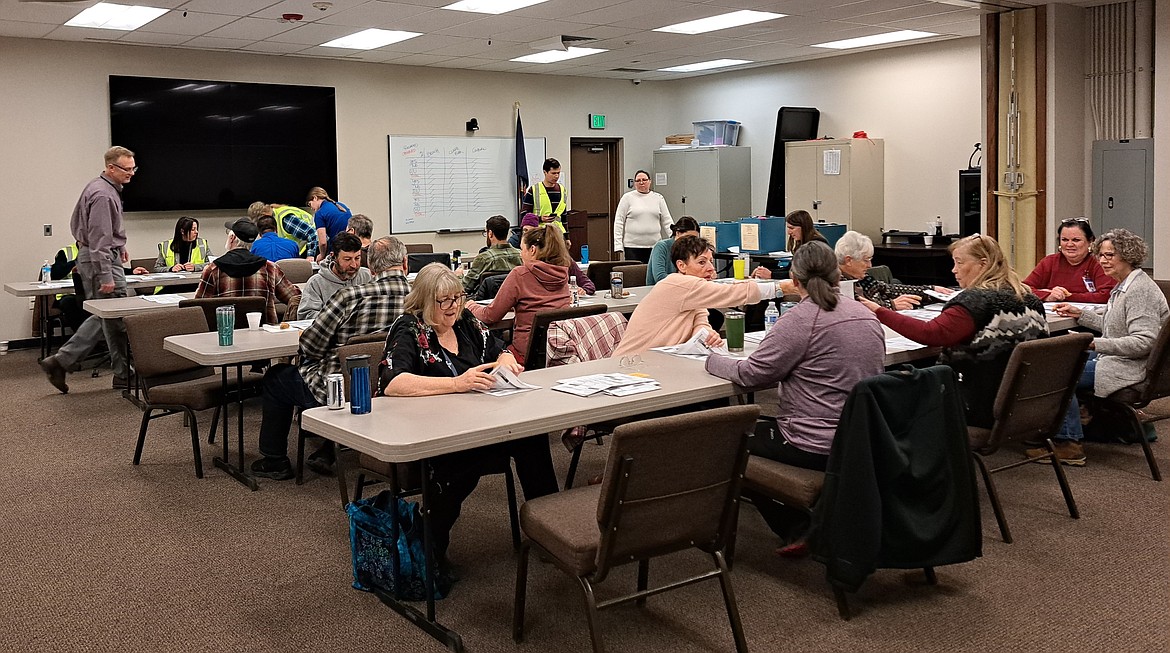 County Clerk Michael Roasedale and the Idaho Secretary of State's team supervise Bonner County's election audit on Nov. 22. Bonner County was one of eight counties randomly chosen for an audit this election cycle.
(Daily Bee file photo)
SANDPOINT — A state audit of the 2022 general election is complete with no errors found other than a few spoiled ballots in several counties selected for audit, according to Idaho Secretary of State Lawerence Denney.
The audit, held in mid-November, was conducted in seven randomly selected counties in Idaho based on population. Five Secretary of State teams were went to the counties — Ada, Bonner, Bonneville, Kootenai, Minidoka, Neb Perce, Oneida and Shoshone.
In Bonner County, three precincts were selected for audit — Clark Fork, Colburn, and Beach (south Sandpoint).
Secretary of State officials said results of the hand-recount audit of 2,051 ballots cast in three precincts matched exactly with the results reported in the county's official canvass.
"Just that I knew the results would be accurate, as our system is brutally exact," Bonner County Clerk Michael Rosedale said.
Going into the audit, Rosedale said the "big unknown" was because early votes and absentee votes are stored together for all precincts, volunteers had to search for the ballots belonging to those three specific precincts.
"And they found Every. Single. One," he added. "I'm so grateful to all of them for their help and attention to detail."
The ballot inventory of Election Day ballots in the three precincts matched the county's records perfectly. While an extra ballot was initially found in the inventory count during the audit, Secretary of State officials said it was later determined an absentee ballot had inadvertently been mixed in with the Election Day ballots.
"Once this ballot was put in its proper absentee storage, the numbers matched exactly," they said.
Like Bonner County, ballots and results matched exactly in Kootenai, Minidoka, Nez Perce and Shoshone counties.
In Ada County, one ballot processed by an early voting machine was initially counted as an over/under vote; however, it was counted as a no vote by the audit team.
"This is not uncommon to see with an occasional ballot, given the binary nature of how a machine tabulator reads a ballot, versus a human eye in a hand count, which can be more discerning as to voter intent," SOS officials said in a press release.
Bonneville County's audit showed four additional yes votes, two fewer no votes and one fewer over/under votes.
"These variances are confined to the Election Day and early voting ballots, and are likely due to a combination of sorting issues during the audit," officials said. "[And] a faint marking in the "yes" bubble, which the audit team counted as a "yes" vote, and which the tabulation machine likely did not pick up, and counted as an undervote."
While Nez Perce County had one precinct in which one ballot could not initially be accounted for during in the inventory audit, the county clerk was able to provide documentation of that ballot.
Secretary of State officials said the audit in Oneida County showed a variance of one yes vote when compared to the county's official canvass. That, they said, was attributed to a single ballot which the audit team likely counted as an overvote/undervote vote, but the tabulation machine likely counted as a "yes" vote.
A single-vote variance on the ballot inventory was traced to a spoiled ballot located by county clerk, officials said.
Recent Headlines
---