'Shop with a Cop' brings joy to all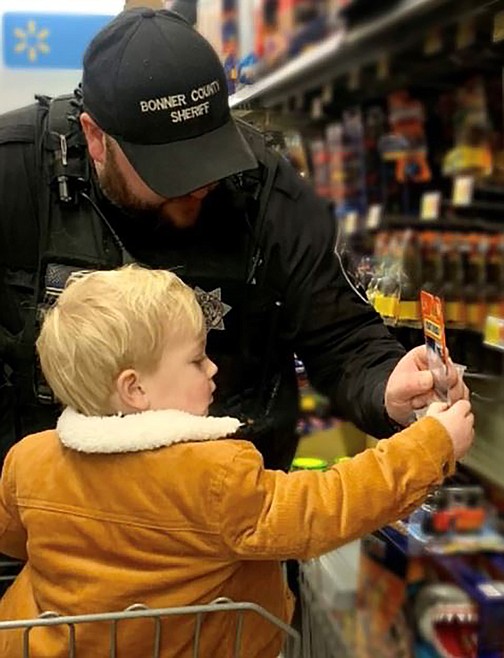 Bonner County Sheriff's Deputy Mike Crowley helps a local youngster go Christmas shopping at a recent "Shop with a Cop" event.
(Photo courtesy BONNER COUNTY SHERIFF'S GUILD)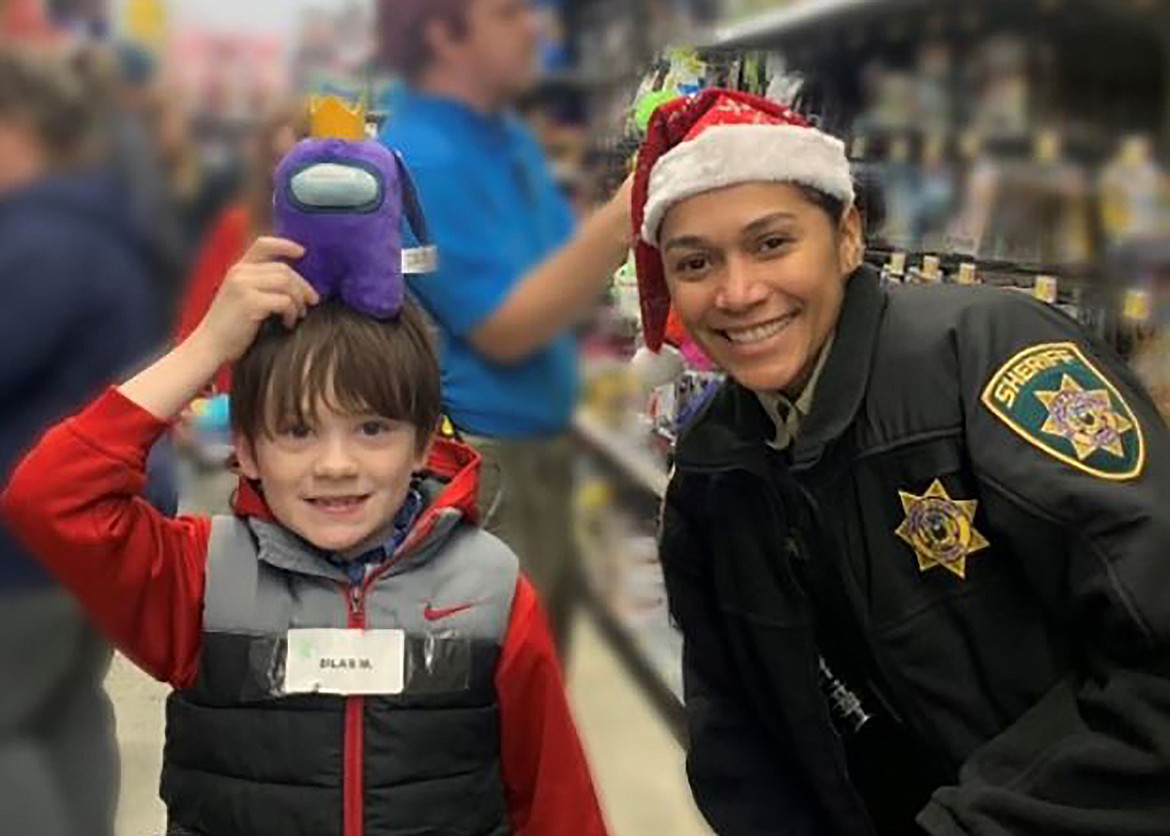 Bonner County Sheriff's Deputy Sullivan helps a local youth during last Saturday's "Shop with a Cop" event.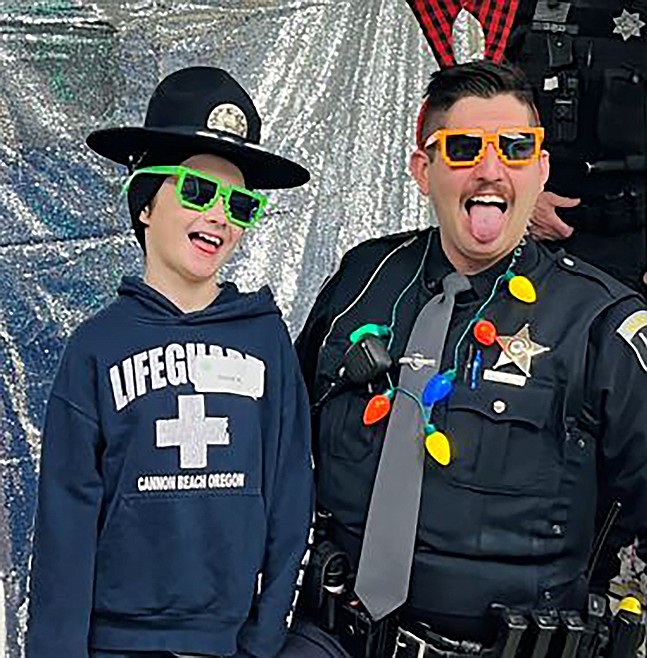 An Idaho State Police trooper and a local youth make faces for the camera at last week's "Shop with a Cop" event.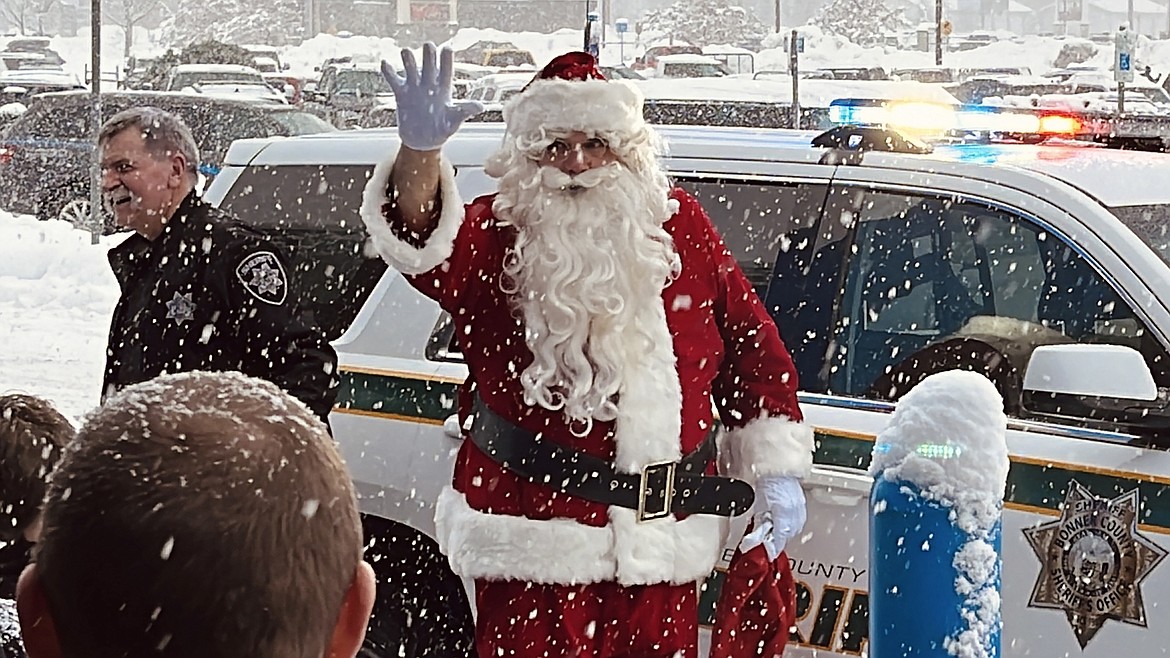 Bonner County Sheriff Daryl Wheeler escorts Santa Claus into the Ponderay Walmart so the Jolly Old Elf could meet 34 youngsters as part of last week's "Shop with a Cop" event.
Previous
Next
|
December 13, 2022 1:00 AM
SANDPOINT — On a recent Saturday, local law enforcement made Christmas a merrier time for almost three dozen deserving youths in the community.
The local "Shop with a Cop" event was the brainchild of the Bonner County Sheriff's Guild, Bonner County Sheriff's Office and sheriff's chaplains. Dozens of police officers, sheriff's deputies and troopers accompanied 34 deserving children on a Christmas shopping spree at the Ponderay Walmart.
Children were nominated by the Lake Pend Oreille School District elementary principals based on their families' social, emotional and financial needs. Often children encounter law enforcement during stressful and traumatic incidents. This program gives children a chance to have a positive interaction with law enforcement and enjoy the joys of Christmas with them, event organizers said.
"The Lake Pend Oreille School District admires the generosity and creativity of the Bonner County Sheriff's Guild, who created this valuable program. 'Shop with a Cop' has made a long-lasting impact on the 34 LPOSD students who took part this year. These kids will undoubtedly remember the day that they shopped with smiling local law enforcement, bringing home newly wrapped Christmas gifts to place under their trees! We would like to thank everyone who contributed … such a happy holiday event would not be possible without the volunteers, generous donations, and organizing efforts of the entire team", said Kristin Hawkins, community relations liaison for the Lake Pend Oreille School District.
Children got to witness Santa Claus arrive, chauffeured by Sheriff Daryl Wheeler, in a patrol vehicle with lights flashing and siren blaring. Children were then teamed up with their "cop" partners to shop for their Christmas presents. Volunteers who came wrapped the children's gifts, so they were ready to take home and place under the Christmas tree. Santa Claus provided a special moment for each child and the kids were provided a hot meal with Christmas goodie bags.
Sheriff Daryl Wheeler said "this year's "Shop with a Cop" was a true blessing to both the cops who participated and the children who received. I want to give a heartfelt thanks to those sponsors who made this event possible and for putting such big smiles on the children. Thank you especially to the police officers who enthusiastically greeted Santa with the children. You were able to show a soft side of law enforcement that is seldom seen. Merry Christmas to all!"
"Shop with a Cop" was spearheaded by Robert Whitt, the guild's vice president, a detention deputy and chaplain, who recognized this need in our community and acted. The Bonner County Sheriff's Guild enlisted the cooperation of the Sheriff's Office and chaplains to bring this program back.
Jon VanGesen, the Guild's president and a detective, said the program brings joy to everyone involved, from the children to the volunteers, the officers and the Walmart employees. "We are extremely thankful for the generosity of our community and volunteers who helped provide a memorable Christmas for these kids. Putting a smile on their face makes it all worth it."
This year's event was made possible because of the generous financial support of individuals, community service groups, churches and corporations. Sheriff's officials said special thanks are owed to Sandpoint Kiwanis, Idaho Forest Group, Cocolalla Cowboy Church, Randolph Logging, Box H Construction, Bonner County chaplains, Marcus Mabrey – State Farm Insurance Agent and Walmart.
The law enforcement agencies who participated included the Bonner County Sheriff's Office, Ponderay Police Department, Sandpoint Police Department, Idaho State Police and Pend Oreille County Sheriff's Office in Washington.
Due to the overwhelming need in our community and the support of the "Shop with a Cop" program, fundraising efforts have begun for next year. If you would like to support future "Shop with a Cop" events, financial donations can be made to the Bonner County Sheriff's Guild, P.O. Box 92, Ponderay, ID 83852, or dropped off at the Bonner County Sheriff's Office for the Guild, at 4001 N. Boyer Road, Sandpoint.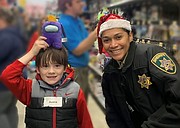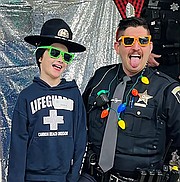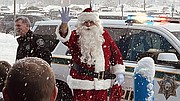 Recent Headlines
---