Business as usual at weekly BOCC meeting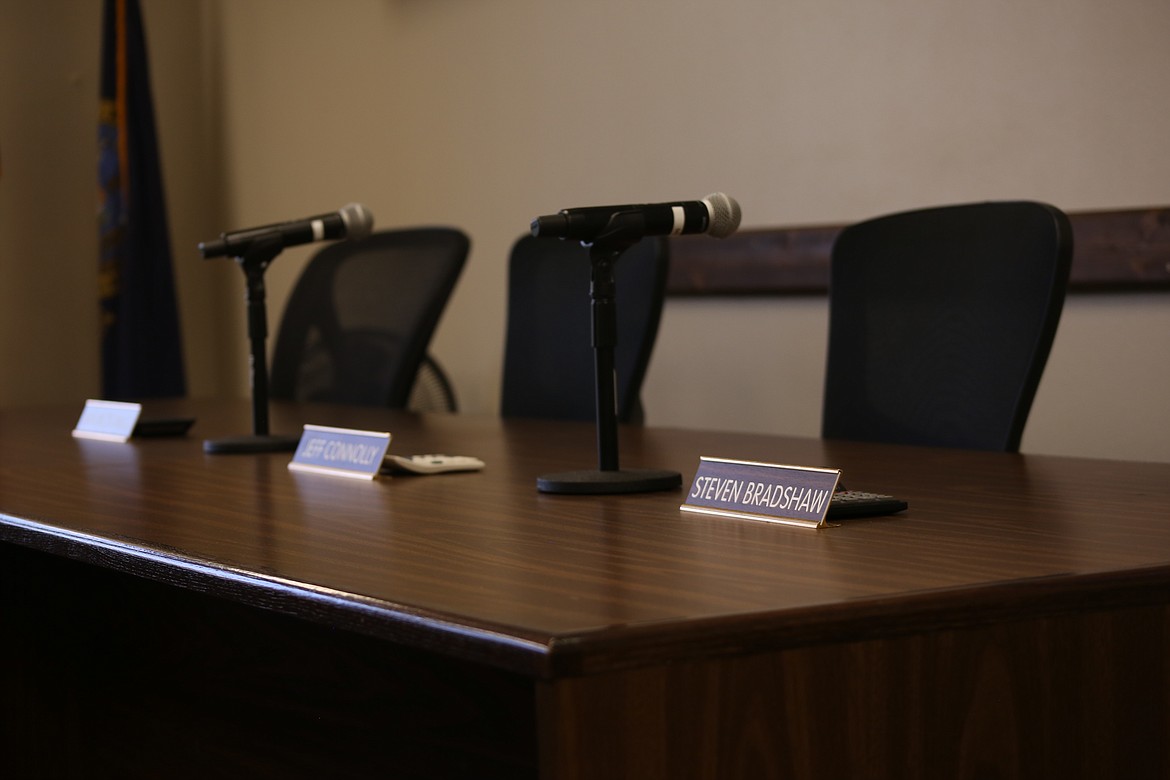 by
KATHY HUBBARD Contributing Writer
|
December 14, 2022 1:00 AM
A batch of bills to keep the county running, to the tune of $1,064,617 and change, was requested by County Clerk Mike Rosedale and approved at Tuesday's Bonner County commissioners weekly business meeting along with an additional $24,676.74 for the county's EMS.
Commissioners approved the consent agenda that included liquor licenses issued to Little Heisel Service Station in Clark Fork; Eichardt's Pub Grill and Coffee, Bluebird Bakery, Utara Brewing Company and Curry House in Sandpoint; Captn's Table in Sagle, and Sandpoint Lodge 1376 BPOE and Elks Golf Course in Ponderay. It also included plat approval for Bartlett Farms and an over-$5,000 invoice for Road and Bridge.
Comptroller for the Courts Office Nancy Twineham brought forward a memo regarding end-of-year accruals for the self-insured medical fund caused a deficit balance. Her request was to use $906,00 in ARPA funds to offset the deficit and bring the account into a positive balance. The request was approved.
Also approved was Twineham's request for the clerk's office to carry $23,000 from fair funds since the county had entered into a lease agreement for a new tractor to be used out at the fairgrounds. These funds help pay for the lease.
Mike Boling, GIS, requested that commissioners sign a memorandum of understanding with the city of Sandpoint regarding street addressing.
"Currently we're in a hybrid model where they do some of the work and we do some of the work, and this would transfer all of the work over to us," Boling said. "Along with that we would get the entire addressing fee."
Jeff Connolly thanked Boling for his work on the project.
"This hybrid worked, but I think this will be a better fit for getting the proper addresses in the city of Sandpoint," Connolly said.
The MOU was approved.
Granite North Frontage, Vintage and Mineral Ridge roads were the topic presented by Jason Topp, director of Road and Bridge. He told officials that the county had agreed with the Idaho Transportation Department to take over maintenance of those roads after Highway 95 was widened to four lanes. He said that taking this over would include the bike path, some of which is paved and some gravel. The commissioners agreed to adopt these roads into the county.
Business Operations manager Jessi Reinbold asked and received approval to sign a letter of engagement/memorandum of understanding for an external audit by the accounting firm, Hayden Ross. She said that the cost of the audit would be $55,000 which is up $4,000 from last year.
And finally, before officials discussed zoning of property in Priest River, Connolly recused himself because his brother is part-owner of the land in question. Jacob Gabell, director of Planning and Zoning, told commissioners before them was a resolution regarding a moratorium regarding this property. He said there was possible negative impact of this un-zoned property so according to state code they would have 182 days to come forward with a recommendation. The resolution was approved.
Bonner County commissioners hold their business meetings every Tuesday morning at 9 a.m. at the Administration Building, 1500 U.S. 2, Suite 338. Meetings are live-streamed. Go to www.bonnercountyid.gov for information.
Recent Headlines
---