Festival celebrates record-setting year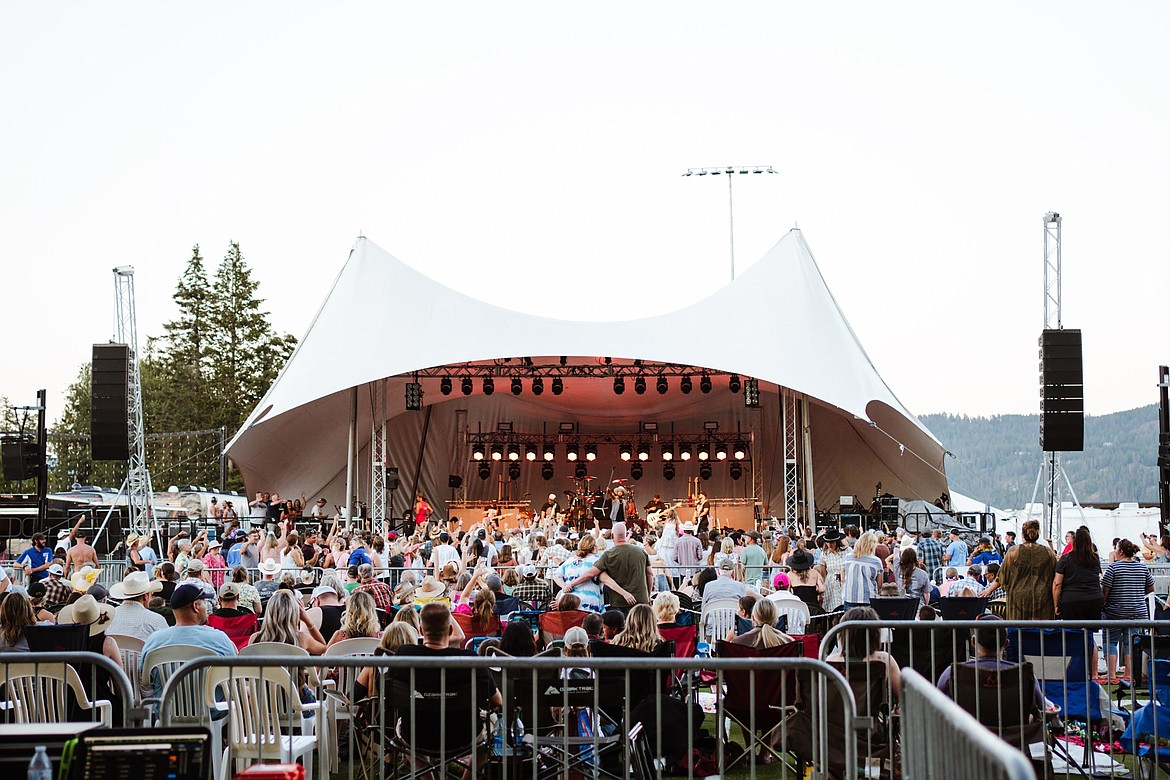 With a record of 10 concerts and the best and highest-caliber lineup in the organization's history came record ticket sales and sponsorships.
(Photo courtesy FESTIVAL AT SANDPOINT)
|
December 14, 2022 1:00 AM
SANDPOINT — This summer's Festival at Sandpoint concert series didn't just break records — it shattered them.
The 2022 summer concert series' 10 concerts and its highest-caliber lineup resulted in record ticket sales and sponsorships, Festival at Sandpoint officials said.
The 2022 season sold 5,705 more individual tickets than any other year, grossed $360,000 more in ticket sales than any other year and every show carried itself financially and exceeded sales goals. The season's success was announced as part of the Festival at Sandpoint's annual report which was release Dec. 8.
"With new costly operations at Memorial Field, bigger concerts, and recovery from pandemic seasons, it was great to see that over the past ten years, our impact has grown by 58% in regional sales, 61% in gross regional product, 57% in total compensation, 47% in jobs created, and 96% in tax contribution," Ali Baranski, Festival at Sandpoint executive director, said.
Baranski said the Festival sponsored a 2022 economic-impact study through the University of Idaho to assess the economic contributions of the organization on the county. It's the first time an assessment has been done since 2012.
A few key data points stood out of the many insights gained from this new economic impact analysis, Baranski said. According to the report, the Festival has a conservatively estimated direct economic impact of $3.8 million on Bonner County, generates over $233,000 in city, county, and state taxes, and creates the equivalent of 37 full-time jobs in the community.
Outside of the summer concert series, Baranski said the Festival noted several updates in 2022.
In October 2021, the Festival welcomed Paul Gunter as the new year-round education and production manager after 24 years of working as the seasonal production manager.
With his arrival and an increased need for quality production locally, the Festival now offers full production services, including lighting design and operation and live concert production, for the greater Sandpoint area, Baranski said.
Over the past year, the Festival was excited to expand its music education programs and offerings. Also of note, Baranski said was the donation of 26 instruments and assorted equipment to the Festival at Sandpoint's instrument library.
The Pre-K Outreach Program, the Festival's newest addition to its educational outreach repertoire, launched at two schools this spring, Baranski said.
"Over 70 students at Selkirk School and Little Lambs Preschool completed a program in which they learned to play six different non-pitched percussion instruments, count and read rhythms, and learn to play parts within a group," she added.
In the final meeting of 2022, the board elected Amy Bistline as president, Cari House as vice president, Hali Karr as secretary, and Chris Blanford as treasurer. Dan Meulenberg and Grant Nixon left the board due to term limits, and Ben Higgs was named as a new member of the board.
Information: bit.ly/3FsQVJI
Recent Headlines
---