Library's ornament exchange shares Christmas spirit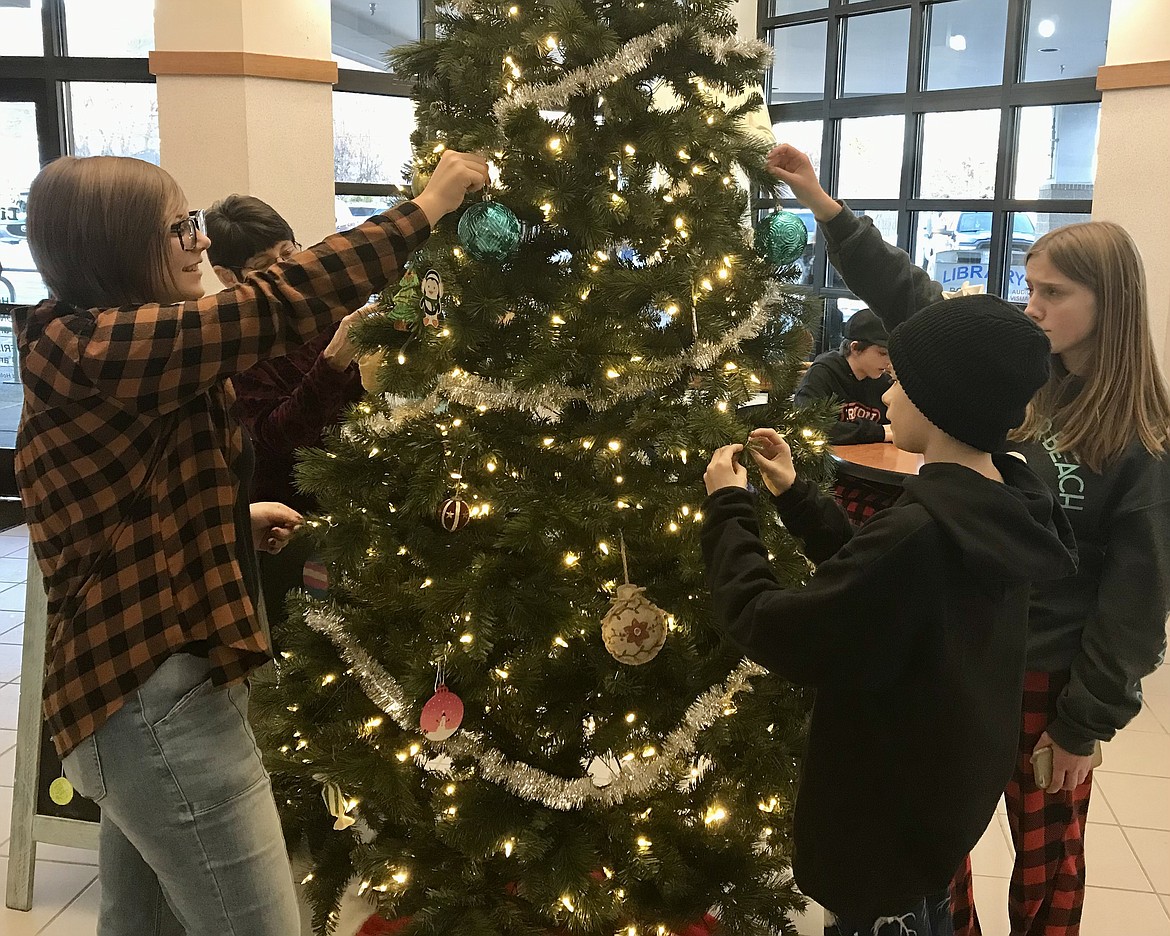 Halo Beckman, Cameron Garton, Lydia Lowman and Dale Mason-Wargo hang ornaments on the library's Christmas tree. Residents are free to take any of the ornaments home — and to bring their own in to give to others.
(Photo courtesy LYNN WALTERS)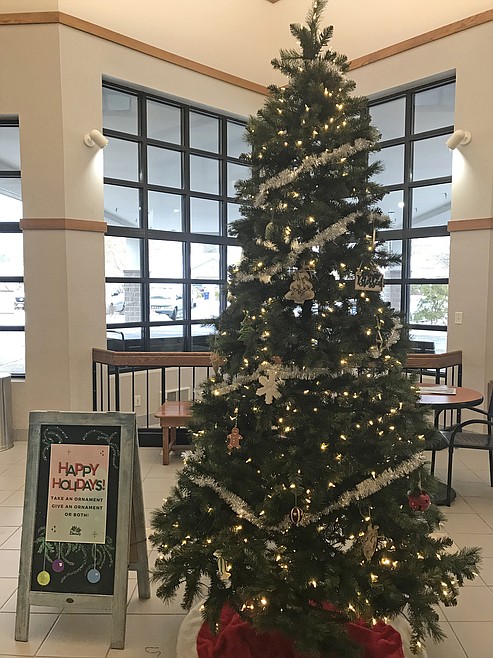 A sign sits by the Sandpoint Library's Christmas tree encouraging community members to find a new treasure or to bring in ones they no longer want for others to enjoy.
Previous
Next
SANDPOINT — What started as a sparsely decorated tree in the middle of the Sandpoint Library lobby has blossomed into the embodiment of the Christmas spirit.
The tree is the home of the East Bonner County Library District's ornament exchange. The brainchild of artist Lynn Walters, the exchange allows anyone to bring — or take — an ornament from the tree as a way to spread community cheer and Christmas spirit.
When Walters came to them with the idea, East Bonner County Library District Director Viktor Sjöberg and public information officer Brendan Bobby immediately jumped on board, created a sign and placed it by the tree.
It is, Sjöberg said, a great fit for the library because of its commitment to both resource sharing and fostering community connections.
"Whether you are giving away an ornament or picking one up, the tree in our lobby is fulfilling its new purpose of transmitting holiday cheer from neighbor to neighbor," he added.
Sjöberg said the library plans to make the ornament exchange an annual tradition.
While the first week was a little slow, as word has spread, more ornaments are finding a temporary home on the tree while others are finding their way to a new home.
While some have brought ornaments to add to the tree, in other cases, they are made or painted at the library. That was the case with a number of local youths who painted ornaments in the Teen Lounge before adding them to the tree, Bobby said.
"It appears in the last week or so, the Christmas spirit has really hit the community, and they've poured their heart and soul into decorating it," he added.
Any of the ornaments on the tree are free to take or exchange. If you see one you like, you're welcome to take it, no questions asked, Bobby said. If you have an ornament you want to add to it, anyone is more than welcome to come in and place one on the tree for others to take.
Walters got the idea from a social media post where someone suggested placing a geocache under a Christmas tree. She was captivated, she said, but wanted something indoors where the ornaments would be safe and protected until they were adopted by their new owners.
She loves the thought that the ornaments will find a new home instead of sitting unused in a box or on the shelf of a thrift store somewhere.
Walters loved seeing the tree but admits she always thought it looked a "little naked" without any ornaments. So when she was sorting through some of her art supplies, she found ornaments as part of a Sandpoint Teen Center art project. After talking to library staff, Walters brought along the ornaments on her next trip to town and hung them on the tree.
While she said it's hard to say if anyone really needs ornaments, the tiny treasures have a unique way of capturing memories and celebrating what makes each person unique. She loves how they capture a moment in time, whether it is an ornament that holds a photograph of a loved one or one that recalls a special time in a person's life.
"For a lot of people, and especially someone my age, they're kind of nostalgic," Walters said as she described how her kitchen tree contains gingerbread people and baking items or how a tree at Sandpoint Super Drug is filled with fun skiing stuff. "You know, they bring back memories."
Walters estimates her ornament collection at several hundred treasured decorations, all of which recall special memories, from the gingerbread people to those given to her as gifts.
She also makes ornaments, from stained-glass creations to ones blending glass, rocks, and wire. Those she gives away — some to friends, some left in places where those needing a lift will find them. This year, some of the ornaments were placed on the library's tree.
"I love the idea that [the ornaments] will bring joy and find a new home," Walters said. "I love that they are spreading Christmas cheer and making this a friendlier place."
Bobby said the library may keep some of the custom ornaments to help jumpstart the ornament exchange next year.
"There are so many custom ornaments on there, I think it'd be great to hold onto them for next year and jumpstart the exchange, so long as we have the space for it," he added. "There's such a bounty that I wholeheartedly encourage people to come in and take some home to their own trees."
The library is open today, Dec. 22, from 9 a.m. to 7 p.m., and Friday from 10 a.m. to 5 p.m. It will be closed Saturday and Monday for the Christmas holiday.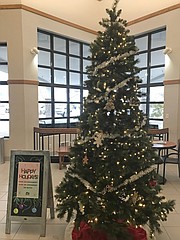 Recent Headlines
---