Donations bolster Panida Century Fund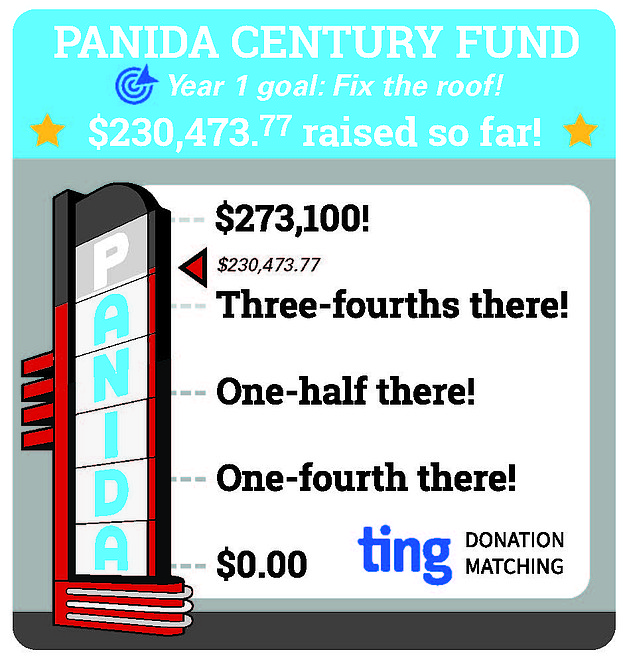 The Panida Theater's Century Fund received $2,695 in donations this week – which, thanks to the match by Ting Internet, means $5,390 was gained and fund total is now $230,473.77.
(Courtesy illustration)
|
December 23, 2022 1:00 AM
With this season of giving providing inspiration, individuals donated $2,695 to the Panida Theater's Century Fund this week. Thanks to the match by Ting Internet, means $5,390 was gained and fund total is now $230,473.77.
"This generosity from our community is just an indication of how important the Panida is to so many," said Panida board chair Jim Healey. "We're closing in our on goal for this first year, and for that I can only say 'thank you' again to our donors."
This first-year, Phase 1 goal of the five-year Century Fund campaign is to raise $273,100. The major need it will address is to replace the theater's aged and leaking roof.
With little more than a week before the new year rings in, Healey noted that the Panida is a 501(c)3 nonprofit organization, which means donations are tax deductible for many. Plus, he pointed out, the campaign has gotten a huge boost from Ting, which has pledged to match individual donations of $5,000 and under, up to a total of $200,000 over the five-year campaign.
"For anyone who is able to donate, not only is there a potential tax savings – but, thanks to Ting, your donation actually gets doubled," Healey said. "With some grants we have under way, we're determined to get to our goal to replace that roof, and we are so grateful for all the support for this treasured gem of our community."
To donate, or see detailed plans for the campaign itemizing expenses, click to www.panida.org.
Recent Headlines
---