Everything you need to know about winter trail etiquette
Ever wonder what to do when you are out on a winter trail?
I recently sat down to talk about winter trail etiquette with Jason Welker, executive director of the Pend Oreille Pedalers.
If Pend Oreille Pedalers, or POP, sounds familiar, it's because they've been around since 2005. At the time, the purely volunteer-based group wasn't very active. In 2010 things kicked up and POP members began trail building in the Sherwood Forest. Building was done over two to three maintenance parties each year, mainly by hand.
Flash-forward to 2020, and you'd come across a bustling group of community members who were eager to grow the local trail system around Sandpoint and get others involved. The weekly build parties average 25 volunteers all spring and into summer and as of 2022 has 700 paying members.
I'll save the deep dive into POP history for another article because it's impressive, especially with what they've accomplished in the last few years.
Back to trail etiquette. Welker was able to acquire a single-track groomer and has been maintaining the seven miles of trail in the Pine Street Woods for the last three years. On any given day, you're like likely to bump into Jason and his dog Tucker or two of his friends who help maintain the trails.
If you've been out walking, biking, or skiing through Pine Street Woods in the winter, you've probably noticed the differences in trails. Some are narrow, some wide, some are beautifully groomed corduroy, and others are straight powder.
When entering these areas, it's important to respect them and to practice trail etiquette. If you come across someone who isn't using the trail as intended, try to lead with a teaching attitude. That person might not have been educated on winter trail etiquette just yet.
To make it more digestible, winter trail etiquette has been broken down into five categories: wide trails, narrow trails, snow shoeing, run/hiking and fat biking.
Wide trails, also known as social trails because you can easily walk shoulder to shoulder with friends, are open to only skiers in the winter. Although groomed, these trails don't get as compacted as the other trail types and can be hazardous to skiers if scattered with sunken in boot prints from people walking. If you're interested in trying nordic skiing, visit the Outdoor Recreation Center in Pine Street Woods. The center is run by Sandpoint Nordic Club, which offers daily, weekly, and seasonal ski rentals on Saturdays and Sundays from 9 a.m. to 4 p.m. On Fridays, you can bring your dog skiing with you from 12-7 p.m.
Narrow trails, or single track as the preferred name by mountain bikers, are open to everyone. Trail runners, hikers, snowshoers, and mountain bikers can all enjoy these trails harmoniously. Jason says that the natural rule of thumb when using these trails is to "think before you sink." This means if you're a couple steps into the trail and start sinking, either grab some snowshoes and come back or wait until another day to run, walk, or hike. Dogs are always welcome on these trails and bikers must yield to hikers and trail runners.
Show shoeing is encouraged at any time on all of the narrow trails. The recreation center in Pine Street Woods has snowshoes available for rent every Saturday and Sunday from 9 a.m. to 4 p.m.
"Snowshoes are only going to improve our trails because they compact it and don't leave deep holes in the trail," Welker said.
Runners, hikers and our furry friends are allowed to use the narrow trails in all seasons but there are a few courtesies that POP would like everyone to keep in mind. Please don't run or hike when they're fresh snow. You will leave deep holes in the snow which makes it dangerous and pretty much impossible for folks using fat tire bike. In the two to three days after a 4-inch to 5-inch snowstorm, opt for using snowshoes on all Pine Street Wood trails.
Fat bikers, enjoy those narrow trails whenever your heart desires. It's recommended that bikers ride at a tire pressure of 3-5 PSI and give extra time when riding in the snow. A good gage of this is to take your typical speed and reduce it by 30%. If you're interested in trying fat biking, you can either rent from Greasy Fingers or post on the Ride7B Facebook page asking if someone can lend you their bike.
"Most likely there will be someone who will lend you theirs to try," Welker said.
If you'd like to become a member or learn more about POP, you can find them online at pendoreillepedalers.org. For more trail and grooming updates, follow their Instagram account @PendOreillePedalers.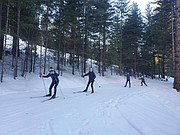 Recent Headlines
---