The year of the grizzly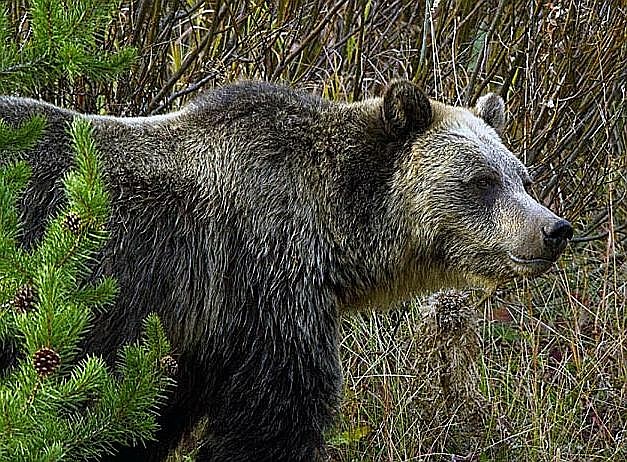 This past year saw an increase in the number of grizzly bear and livestock interactions across the region.
(Photo courtesy IDAHO DEPARTMENT OF FISH & GAME)
by
EMILY BONSANT
Hagadone News Network
|
December 29, 2022 1:00 AM
BOUNDARY COUNTY — The past year saw an increase in grizzly bear and livestock interactions across the region.
This past year, two bears were euthanized by IDFG and U.S. Fish and Wildlife Service officials due to repeated attacks against livestock in the Naples and Porthill areas throughout the spring and summer.
The attacks led to IDFG officials working to educate farmers and hobby farmers on the necessity of electric fences to keep out predators and other measures to minimize bear interactions.
"Lock up your food and utilize electric fences for domestic livestock and animals," conservation officer Jeremy Gaffield said in the summer. "Animals go for the easy meal, make it hard with electric shock."
Several of the grizzly bear attacks on livestock took place at locations that did not have electric fences and where feed was left out, Gaffield said.
"In response to the incidents, Fish and Game conservation officers and USDA Wildlife Services staff provided the landowners with electric fencing to secure remaining livestock and set multiple traps in an attempt to capture the bear," IDFG officials said in a press release.
Gaffield said a bear will often hit a location and never return. Bear sightings, especially near homes and farms, should be reported to the IDFG Panhandle Region office at 208-769-1414.
Photos are appreciated as it helps IDFG officials to track, monitor and identify bears in the area, he added.
IDFG has electric fence equipment available on loan on a case-by-case basis. Property owners should contact Idaho Fish and Game for more information.
Landowners can request assistance and a variety of educational materials for "living in bear country" by contacting the Panhandle regional office at 208-769-1414. In addition, other cost-sharing programs through other entities exist for reducing human-bear conflicts.
For more information or if you have questions, please contact the Panhandle Regional office.
You can also follow the Panhandle Regional Facebook page to get regular news and updates.
Grizzly bears have also had encounters with local hunters. On June 8, a grizzly was shot by hunters in the Ruby Creek drainage.
The hunters were actively hunting black bears, and had just harvested one IDFG officials wrote in a press release. As the hunters worked to retrieve the black bear, a grizzly appeared out from the dense brush and began approaching them.
An IDFG investigation determined the bear was killed in self-defense.
IDFG said the hunters backed away from the grizzly bear and began yelling at the animal, but it continued toward them undeterred. As the grizzly got closer, one of the hunters discharged his firearm at close range, killing it.
The bear was a sub-adult male. Neither hunter was injured during the encounter, IDFG officials said.
After the incident, one of the hunters reported the incident to Boundary County Dispatch, which then routed the information to local IDFG conservation officers. Fish and Game officers then responded to the scene with the hunters, conducted an investigation and recovered the bear carcass.
Grizzly bears are protected by the Endangered Species Act. With the population of grizzly bears growing in the Cabinet-Yaak and Selkirk recovery areas, in March the Boundary County commissioners called for grizzly bears to be removed, or delisted from the Endangered Species Act list.
On March 9, Idaho Gov. Brad Little petitioned U.S. Fish and Wildlife Service to remove grizzly bears in the "Lower 48" United States from the Endangered Species Act and recognize states' successful efforts to recover and manage grizzly populations.
Delisting is an important, and long overdue, recognition of these major roles Idaho and its neighboring states Montana, Wyoming and Washington have played in grizzly bear recovery by growing the population from a few hundred bears in 1975 to currently over 2,000 bears across four states, said Roger Phillips, public information supervisor for the Idaho Department of Fish and Game. Grizzlies in the U.S. and Canada now number around 60,000 bears.
Delisting grizzlies would remove them from the Endangered Species Act, but would not make it legal to hunt grizzlies.
"When animals get to the point of recovery, we want them to recover well," Commissioner Dan Dinning said in the past.
In Boundary County there are two grizzly bear recovery areas, which includes the Selkirk Mountains and the Cabinet-Yakk recovery area.
Dinning said if just the grizzly bear population at Glacier National Park was delisted without the Selkirks and the Cabinet-Yaak population, Boundary County would be a habitat "island" and alone wouldn't meet criteria for delisting. In the past, Canadians used to be able to shoot grizzly bears for a certain period, which would hinder mortality numbers.
Boundary County officials said they are opposed to delisting the Glacier population without the Cabinet-Yaak and Selkirk population also being included.
"We are supporting the governor in essence that all bears in the Lower 48 should be delisted at the same time," Dinning said.
Since the Selkirk recovery area is smaller than the others and crosses into Canada it may never be delisted. Dinning said that it is hard to meet recovery criteria in the recovery area when the laws in Canada allow the hunting of grizzlies. Dinning added it is difficult to get an exact count of the grizzly population in the Selkirks, but it has been a joint effort with Fish and Wildlife, state of Idaho, Kootenai Tribe and others to study and genetically track the grizzly population.
The push to delist grizzly bears was precipitated by Glacier National Park in Montana pushing to delist their grizzlies, Dinning said. The bears in recovery areas in Boundary County are genetically related to the bears in Glacier National Park.
The goal for the selkirk and cabinet/yaak recovery areas is to each have a grizzly bear population of 100.
Recovery areas are to allow the grizzly population to grow. In order to have grizzly bears delisted from the endangered species list, the recovery areas populations must be at 100 grizzly bears. By increasing the population the hope is to encourage healthy native wildlife for future generations to come.
Currently, 80 grizzly bears are estimated to be in the Selkirk recovery area. It is estimated that the population is growing by three percent per year making the numbers needed for population recovery nearer every year.
Every field season, U.S. Fish and Wildlife grizzly bear biologist Wayne Kasworm and other federal wildlife officials track the grizzly populations by collecting hair samples for DNA testing. Samples are collected in various ways including from trees the bears have come in contact with or rubbed or after an animal is captured.
Kasworm said there is a lack of sampling sites in the Cabinet-Yaak recovery areas due to the lack of personnel. In addition officials don't collect samples outside of the area, not because the bears aren't there, but they don't want to lure bears onto private property.
This and other factors make it difficult to complete an accurate census of the grizzly populations.
Grizzly bears, are protected under state and federal laws, may be encountered in North Idaho and the Greater Yellowstone areas. When in bear country, IDFG officials recommend the following tips:
• Carry bear spray and keep it accessible
• Hunt with partners and make each other aware of plans
• Look for grizzly bear signs, including fresh tracks. Let partners know if you see them
• Retrieve meat as quickly as possible
• Hang meat, food and garbage at least 200 yards from camp and at least 10 feet off the ground
• When not hunting, make noise, especially around creeks and thick vegetation. Most attacks occur by inadvertently surprising a bear at close range
Black bears are common throughout the Idaho Panhandle. Grizzly bears are most commonly observed in the Cabinet and Selkirk mountain ranges in Game Management Unit 1 but have also been infrequently observed in units 2, 3, 4, 4A, 6, 7 and 9.
Recent Headlines
---