Dover water line break creates problems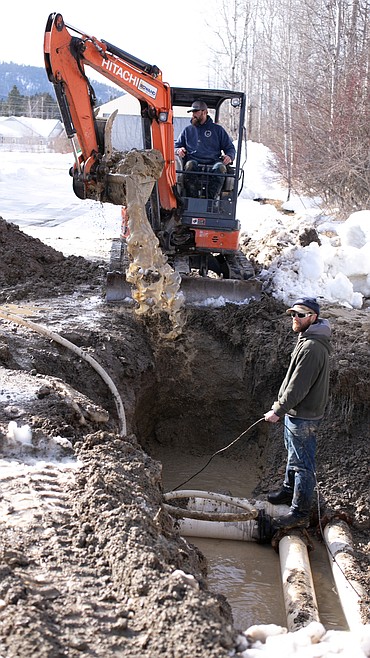 Shawn Richens, left, and Wil Ferguson of Lippert Excavation & Pipeline repair a broken water line at Loretta Lane and Fourth Street in the city of Dover on Monday. The break was caused by old parts in one of the pipe connectors.
(Photo by ANNISA KEITH)
by
ANNISA KEITH
Staff Writer
|
February 8, 2022 1:00 AM
DOVER – A boil order for the city of Dover's 1,000 residents was implemented on Monday morning after a water line broke near the intersection of Loretta Lane and Fourth Street.
Even though Dover's water pressure has returned to normal, the boil order was implemented Monday to give crews time to flush the water lines. The order will be lifted once the process is complete.
The boil order was sent via NIXLE around 8:30 a.m.on Monday urging residents to conserve water. According to information from water systems manager Mike Wade, the break was caused by an aging rubber gasket in one of the pipe's connectors.
"Every joint in the pipe is the weakest link, and this one broke apart," Wade said. "The rubber gasket shrank and the leak kept growing, then it blew the gasket."
The 8-inch line provides fresh water to the city. Wade said the break caused a significant decrease in water pressure, which created the potential for water contamination. This possibility was enough cause for city officials to implement the boil order.
To resolve the problem, the city flushed the water line on Monday evening after the necessary parts were replaced.
When asked if the break was preventable, Wade said that the break resulted from aged infrastructure.
"Even if we had to put a new line in, this still would have come apart," Wade said. "This is one of those fun things in the water business."
The faulty rubber gasket that contributed to the break was approximately three decades old. Over time, the rubber within the pipe connector shrank, which caused a slow leak for a period of time before the line broke early this week.
Information about the break was distributed to the public via NIXLE, a free information service that shares local emergency updates in real time through text messaging. To sign up for NIXLE, text your zip code to 888-777. The city of Dover also informed citizens through their website and social media platforms. City officials encourage residents to utilize the website to stay up to date for all things Dover. Visit cityofdover.id.gov/boil-water-advisory for more information.
Recent Headlines
---