Ponderay Rotary honors Marcella Nelson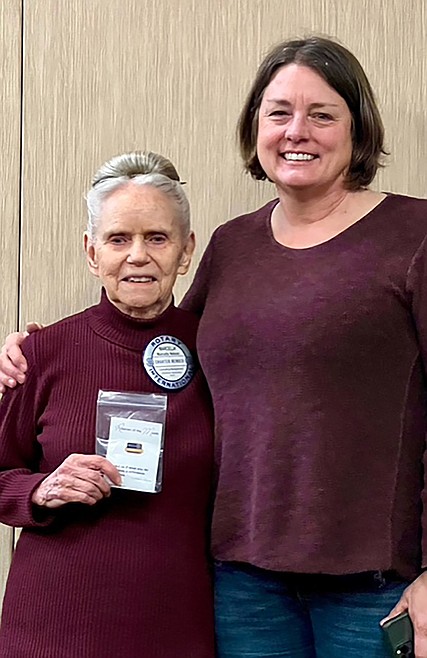 Marcella Nelson, left, is picture with Rotary Club of Ponderay Centennial president Kari Saccomanno.
(Courtesy photo)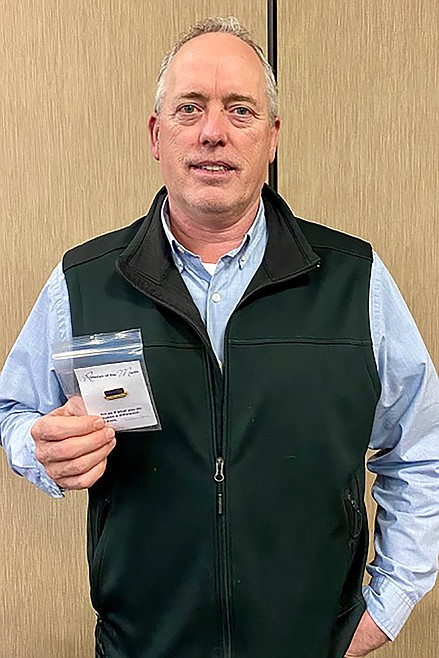 Ponderay Rotary Club honored Jim Kane of Avista as the November Member of the Month. Kaneis an integral part of the club, president Kari Saccomanno said. He keeps the club on track, contributes substantial time to the Scholarship Committee, and whole-heartedly supports club initiatives in all ways.
Previous
Next
Ponderay Rotary Club is pleased to honor charter member Marcella Nelson as the December Rotarian of the Month.
She is small but mighty just like the club she helped found, Kari Saccomanno, club president, said.
"Marcella is at every meeting, every event. She is invaluable to our club with her knowledge and dedication to our community," Saccomanno added. "She also has the best laugh ever when you get her going!"
For years, Nelson has been a powerhouse for the community. Besides Ponderay Rotary Club, she currently volunteers for Bonner General Health Foundation, Pend Oreille Arts Council, Festival at Sandpoint, and Community Assistance League. She also supports Kinderhaven, Community Cancer Services, Bonner Community Food Bank, Healing Garden, Panhandle Alliance for Education, and the Panida.
"There is probably no part of this community that Marcella hasn't touched somehow, Saccomanno said.
Nelson grew up on a working farm here in Idaho. In the 37 years she worked for Idaho Department of Labor, she has held positions from stenographer to manager. She also spent 20 years volunteering at the Chamber of Commerce and nine years directing the Ponderay Community Development Corporation.
Nelson is a founding member of Ponderay Rotary Club. Since she has been at the club from the beginning, she has actively supported this club longer than any other current or former member, Saccomanno said.
She feels the club is creating positive change by supporting and believing in our local students higher education dreams and assisting nonprofits in the community through time and/or money, Saccomanno said. She plays a key role in fundraising, but her passion really lies in awarding scholarships to deserving students.
Nelson has been involved in both the grants and events committees. She has been vice-president and is currently president-elect.
Her dog India is her passion, and her favorite way to spend her day when she isn't out helping others. When the club was meeting by Zoom last year, India joined the for all the meetings, Saccomanno said.
"Fundraising is my favorite hobby," Nelson said.
Saccomanno said Kelso is happy that she is retired now and can dedicate herself to that and the community.

"She is definitely a force and definitely a Ponderay and Sandpoint icon," she said. "Ponderay Rotary Club is lucky to have Marcella as part of the family. Congratulations Marcella!"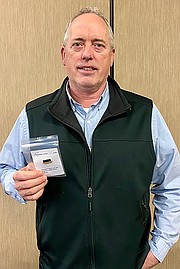 Recent Headlines
---