Gervasi cases may be going to Idaho Supreme Court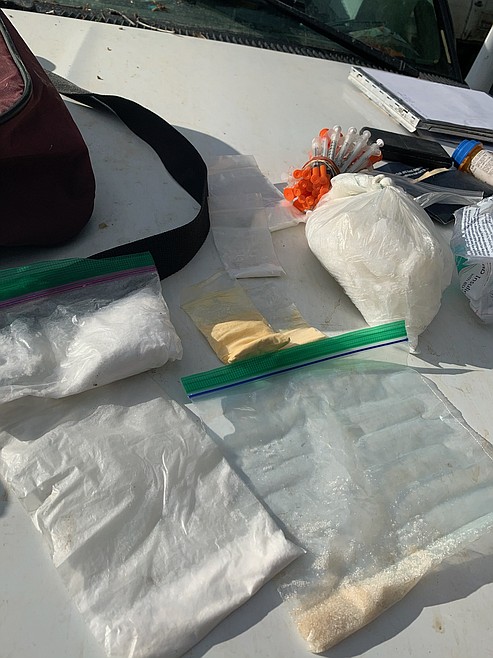 Items seized in Joshua Christopher Gervasi's apprehension on June 16, 2021 included trafficking-level amounts of methamphetamine and heroine. Other drugs including DMT and LSD were also seized. Many other items including firearms, burner cellphones, and pages from Gervasi's court documents were also found.
(Photo Courtesy BCSO)
by
ANNISA KEITH
Staff Writer
|
February 24, 2022 1:00 AM
▶️ Listen to this article now.
SANDPOINT — A Bonner County man may have one or more of his court cases seen by the Idaho Supreme Court.
Joshua Christopher Gervasi, 28, is being held in the Bonner County Jail until the appeal hearing takes place, although a date has yet to be determined.
Gervasi appealed two of his active court cases to the Idaho Supreme Court in early February on the grounds that the First District Court failed to uphold a February 2020 joint plea bargain made in both cases.
The plea bargain resulted from two separate 2019 cases where Gervasi faced a total of 17 charges. On May 23, 2019 Gervasi gained eight charges of grand theft, two counts of unlawful possession of a firearm, and a count of possession of a controlled substance. The remaining charges were acquired on Sept. 27, 2019, gaining Gervasi two charges of aggravated assault, three charges of firing a weapon at an occupied vehicle, and a charge of unlawfully possessing a weapon.
Gervasi signed a joint plea bargain on Feb. 10, 2020 in both cases, pleading guilty to a charge of grand theft in the May case, and a count of aggravated assault in the September case. In exchange for the guilty plea, the sentencing was agreed to be served concurrently — meaning that the sentences would be served at the same time, as opposed to consecutively — where one sentence would begin once the other was completed.
Court documents indicate that the plea bargain was non-binding, meaning the court reserves the option to not follow the agreement — without nullifying the guilty pleas. Throughout the court process, 15 of Gervasi's 17 charges were dismissed, five were dropped in direct connection to the Feb. 10 plea bargain. He was released the next day on his own recognizance while awaiting sentencing.
On May 4, 2020, Gervasi failed to appear for sentencing, and warrants for his arrest were issued in both cases.
Over 14 months later, in June 2021, Gervasi was arrested in Boundary County after leading law enforcement on a high-speed pursuit beginning in Bonner County. Gervasi gained nine more charges as a result — two charges for trafficking, one for methamphetamine and another for heroin, three charges for possession of a controlled substance, two charges of unlawfully possessing a weapon, a paraphernalia charge, and felony enhancement.
The Boundary County Prosecutor's Office dropped the case without prejudice on Oct. 15. on grounds that more investigation was being done. Gervasi's defense objected to the dismissal, arguing that the charges will reemerge in a new case at an unknown future date, implying a violation of Gervasi's right to due process. No court documents can be found pursuing the charges since then.
Gervasi's arrest in 2021 allowed the two outstanding cases from 2019 to resume court proceedings, which is where the tangle involving the Idaho Supreme Court begins.
On Oct. 18, First District Judge Barbara Buchanan sentenced Gervasi in both cases. In the May 2019 grand theft case, Buchanan sentenced Gervasi to two- to- five years; and an additional three- to- five years in the September 2019 aggravated assault case. The judgment of conviction specified that the sentences were to be served consecutively, instead of concurrently, which was previously agreed to as per the February 2020 plea bargain.
Gervasi's defense teams appealed the sentences to the Idaho Supreme Court on Nov. 29, arguing that the district court violated the plea agreement by handing down a consecutive sentence, as opposed to a concurrent one, and that Gervasi should be allowed to withdraw his guilty pleas as a result.
The big question before the Idaho Supreme Court is: did the First District Court violate the February 2020 plea bargain?

According to information from a Feb. 16 District Court memorandum, Gervasi's circumstances do not fall under precedent set by similar state supreme court cases of the past.
"The court is troubled by the fact that seemingly no one at the sentencing hearing, including the attorney for the State … was aware that the State was breaching the plea agreement by arguing for consecutive sentences," read the memorandum. "The court finds that the proper remedy for the lack of notice is not to reduce Gervasi's sentence or to allow him to withdraw his plea. Rather, the court believes the appropriate remedy is to set aside the judgment of conviction in this case and to reset the matter for sentencing in front of a different judge."
Proceedings were then handed over to First District Judge Lamont Berecz. On Jan. 25, Berecz sentenced Gervasi in both cases, entering two separate judgments of conviction into court documents. A sentence of five to 10 years was imposed in the May 2019 grand theft case, and an additional five year sentence issued in the September 2019 aggravated assault case — this time to run concurrently. Appeals to the Supreme Court were then dismissed as the original argument made by the defense was remedied.

In response to the new sentence, Gervasi's defense teams filed a Rule 35 motion in both cases asking for a reduction in sentencing as "a plea for leniency."
A Rule 35 motion allows a defendant to argue for a lesser sentence after it has been handed down by a judge. Rule 35 motions typically end one of two ways, the defense can argue for a lesser sentence on the grounds that the conviction is "excessive or too harsh," or, the sentencing can be corrected if it is found to be illegal.
Berecz denied both Rule 35 motions on Feb. 3, ruling that all relevant evidence that would influence a conviction was already reviewed and considered by the court during sentencing.
The denials resulted in Gervasi's defense appealing once again to the Idaho Supreme Court on Feb. 8, and Feb. 4 respectively. Additionally, defense teams filed for a delay in exercising judgment in both cases until the appeal process is completed. Berecz denied both requests days later.
A state appellate defender has been assigned in both cases, any future court proceedings have yet to be scheduled.
Gervasi has 25 other cases in the Idaho court database dating back to 2002.
Recent Headlines
---