Project aims to offset skilled labor shortage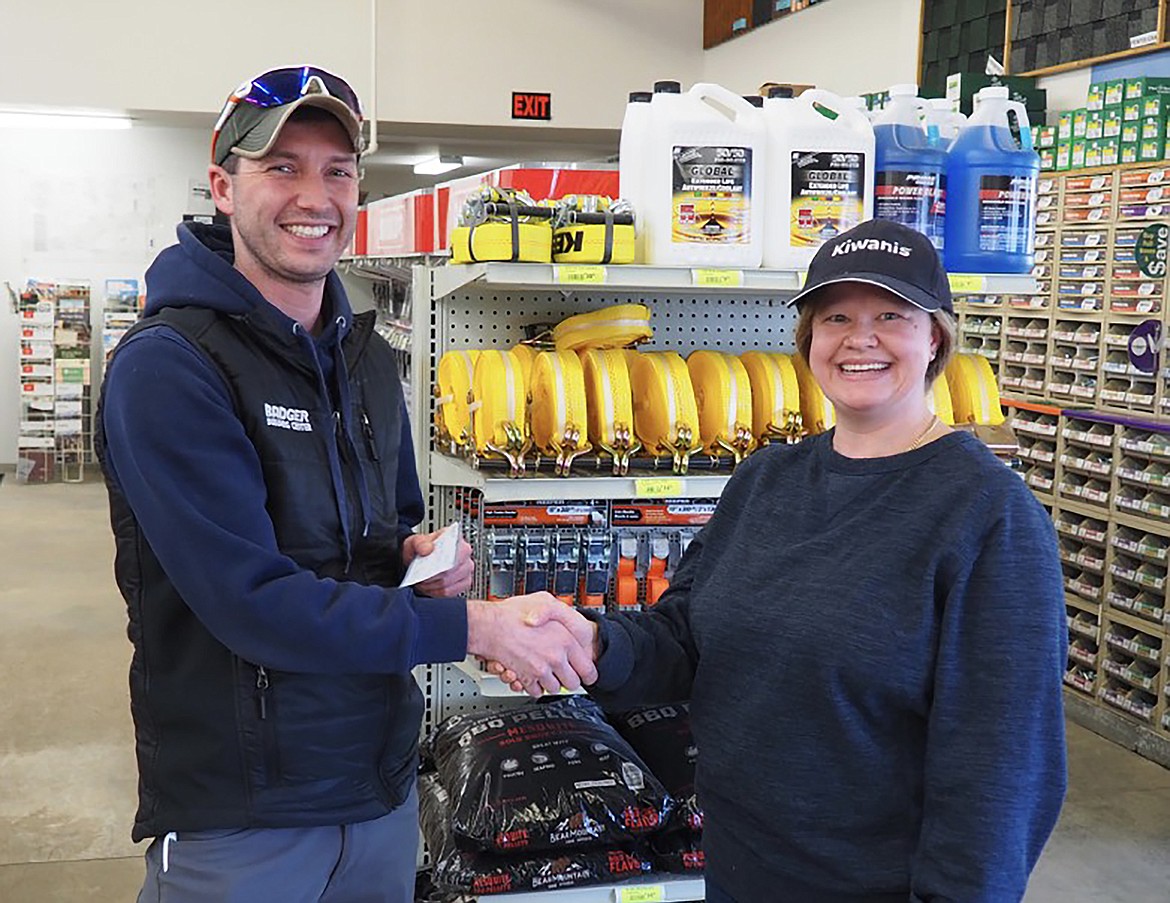 Zac Linscott, Operations Manager of Badger Building Center, receives a $1,200 check from Sheekina Cardona, Sandpoint Kiwanis Club's education/scholarship chairman, as they join efforts in building a demo shed for a new "Construction Combine" project in the Lake Pend Oreille School District.
(Photo courtesy DICK VAIL)
by
DICK VAIL Contributing Writer
|
February 24, 2022 1:00 AM
Overcoming a national skilled labor shortage is the drive behind a Construction Combine project in the Lake Pend Oreille School District.
Clark Fork, Lake Pend Oreille, and Sandpoint high schools will participate. Already in Southern Idaho, Lewiston, and Coeur d'Alene, "Construction Combine" brings together local construction firms, local businesses, education, and nonprofit companies in teaching and training students in vocational skills in providing career opportunities.
Panhandle Alliance has provided a grant, various construction firms are donating their employees time in the field of framing, dry walling, roofing, plumbing, and electrical, in building four storage sheds. Building supply companies are backing the project, while some businesses are providing funds for food and snacks for this three day learning program.
A demo shed is being built with a $1,200.00 grant from the Sandpoint Kiwanis Club, along with the backing from Badger Building Center. The shed will be a template of what the finished product should look like. The project will take place at the Bonner County Fairgrounds on March 21,22, & 23. Presently 50 students have expressed interest in the future building event. The sheds will be donated to needy veterans after completion.
Jeralyn Mire, transition counselor and Angie Dail Career Mentor, both of LPOSD, are the drive behind this program and they hope it will develop into an annual event as it has in other parts of the state.
Businesses that are volunteering include Sweet Lou's, Home Depot, Precision Gutter & Roofing, Army National Guard, Washington Trust Bank, Powder Hound Pizza, Advance Drywall Concepts, Sandpoint Kiwanis Club, Mountain View Construction, Badger Building Center, North County Electric, Dover Bay, Idahoan, Panhandle Alliance for Education, Rotary Club, and Bonner General Health. There is a lot of need. Additional volunteers can sign up at LPOSD counseling offices.
Recent Headlines
---