Balison breaks three state powerlifting records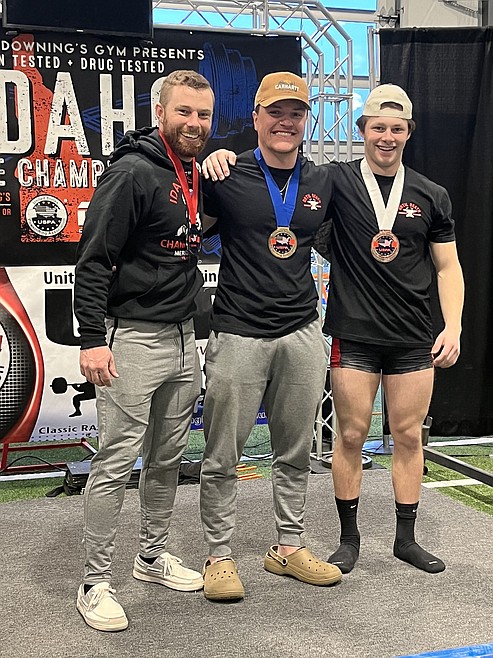 Levi Balison (right), poses after shattering three state records following the Idaho State Championships powerlifting event at the Rock and Armor Gym in Meridian. Pictured, from left, are Calum Webb, Jared Brenden, and Bailson.
(Photo courtesy of Levi Balison)
by
TREVAN PIXLEY
Sports Editor
|
February 28, 2022 10:13 PM
Sandpoint high school junior Levi Balison competed in his first career powerlifting event this past weekend on Feb.26, at the Idaho State Championships held at the Rock and Armor Gym in Meridian.
Balison shattered the glass ceiling during his first event, breaking three state records.
He broke records for squats (205 kg/451.9lbs), deadlift (237.5 kg/532.6 lbs), and bench press (127.5 kg/281.1 lbs).
He finished third in the open class and first in the junior classification.
"The past records were pretty low by my standards," Balison said. "Not just for me but for a lot of lifters my age. Breaking records isn't the thing I'm most proud of. I'm more proud that my marks are the new bar for powerlifters to meet. It sets a higher goal for everybody else."
Balison knew once he started competing, he was going to do well immediately.
"I had an idea that I was going to do pretty well," Balison said. "Pound for pound, I'm one of the strongest in the state. I looked at the records and the possible outcomes and I knew that it would turn out pretty well for me."
Balison noted that the records had been lower because the sport isn't very popular in the state of Idaho.
"There are a lot of strong people in the state; the popularity just isn't there," Balison said. "I feel with the bar being raised, people will want to come out and compete."
Balison began powerlifting when he got in contact with Chuey Fragoso.
Fragoso, who is the father to one of Balison's good friends, Slate Fragoso, is a USPA masters record holder.
"I was giving his son a ride home from work and I had known he had a powerlifting set up at his house," Balison said. "I had a conversation with him and he got me intrigued in doing a meet in the future. He has been there for me the entire way."
Fragoso had been a mentor of sorts for Balison during his journey to his first powerlifting event.
"He just gave me a lot of guidance along with technical tips," Balison said. "He gave me deadlift socks, a singlet, and a belt, which was huge."
For Balison, wearing Fragoso's belt during competition was a great feeling.
"A lot of people recognized his belt," he said. "It meant a lot to wear his gear and represent him and Sandpoint.."
Recent Headlines
---