Inside Edge: Waters shines in IMD Opener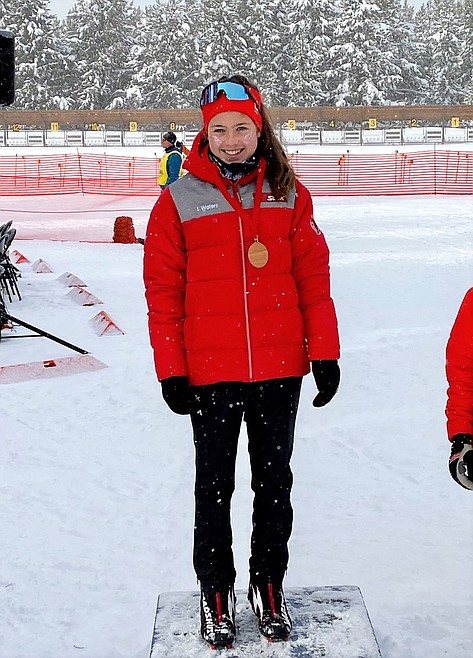 Isabella Waters stands on the podium at the Intermountain Division (IMD) Opener on Dec. 18-19 in West Yellowstone, Montana. She captured second in her U14 age group in the classic race and third in the sprint.
(Courtesy photo)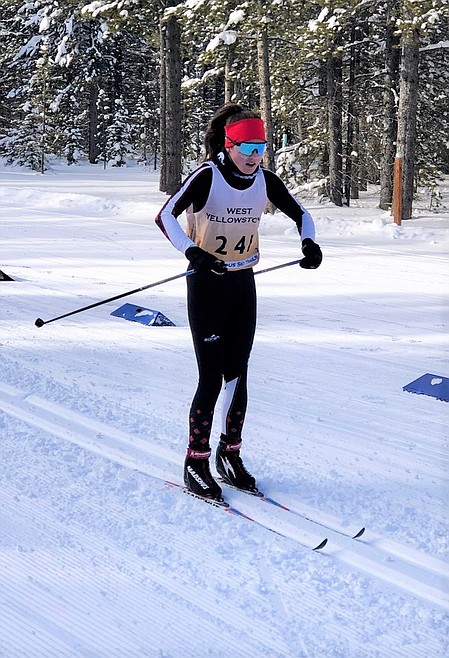 Isabella Waters competes in the IMD Opener.
(Courtesy photo)
Previous
Next
by
SHEP SNOW
|
January 4, 2022 1:00 AM
Schweitzer is now in full swing. Mother Nature delivered just in time – expanding terrain just in time for the holiday crowds. Come join the fun!
Nordic Racing — The Sandpoint Nordic race team opened its season with the Intermountain Division (IMD) Opener on Dec. 18-19 in West Yellowstone, Montana.
During the 1.4K sprint Saturday, Isabella Waters finished 64th out of 87 overall on the women's side and captured third in the U14 age group with a time of 4:38.72. On the men's side, Callahan Waters finished the qualifying round in 55th out of 98 with a time of 3:42.42. Fletcher Barrett took 75th with a time of 3:55.32 and advanced to place 22nd in the men's Citizen B quarterfinals.
During the classic races Sunday, Isabella Waters secured second out of 13 in the women's U14 3K classic race with a time of 10:57.6. Callahan Waters grabbed ninth out of 34 in the men's U16 5K classic race with a time of 16:38.8, while Barrett earned 19th with a 17:53.8.
We'll be keeping a close eye on the Sandpoint Nordic team throughout the season.
Webb Moffett — Only one local athlete traveled to the USSA races at Alpental-Snoqualmie Pass on Dec. 27-28. U16 racer Crosby Schmidt had a solid weekend finishing fourth and fifth overall in the two giant slalom races at the Webb Moffett Cup, and third and sixth in the two slaloms.
Schmidt also nabbed four podiums for his U16 age group, including two golds. Power failed between the first two slalom runs, so the racers had to hike to the start line to finish the first race, then hike two more times for the second race.
World Cup — Mikaela Shiffrin dominated the giant slalom in Courchevel, France, leading four Americans into the points and earning her 72nd World Cup win. Nina O'Brien and Paula Moltzan placed 15th and 16th respectively, while AJ Hurt was 28th.
In the second giant slalom of the week, Shiffrin took silver and Moltzan was 13th. The women's tech team minus Shiffrin, who tested positive for COVID-19, continued on to Lienz, Austria. Moltzan was the only U.S. racer in the points, finishing 22nd.
The men were at the daunting Bormio, Italy downhill, where Travis Ganong led three Americans into the top 20 on the icy and shadowed track. Ganong was eighth, followed by Jared Goldberg in 15th and Ryan Cochran-Siegle in 20th..
Potpourri — We'll have a report on the remainder of the Lienz races later this week. Any comments, recommendations or contributions to this column may be sent to Shep Snow by email at shep@thesnowschool.com. Negative feedback should be sent to someone else.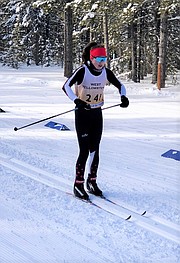 Recent Headlines
---