'Novembdeer' raises funds for food bank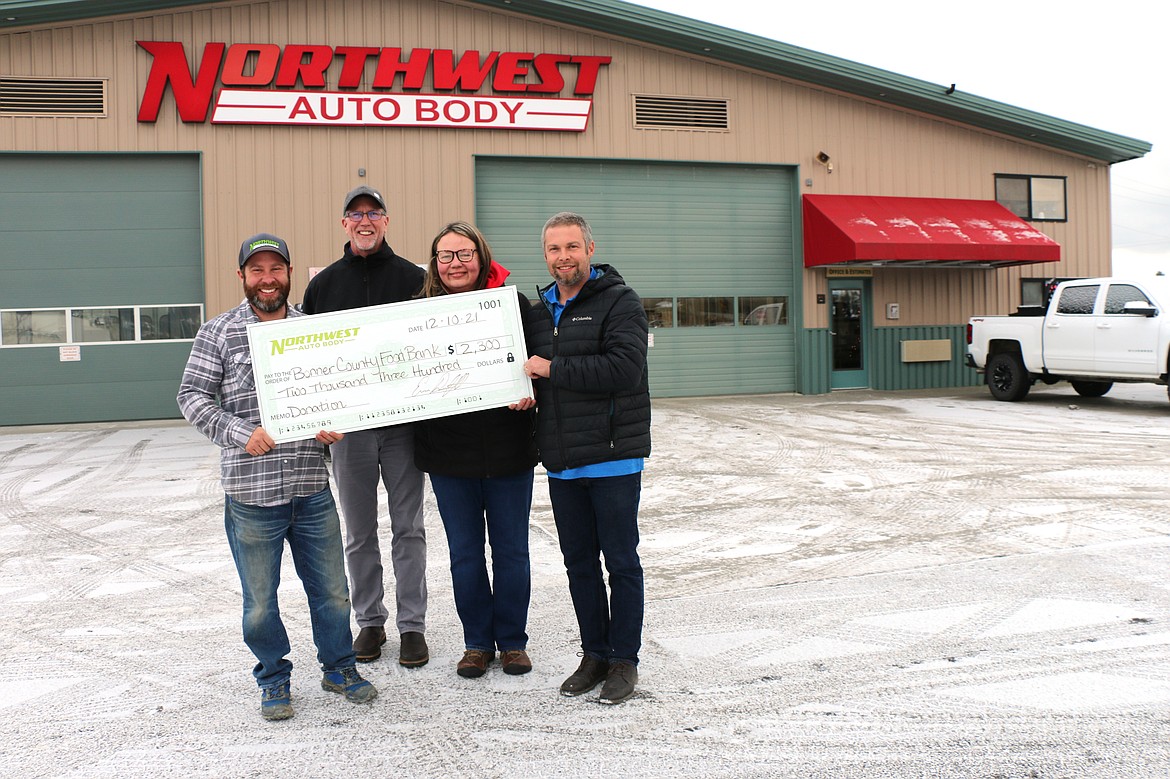 Eric Donenfeld and Cory Donenfeld of Northwest Autobody, Eric Paull of Washington Trust Bannk, and Debbie Love, executive director of the Bonner Community Food Bank gather for a photo after Northwest Autobody held its annual "Novemdeer" event.
(Photo by CAROLINE LOBSINGER)
|
January 4, 2022 1:00 AM
Novemdeer is officially an annual event at the Bonner Community Food Bank and Northwest Autobody and Towing.
For six years, the owners and employees at Northwest Autobody have raised awareness about the vital service the food bank provides for the community by raising funds in a way only a body shop could.
This year, Northwest Autobody combined with Washington Trust to give $2,300 to Bonner Community Food Bank. The awareness campaign has now contributed more than $10,000 to help those in need.
"We like the idea of giving money to Debbie Love and her staff because they have so much more buying power than we would if we only donated food," said Eric Donenfeld, NWAB co-owner. "They also know what people need and we know our donation stays local."
November is traditionally the month with the most vehicles versus deer collisions. As a result, all body shops become more busy.
A Northwest Autobody employee approached the owners back in 2016 with the idea of donating money to the community food bank for each deer or other animal collision that resulted in repairs at Northwest Autobody.
"We couldn't do this without the support of the community and we can't think of a more deserving organization than the Food Bank," said NWAB co-owner Cory Donenfeld. "The need continues to be great and we are glad we can make a difference."
Bonner Community Food Bank can be reached at 208-263-3663 and is located at 1707 Culvers Drive.
Recent Headlines
---