Bulldogs lean on defense in road win over Wildcats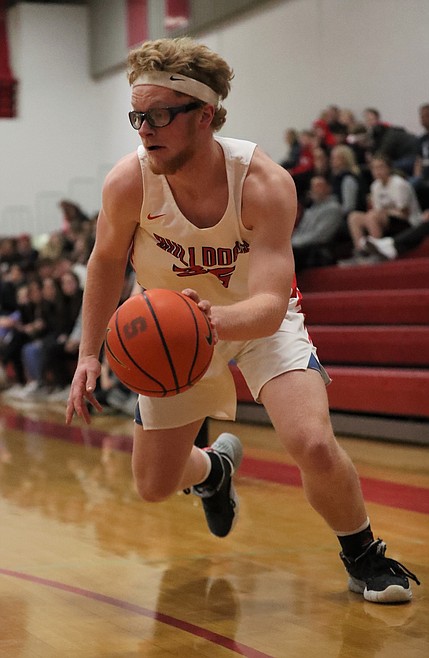 Senior Ethan Butler drives toward the basket during Tuesday's game against Lake City at Les Rogers Court.
(Photo by DYLAN GREENE)
|
January 8, 2022 7:08 PM
KELLOGG — Sandpoint boys basketball grabbed control in the second quarter and never looked back in a 54-36 victory at Kellogg on Saturday.
The win is the Bulldogs' first over the Wildcats since 2018 and ends a four-game losing streak to Kellogg.
Sandpoint dropped the first meeting between these schools on Dec. 9 58-53 at Les Rogers Court.
"We talked about that after that first game that it's been a while since Sandpoint has beaten them," head coach Brian Childs said. "Kellogg has a pretty rich tradition ... It's a solid program and it's hard to win at their place and so it was a pretty satisfying win."
Trailing 12-7 in the first quarter, Sandpoint went on a 17-4 run lasting roughly 12 minutes of game time and that proved to be the difference.
The Bulldogs outscored Kellogg 15-4 in the second quarter. Childs said his team got off to a bit of a sluggish start, but they responded with a strong effort in the final three quarters.
"We regrouped to start the second quarter and I thought we played pretty well," he said.
In the first matchup in Sandpoint, Kellogg's Riply and Kolby Luna combined for 31 points. On Saturday, the Bulldogs made the Luna brothers work for everything they got, holding them to just 15 points.
"I thought we did a much better job kind of recognizing where they were at," Childs said.
Ethan Butler led the Bulldogs with 17 points, 10 rebounds and three assists. The 6-foot-5 center slammed home a pair of dunks and even stepped out to knock down a 3-pointer. Childs said Butler dominated the paint against the Wildcats and showed tremendous hustle.
"I just love coaching Ethan," he said. "I never have to worry about his effort or where his heart is ... He gives you everything he has, and it was nice for him to be rewarded today."
Rusty Lee tallied 13 points, eight rebounds, three assists and three steals. Parker Childs finished with 12 points and Jacob Eldridge had 6 points, 11 rebounds and three steals.
It wasn't perfect, but Childs said the Bulldogs are growing stronger with every game.
"We turned the ball over a lot more than I would like," he said, "but the good part about that is the problems that we're having, we can correct. The effort is there, we're playing together and we're sharing the basketball."
Sandpoint (4-6) heads to Bonners Ferry at 7 p.m. Tuesday.
Sandpoint 9 15 16 14 — 54
Kellogg 12 4 9 11 — 36
SANDPOINT — Lee 13, Eldridge 5, Dunkel 3, Dickinson 2, Childs 12, Lane 2, Kuehn 0, Butler 17.
KELLOGG — Miller 0, Whatcott 0, R. Luna 8, K. Luna 7, Mclean 0, Groves 7, Maciosek 0, Frohlich 12, Walker 2.
Recent Headlines
---