Sandpoint grabs 4th at Pacific Northwest Classic, 7 Bulldogs place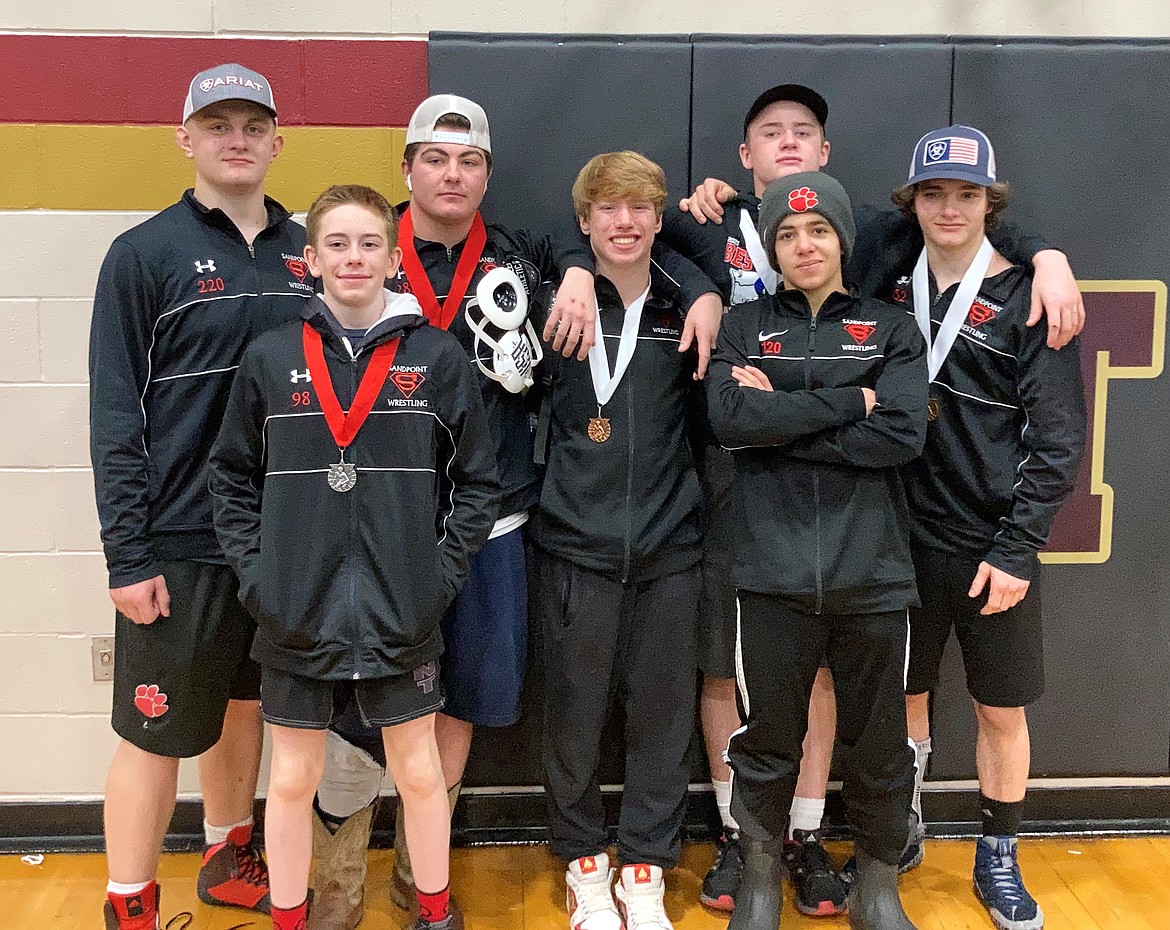 The seven wrestlers that placed for Sandpoint at the Pacific Northwest Classic on Saturday pose for a photo. Pictured (from left): Austin Smith, Andrew Duke, Greg Belgarde, Shane Sherrill, Calvin Hinds, Ashlei Hawkins and Darrian Resso.
(Photo courtesy of JAKE STARK)
by
DYLAN GREENE
Sports Editor
|
January 9, 2022 7:03 PM
SPOKANE, Wash. — Sandpoint wrestling head coach Jake Stark has been waiting for his team to break out at a tournament, and this weekend they finally did.
The Bulldogs took home fourth out of 12 teams on the final day of the Pacific Northwest Classic on Saturday at University High and seven SHS wrestlers placed.
Stark said his team got after it in Spokane and it felt like everyone was firing on all cylinders.
"I thought our guys finally rose to the level that they need to be at and all that hard work we've been putting in is paying off," he said. "It was fun to be around those guys and watch them succeed."
A pair of Bulldogs made it to championship matches in their respective weight classes — sophomore Andrew Duke and senior Greg Belgarde.
Duke lost in the first-place match at 106 pounds by majority decision to Mt. Spokane's Tanner Crosby to take second. Duke, who weighs about 98 pounds, battled up a weight class, but that didn't stop him from taking it to his opponents.
"He's giving up a good amount of weight and still hanging in there," Stark said. "He's a little bit dinged up with some injuries, but he's proven that he's a competitor and he is fighting through the adversity. He's kind of the leader of the lighter guys on our team."
Belgarde was pinned with less than a minute left in the title bout at heavyweight, grabbing a second-place finish. Stark has been impressed with Belgarde's maturity and leadership this season, and he said the intensity he brought to the mat at the tourney allowed him to excel against much heavier opponents.
"He's such a physically dominant kid," Stark said. "Both those guys he wrestled in the semis and then in the finals came out more beat up than him."
Three Bulldogs captured third — Shane Sherrill (138), Darrian Resso (152) and Calvin Hinds (170). All three had to go 4-0 in their matches Saturday to secure third and they did just that.
This was Resso's first tourney of the season, while Sherrill was able to bring home a podium finish despite not being able to wrestle Friday after getting snowed in at his home. Stark said all three performed at a high level.
"Those guys have been with our club for a long time," he said, "and its finally time for these guys to rise to the occasion and start placing in these big tournaments, and they totally did. They are wrestling at the level we expect out of them, and I couldn't be more happy with the way they performed."
Freshman Ashlei Hawkins (120) and junior Austin Smith (220) both earned fifth to round out the placers for Sandpoint.

"Ashlei Hawkins and Austin Smith also wrestled exceptionally well," Stark said.
The Bulldogs return home for a Senior Night dual with Coeur d'Alene, ranked No. 4 in the state, at 6:30 p.m. Wednesday at Les Rogers Court.
"We're going to have a good ole' throwdown on Wednesday, it's going to be a good one," Stark said. "I'm excited. I like wrestling the best of the best in North Idaho and they are one of those teams, and we're going to step up to the challenge."
TEAM SCORES — 1, Mead 326.5. 2, University 220.5. 3, Mt. Spokane 195. 4, Sandpoint 145. 5, Hanford 131. 6, Prosser 97. 7, Ferris 96. 8, Freeman 79. 9, East Valley 66. 10, Southridge 54.5. 11, Shadle Park 47. 12, Ridgeline 20.
SANDPOINT RESULTS (records at tournament only)
106 — 2, Andrew Duke 2-1; Gavin Clifton 0-2. 113 — Kaiden Rose 0-2. 120 — 5, Ashlei Hawkins 3-2. 126 — Forrest Ambridge 0-2; Parker Warren 0-2. 132 — Braden Norris 1-2. 138 — 3, Shane Sherrill 4-1. 145 — Adam Belgarde 1-2. 152 — 3, Darrian Resso 5-1. 160 — Jorden Tyler 0-2. 170 — 3, Calvin Hinds 4-1. 182 — Blake Sherrill 1-2. 220 — 5, Austin Smith 4-2. 285 — 2, Greg Belgarde 2-1.
Recent Headlines
---