SHS refuses to back down in Senior Night dual with Vikings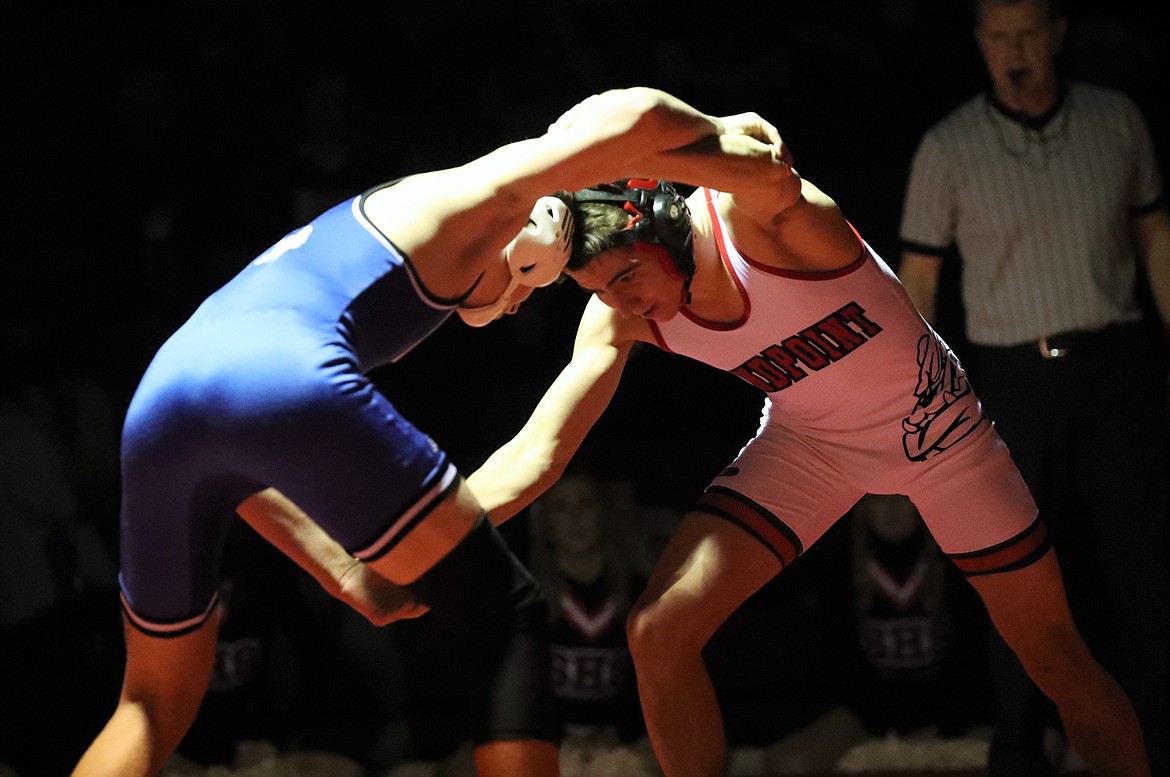 Senior Wyatt Marker (right) takes on Brett Meyers from Coeur d'Alene in a 132-pound bout Wednesday at Les Rogers Court. Marker won by pin in the third round.
(Photo by DYLAN GREENE)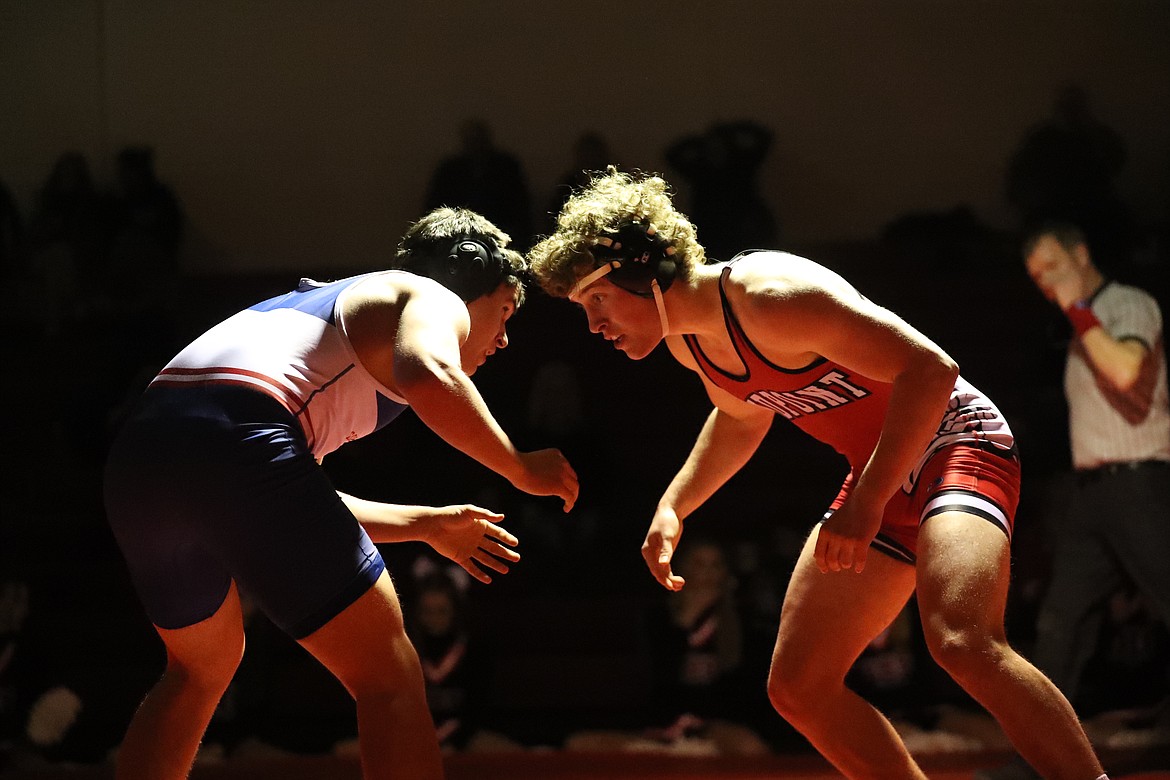 Owen Wimmer (right) faces off with his opponent at 182 pounds Wednesday.
(Photo by DYLAN GREENE)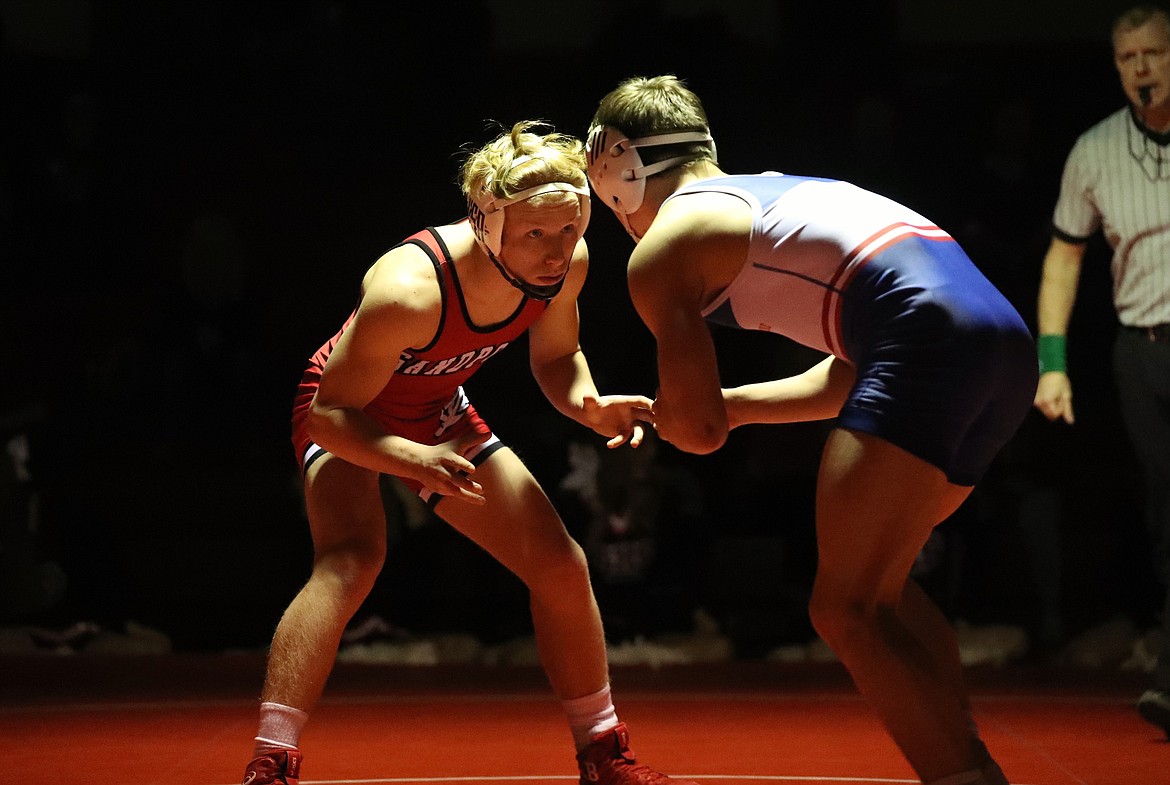 Shane Sherrill (left) competes in a 138-pound bout Wednesday.
(Photo by DYLAN GREENE)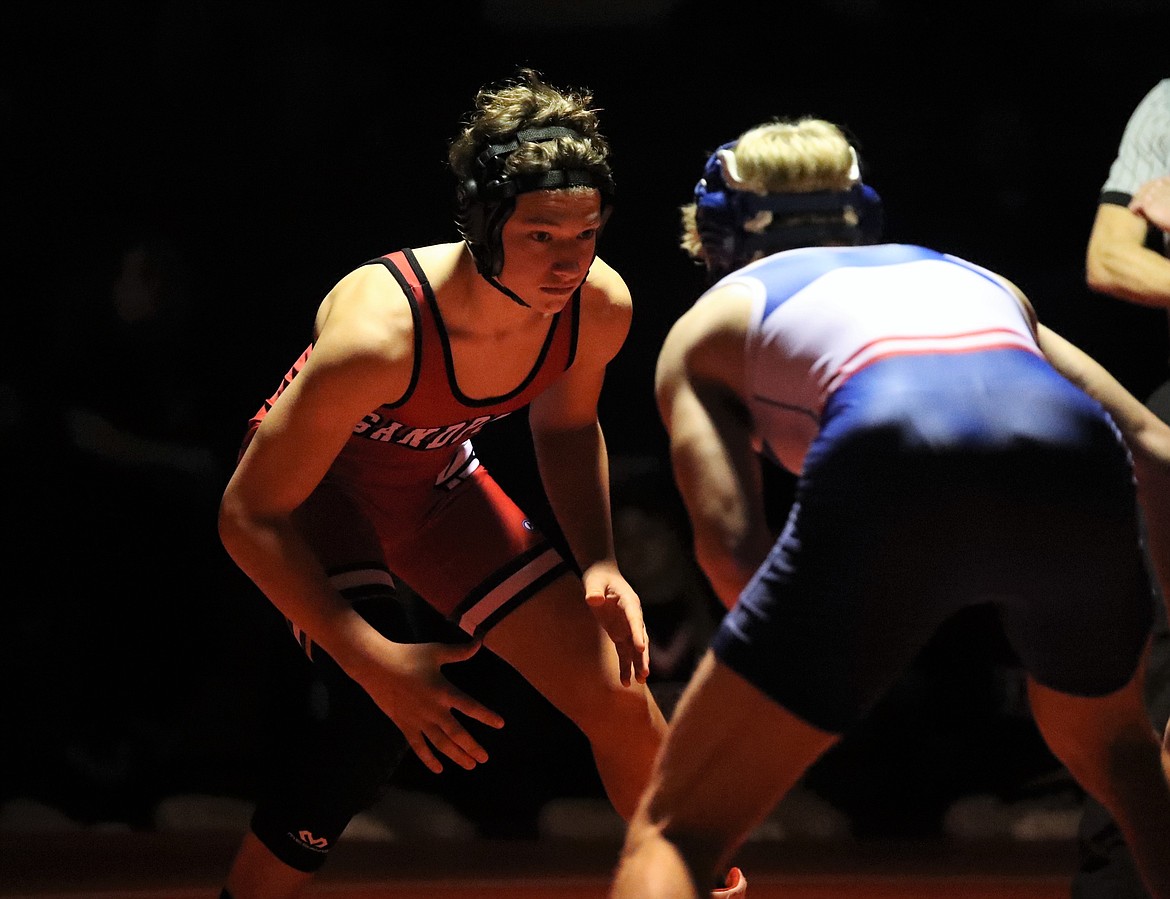 Jorden Tyler (left) battles his opponent Wednesday.
(Photo by DYLAN GREENE)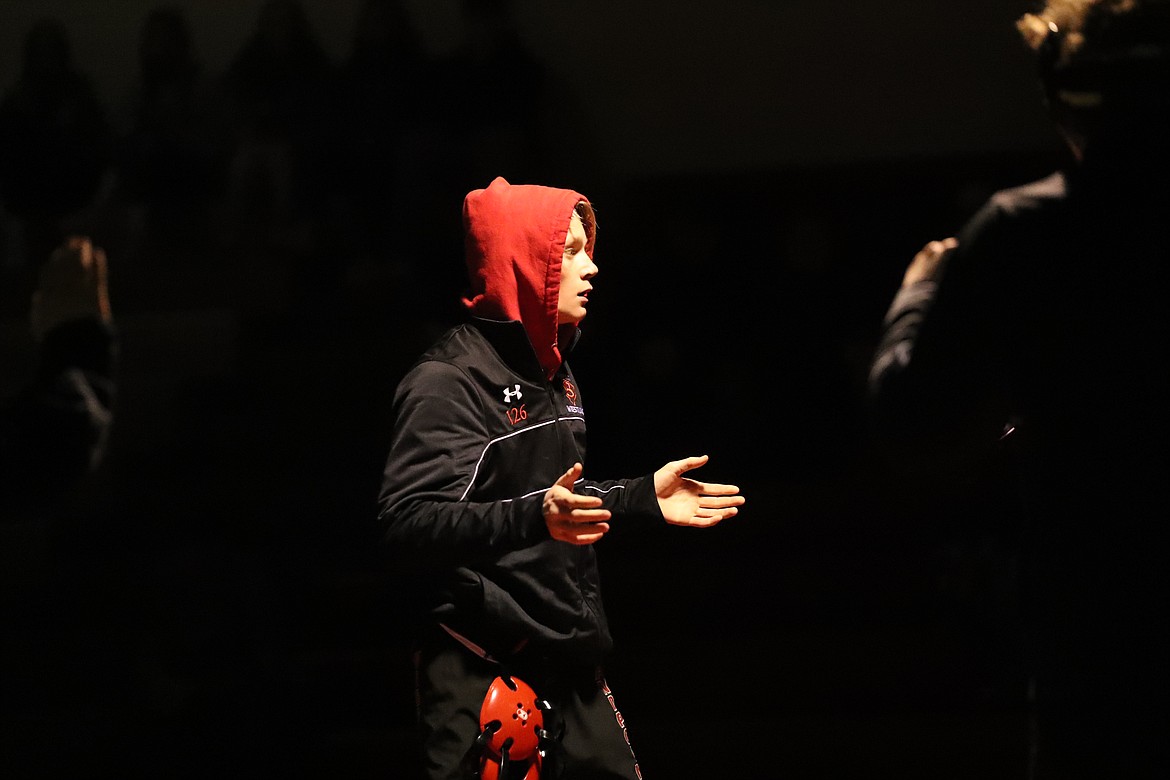 Forest Ambridge warms up prior to Wednesday's dual.
(Photo by DYLAN GREENE)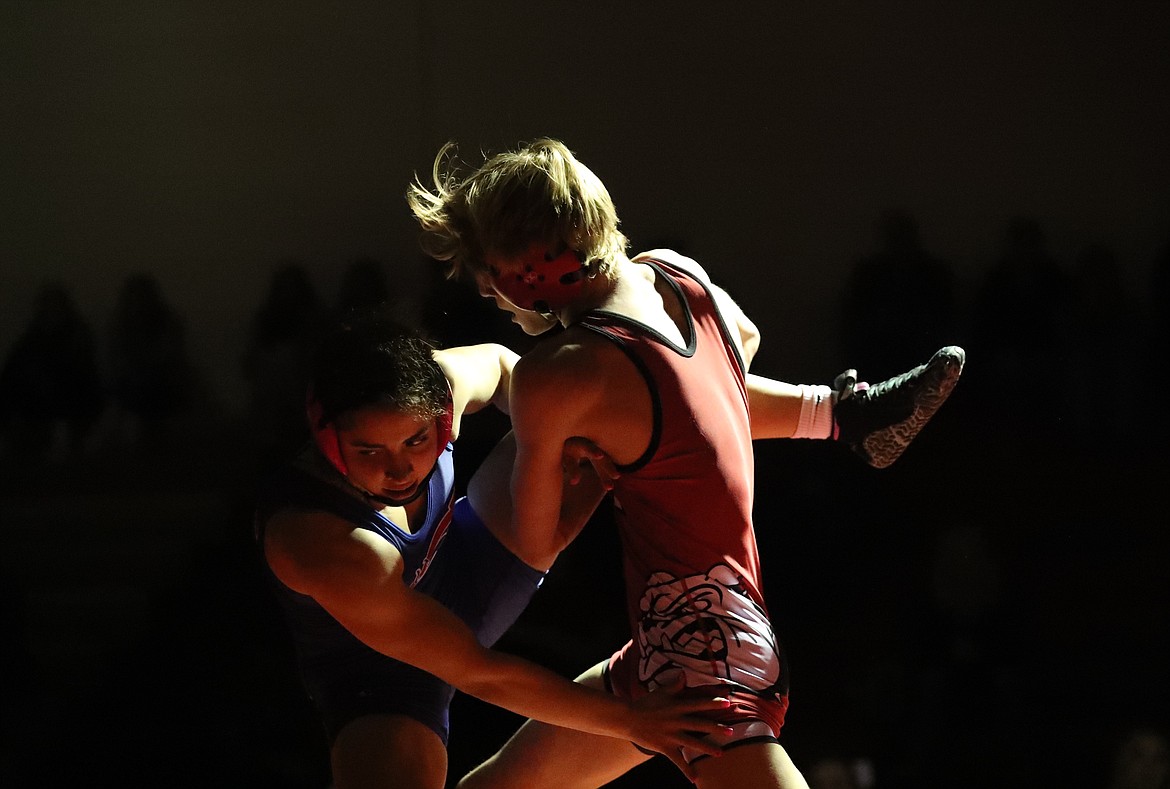 Forest Ambridge (right) takes down Alyssa Randles during their match Wednesday.
(Photo by DYLAN GREENE)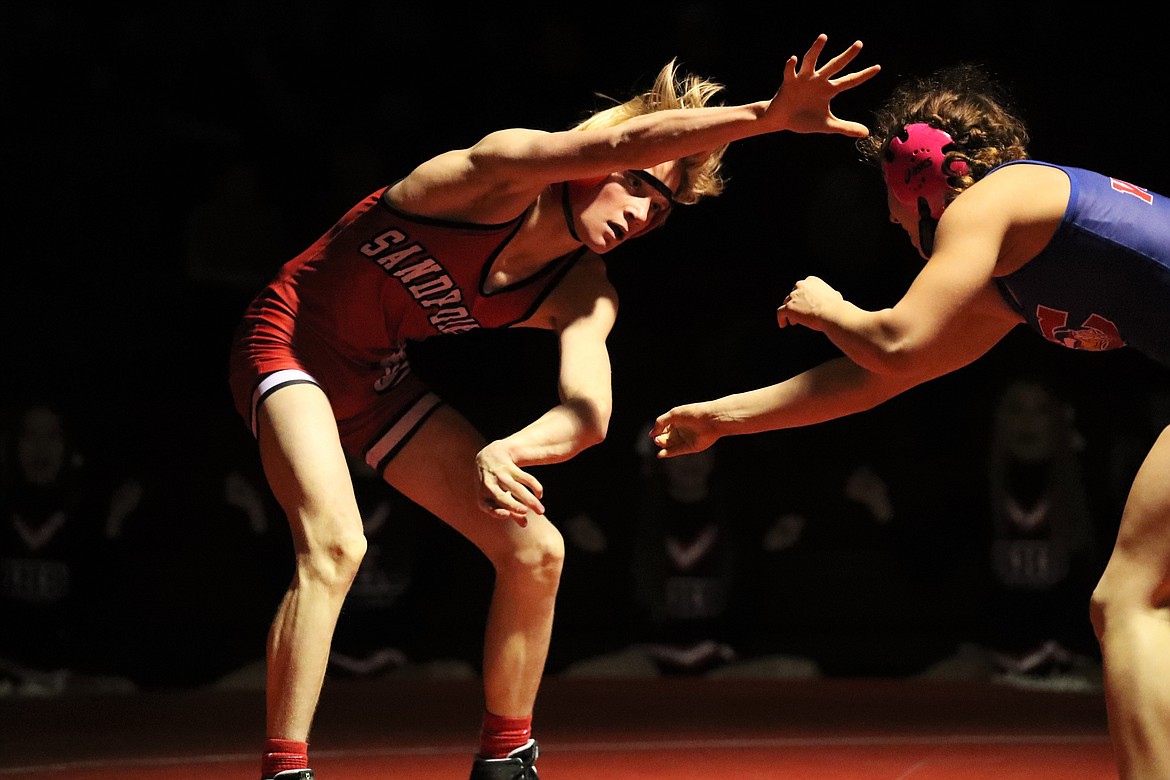 Forest Ambridge (left) hand fights with his opponent Wednesday.
(Photo by DYLAN GREENE)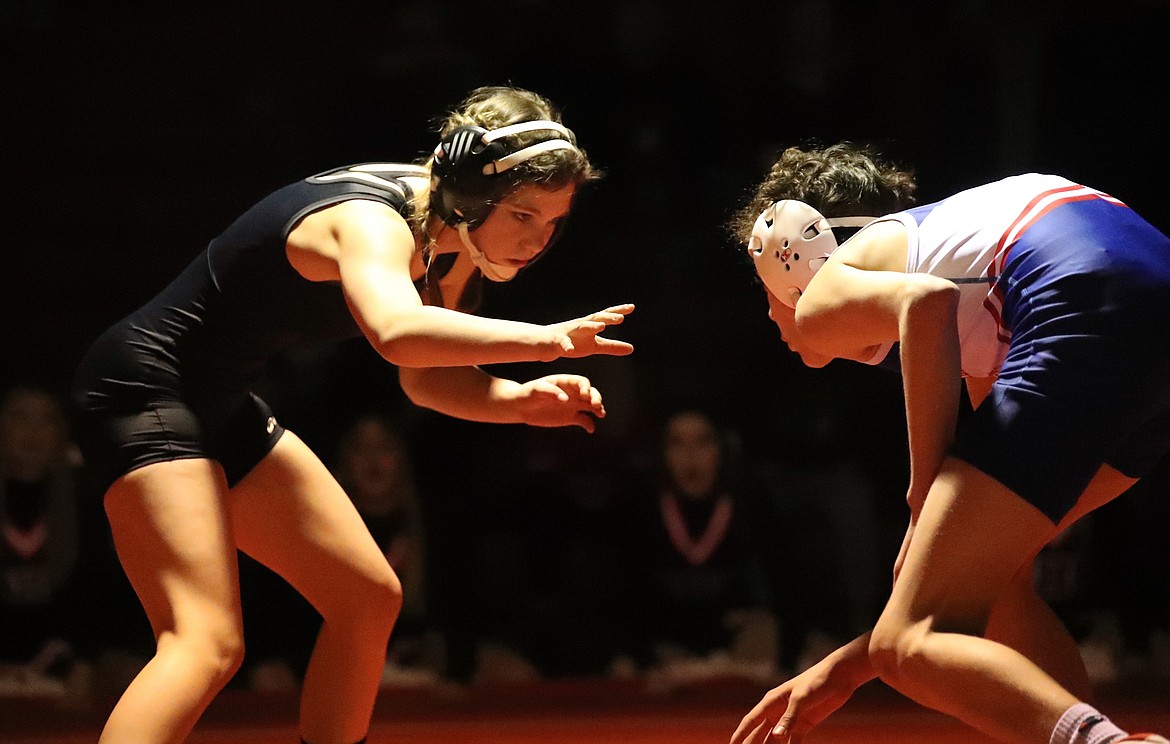 Emma Garman (left) battles her opponent Wednesday.
(Photo by DYLAN GREENE)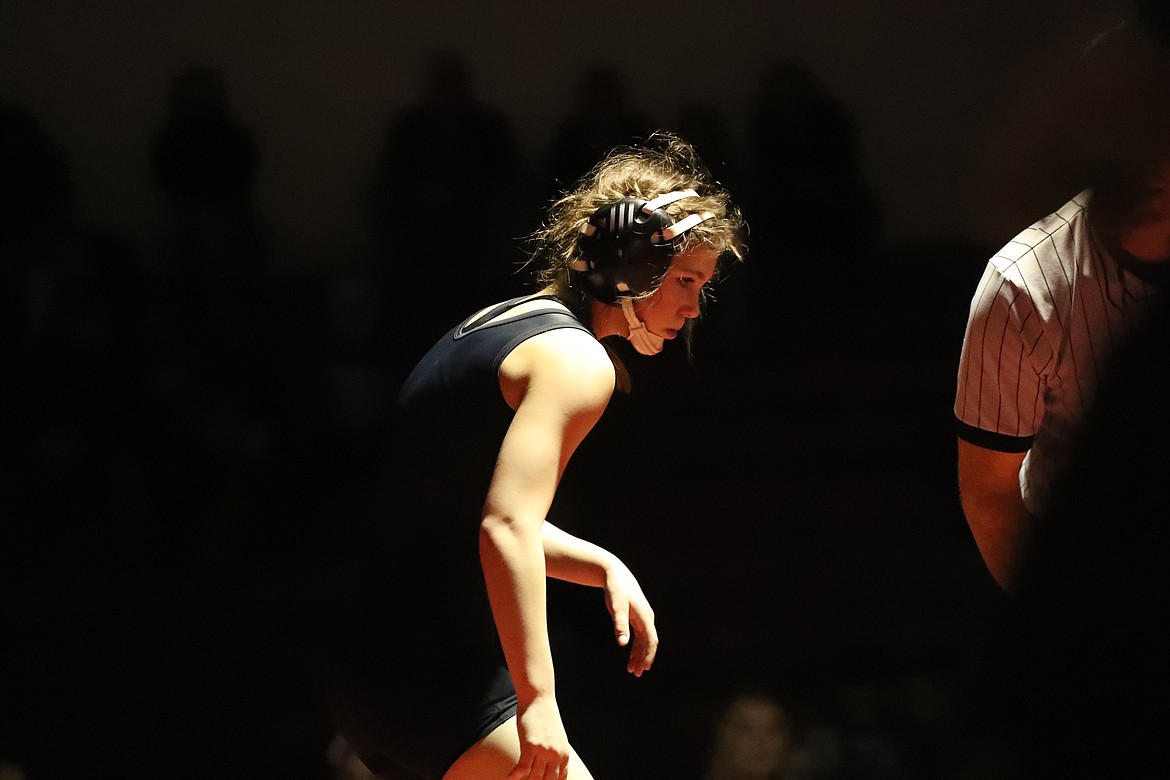 Emma Garman gets ready for the second round of her bout at 113 pounds.
(Photo by DYLAN GREENE)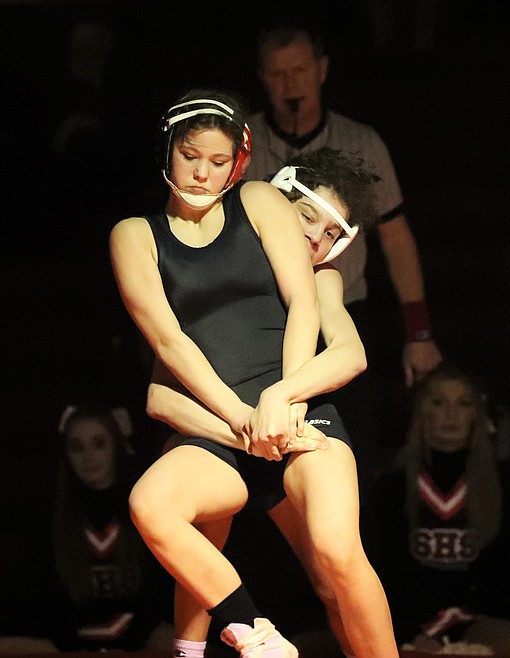 Emma Garman tries to escape the grasp of her opponent Wednesday.
(Photo by DYLAN GREENE)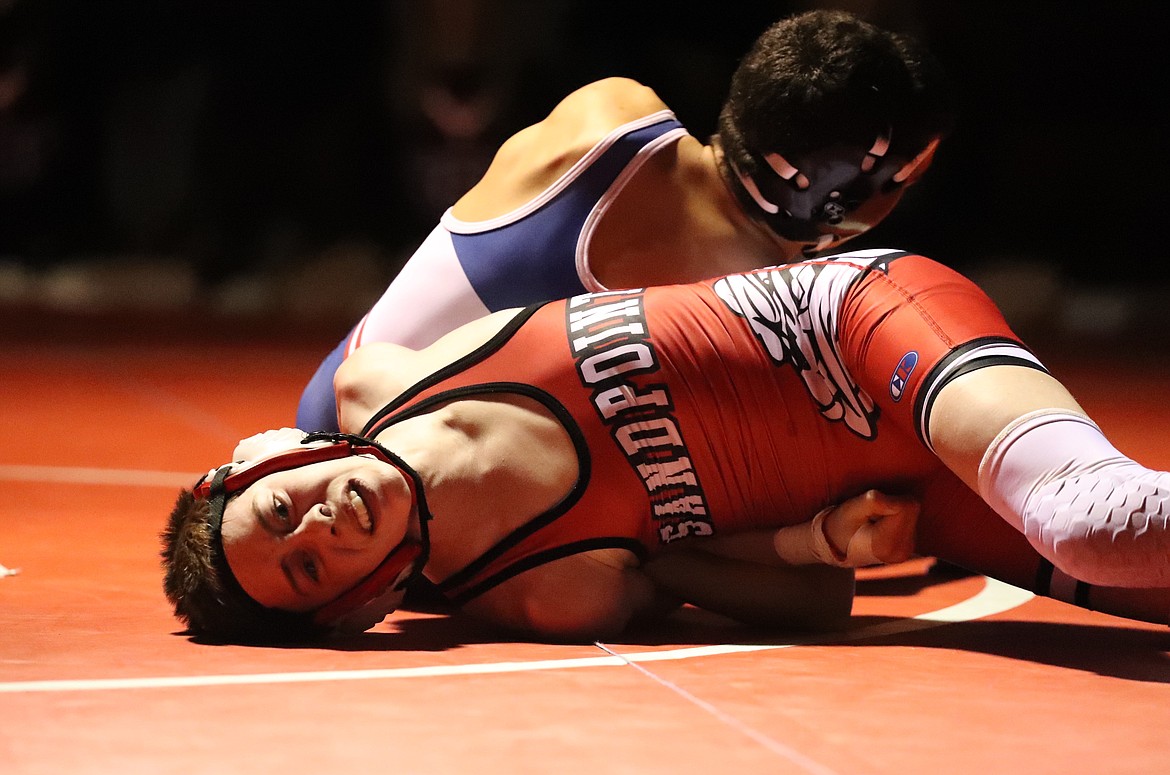 Andrew Duke tries to avoid getting pinned Wednesday.
(Photo by DYLAN GREENE)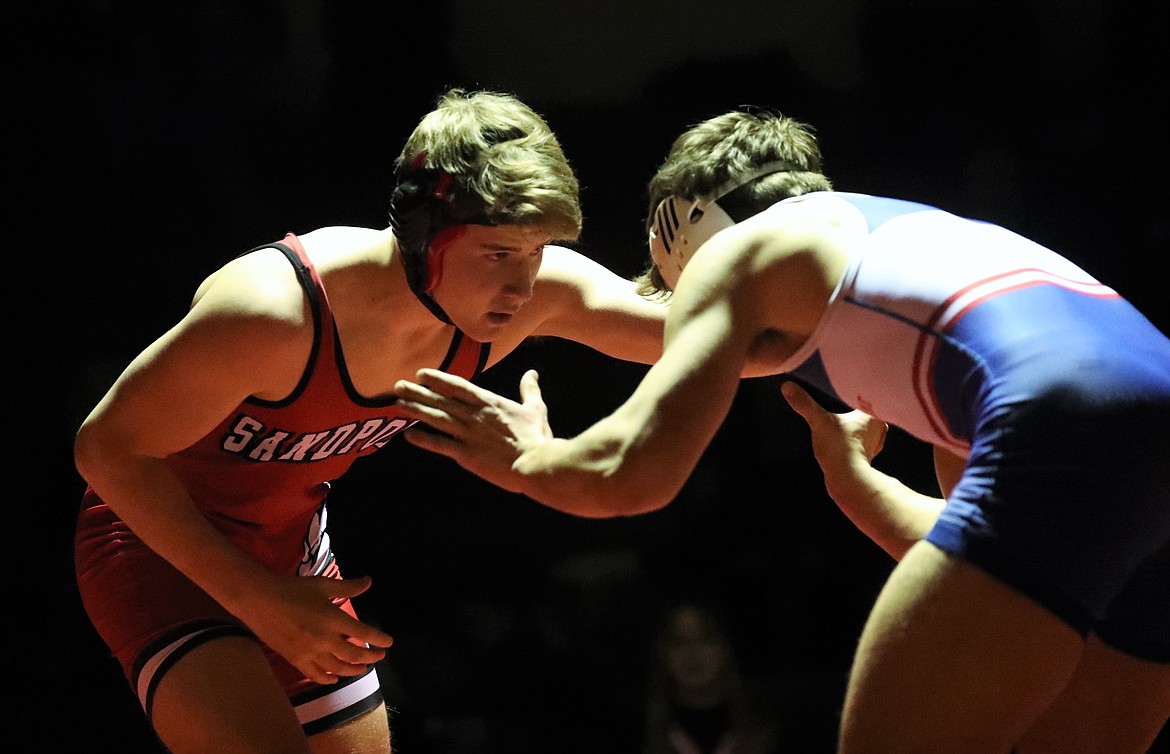 Calvin Hinds (left) competes in his 170-pound match Wednesday.
(Photo by DYLAN GREENE)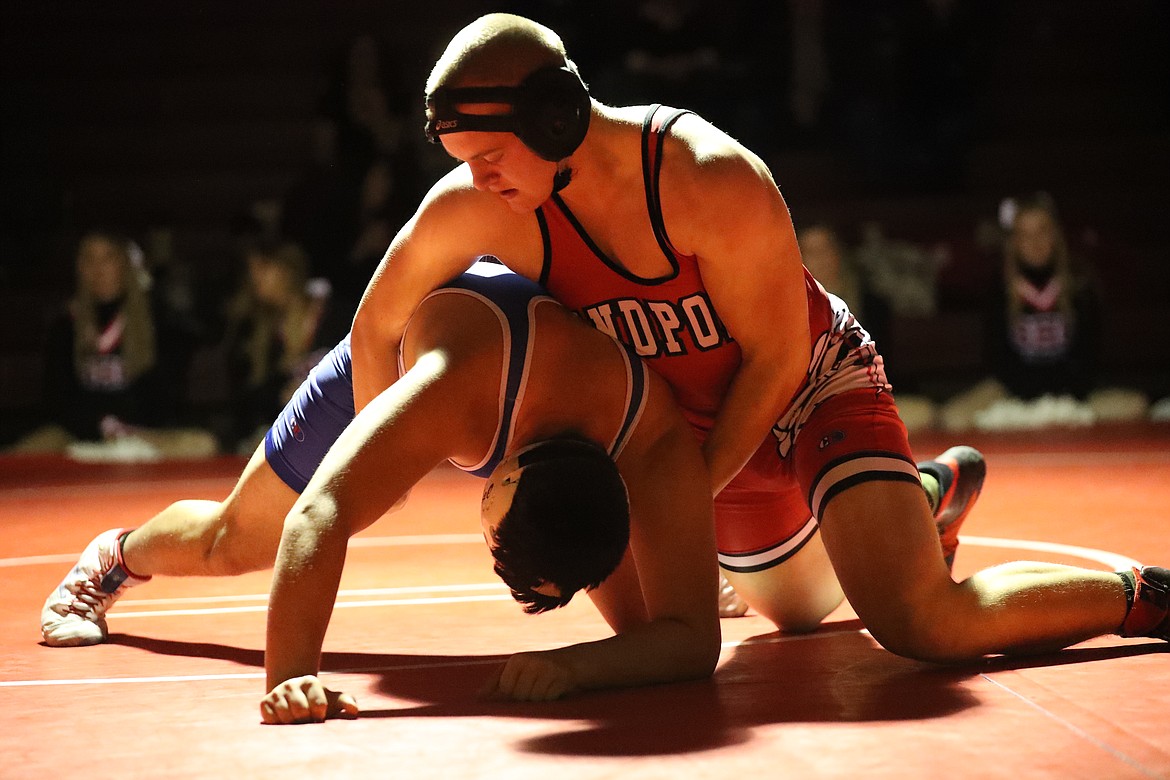 Austin Smith takes control during his match Wednesday.
(Photo by DYLAN GREENE)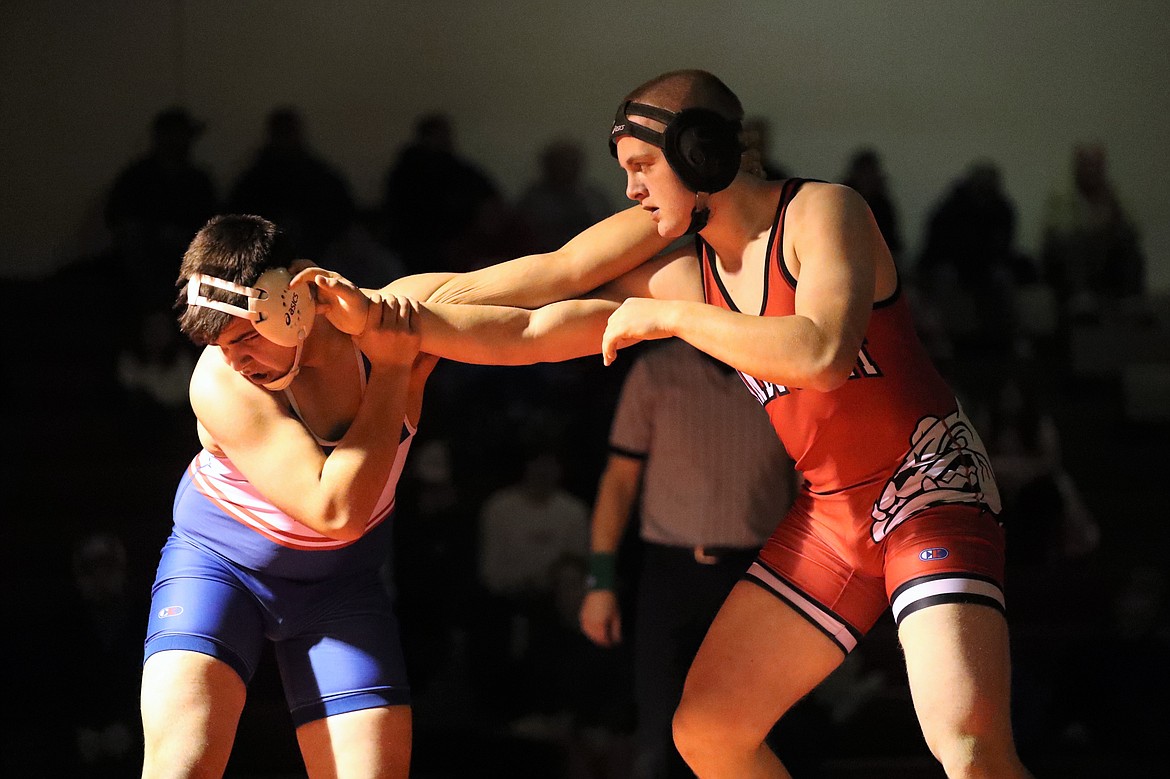 Austin Smith (right) fends off his opponent Wednesday.
(Photo by DYLAN GREENE)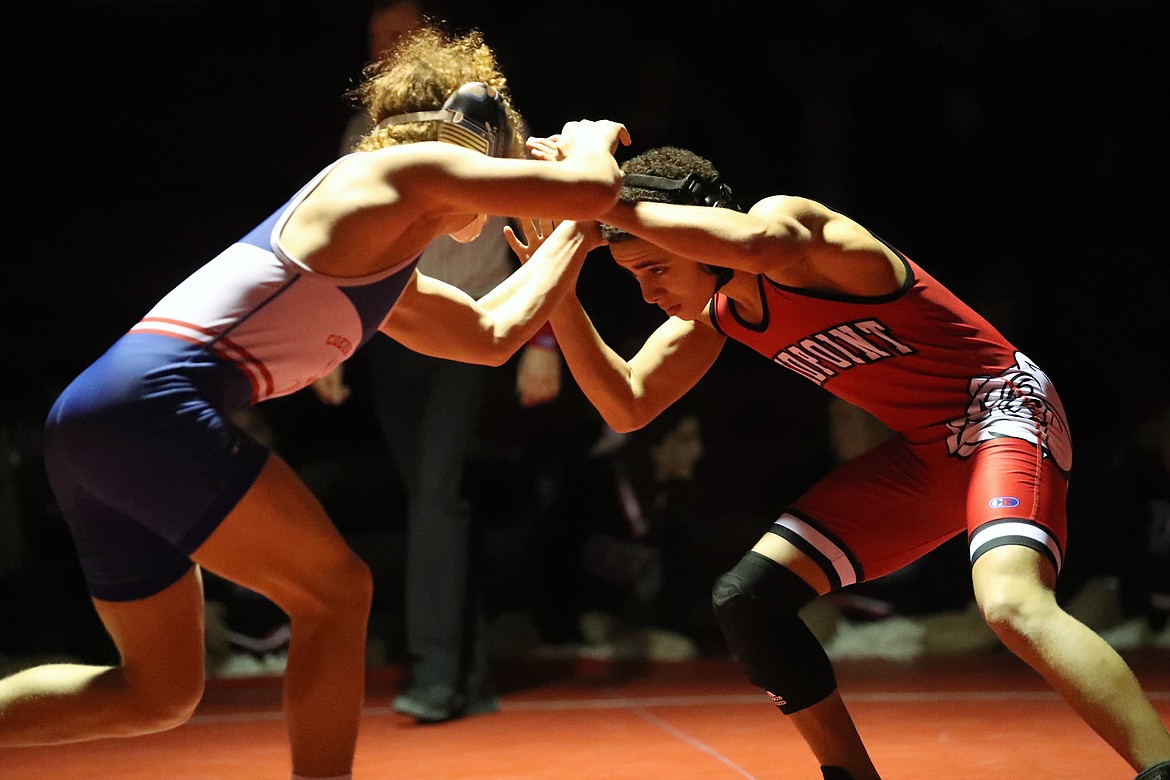 Ashlei Hawkins (right) battles his opponent Wednesday.
(Photo by DYLAN GREENE)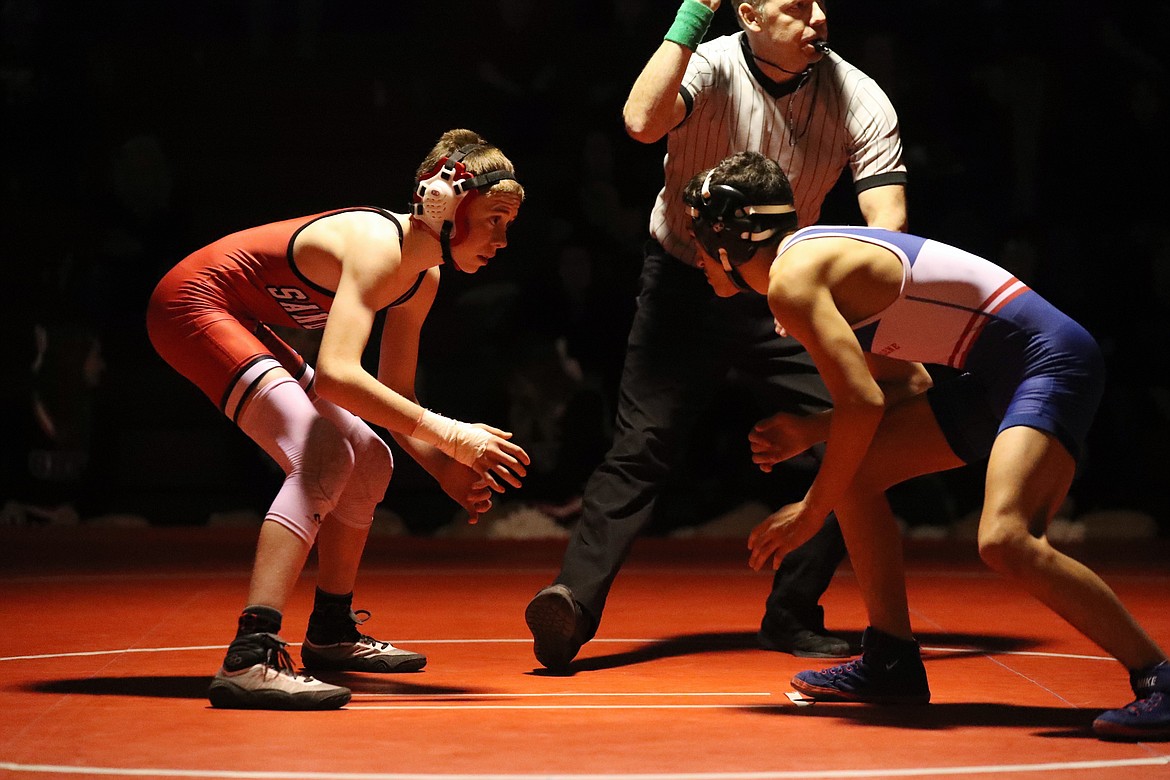 Andrew Duke (left) faces off with his opponent Wednesday.
(Photo by DYLAN GREENE)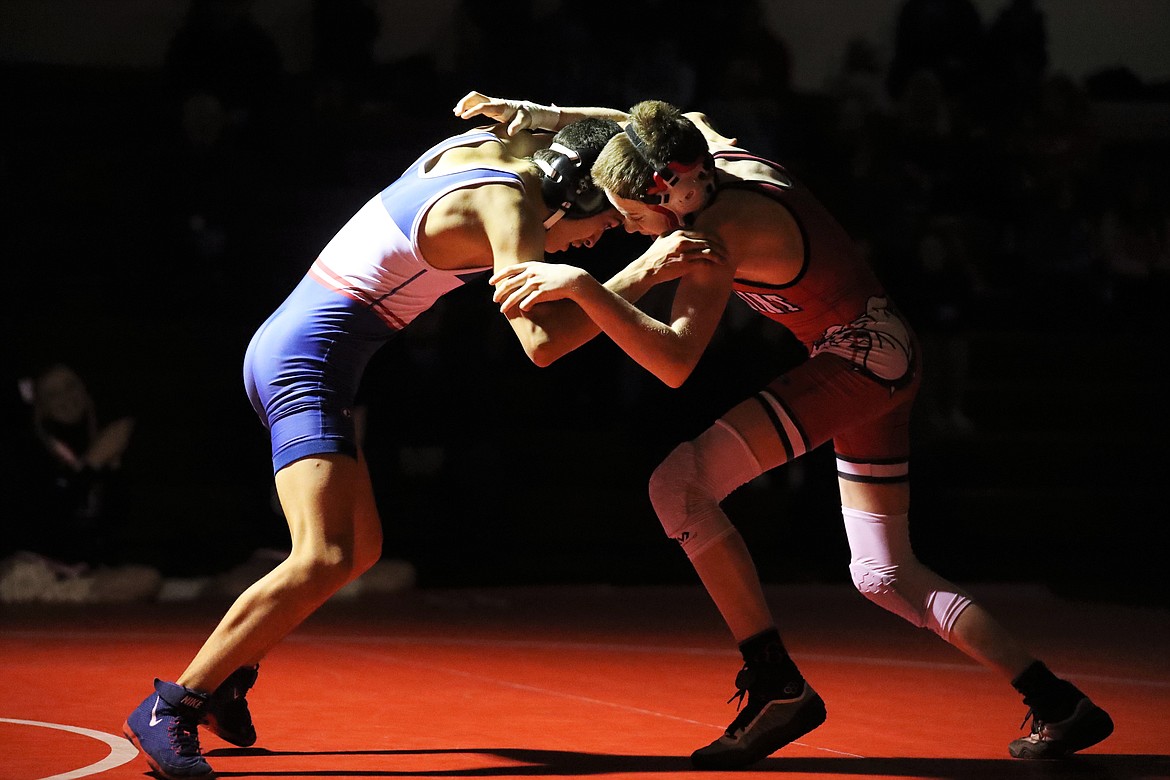 Andrew Duke (right) battles his opponent at 98 pounds Wednesday.
(Photo by DYLAN GREENE)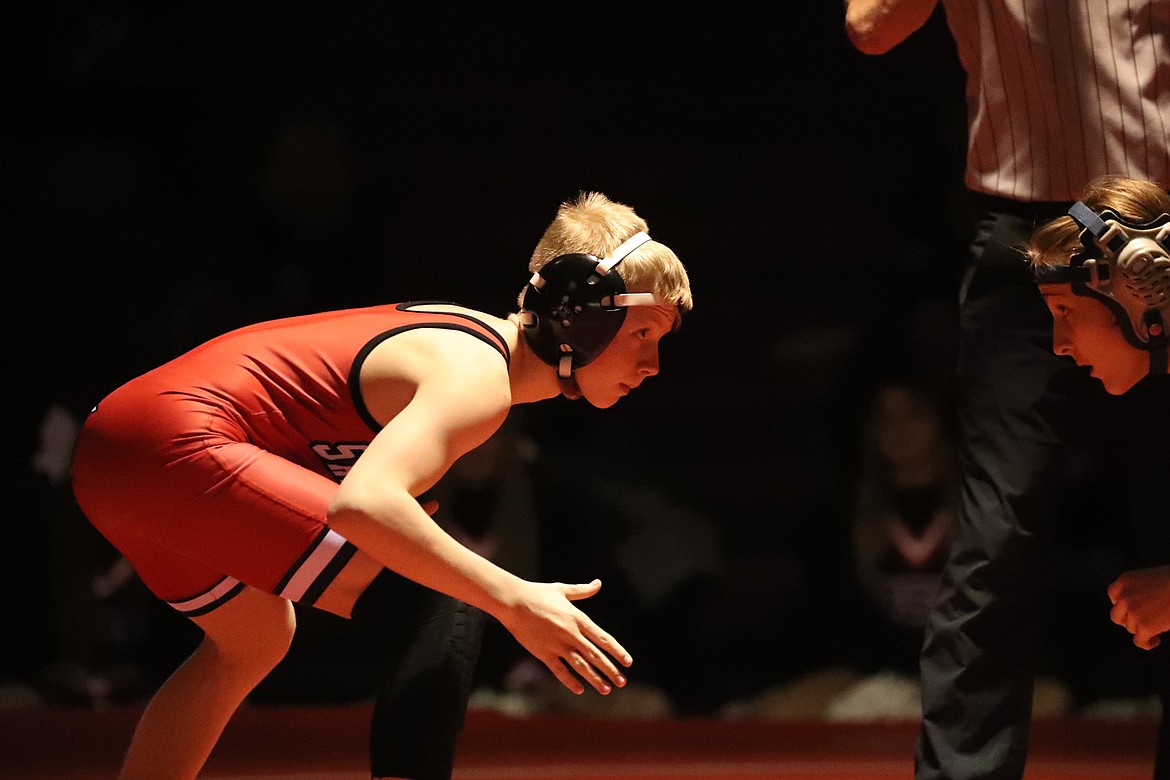 Aiden Rork competes in Wednesday's dual.
(Photo by DYLAN GREENE)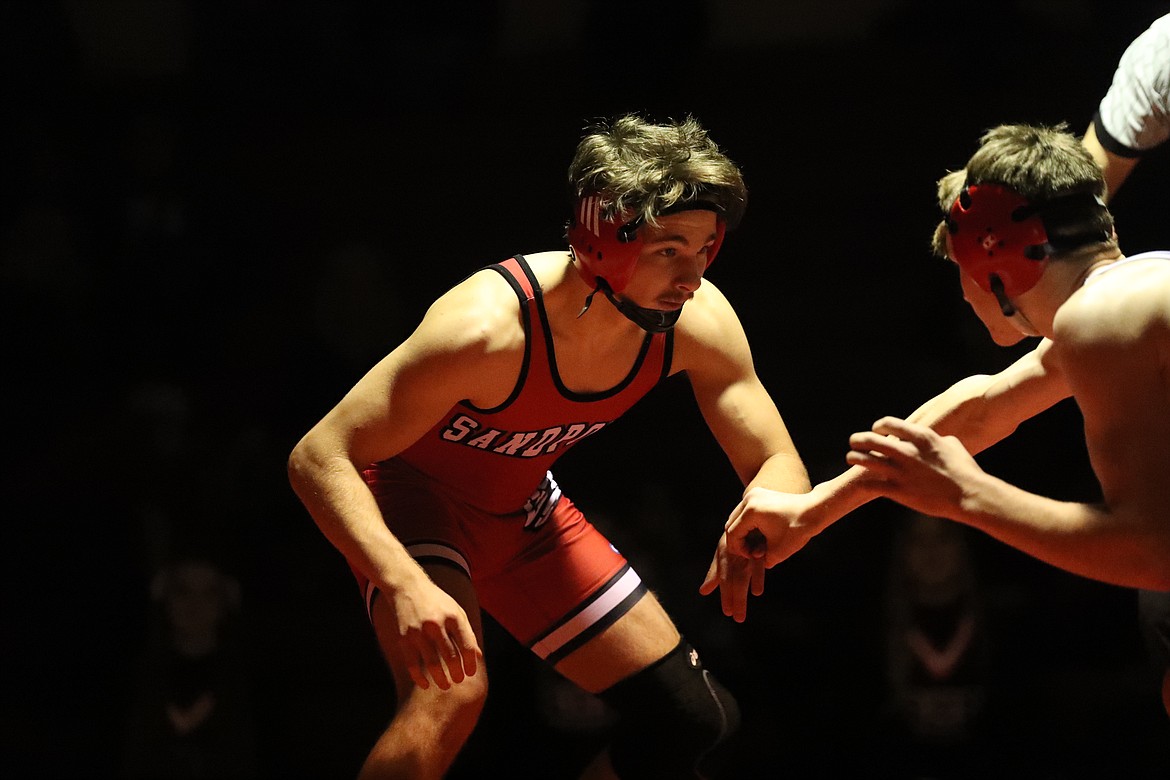 Adam Belgarde competes in Wednesday's dual.
(Photo by DYLAN GREENE)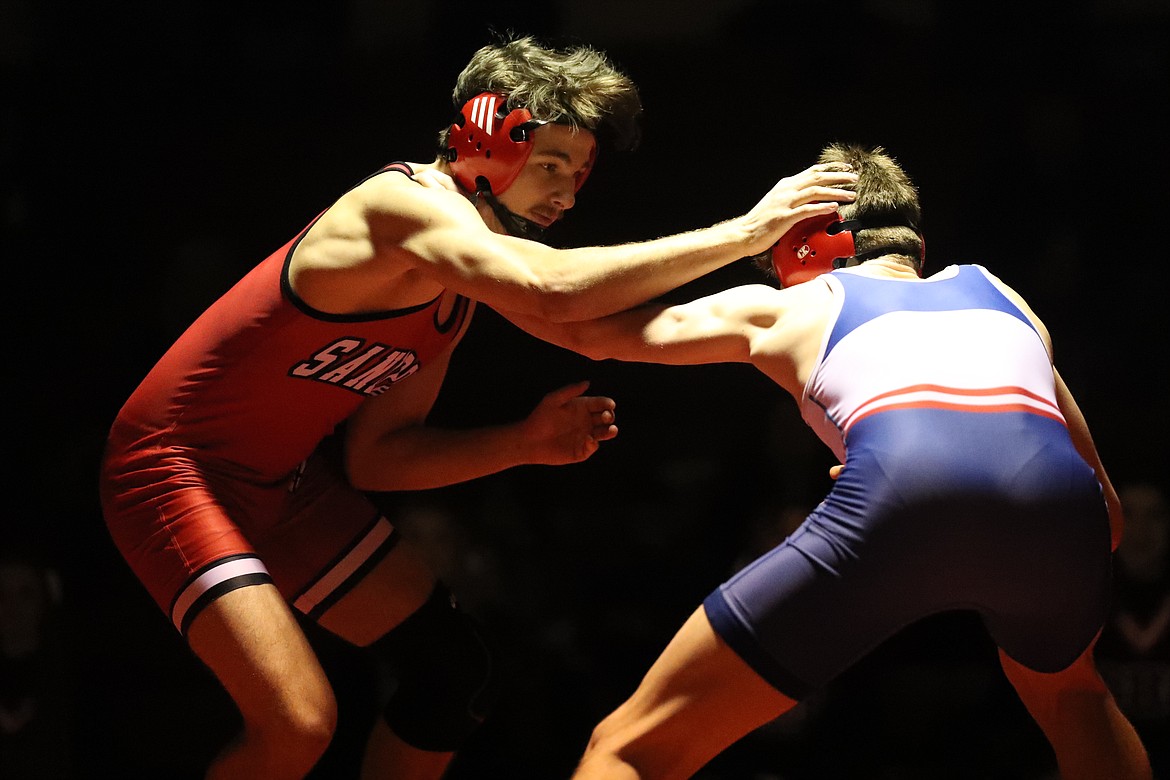 Adam Belgarde fends off his opponent during Wednesday's dual.
(Photo by DYLAN GREENE)
Previous
Next
by
DYLAN GREENE
Sports Editor
|
January 12, 2022 10:49 PM
SANDPOINT — One of the best wrestling teams in the state walked into Les Rogers Court on Wednesday night — but the Bulldogs weren't intimidated at all.
Sandpoint gave Coeur d'Alene quite the fight, but in the end, the Vikings emerged victorious, 53-33.
Head coach Jake Stark said his team proved to him that they can go toe-to-toe with anyone they lineup across from.
"I feel we can hang in there and battle with teams like Coeur d'Alene," he said. "It was a pretty hard-fought match."
Leading 41-9 with just six matches left, the Vikings appeared to be headed toward a comfortable dual win. However, the Bulldogs weren't ready to surrender.
Jorden Tyler (160), Calvin Hinds (170) and Owen Wimmer (182) all won their matches by pin, and Blake Sherrill accepted a forfeit at 195 pounds to make it 41-33 in favor of the Vikings with two bouts left.
A potential upset victory was within sight for the Bulldogs, but Coeur d'Alene won the last two matches by pin to end those hopes.
Stark felt the Bulldogs had their best showing of the season this past weekend at the Pacific Northwest Classic, and they carried that intensity into the Senior Night dual with the Vikings.
"We're right there where we can just keep climbing," he said.
Prior to the dual, Sandpoint honored its six seniors — Greg Belgarde, Carson Bosse, Wyatt Marker, Braden Norris, Blake Sherrill and Robert Newsom.
Marker, a captain, came up clutch for the Bulldogs at 132 pounds. He trailed his opponent 7-1 after two rounds, but in the third he fired off the mat, took control and pinned Brett Meyers from Coeur d'Alene in 23 seconds.
"I think he just senior'd up," Stark said. "He decided he wasn't going to lie down and this was his last chance to do it in front of the home crowd and I'm really proud of him. That kind of gave us a little momentum."
The Bulldogs fell behind 23-0 to start the dual and were desperate for a victory. Fortunately, Forest Ambridge delivered one at 126 pounds.
Ambridge squared off against Alyssa Randles, who won the girls 126-pound title at the Rollie Lane Invitational. He took a 4-1 lead after one round, but Randles battled back. The score was 6-4 in favor of Ambridge heading into the decisive third round.
The junior was able to fend off Randles in the final moments to earn a 6-5 victory.
"Alyssa is no slouch," Stark said. "Him getting a win right there is going to boost his confidence."
The bout brought the crowd to its feet.
"Everybody was into it, including myself, and that's what duals are all about," Stark said.
Tyler, Hinds and Wimmer all pinned their opponents in the second round.
"I'm really proud of Jorden Tyler," Stark said. "He's kind of been the underdog all year and he finally really stepped it up."
Hinds continued to showcase his skills.
"Hinds has been on a really hot streak since Pacific Northwest," Stark said. "He's just kind of an unorthodox type of guy ... and he's just wrestled for so long that he just ends up in a good position. If he gets a kid on his back, he's going to pin him."
Coeur d'Alene won eight matches by pin. Stark said his team was close to getting a few more victories and making things a lot more interesting.
"We just got to go back to practice and work on the small things," he said, "and continue to keep getting better."
Sandpoint heads to Post Falls for the River City Duals on Friday and Saturday.
RESULTS (Sandpoint athletes in bold)
Coeur d'Alene 53, Sandpoint 33.
98 — Christian Kelly tf. Andrew Duke, 16-0. 106 — Bode Alexander p. Aiden Rork, 3:41. 113 — Logan Bradley p. Emma Garman, 4:45. 120 — Will Rossi p. Ashlei Hawkins, 0:39. 126 — Forest Ambridge d. Alyssa Randles, 6-5. 132 — Wyatt Marker p. Brett Meyers, 4:23. 138 — Dax Larsen p. Shane Sherrill, 1:06. 145 — Porter Craig p. Adam Belgarde, 3:07. 152 — Demarco Piazza p. Darrian Resso, 1:11. 160 — Jorden Tyler p. Gabe Grassel, 3:31. 170 — Calvin Hinds p. Carsen Speelman, 3:43. 182 — Owen Wimmer p. Louis McEvoy, 3:23. 195 — Blake Sherrill accepted forfeit. 220 — Beau Speelman p. Austin Smith, 3:22. 285 — Jaxson Washington p. Greg Belgarde, 0:39.
Recent Headlines
---