Wellness collective opens downtown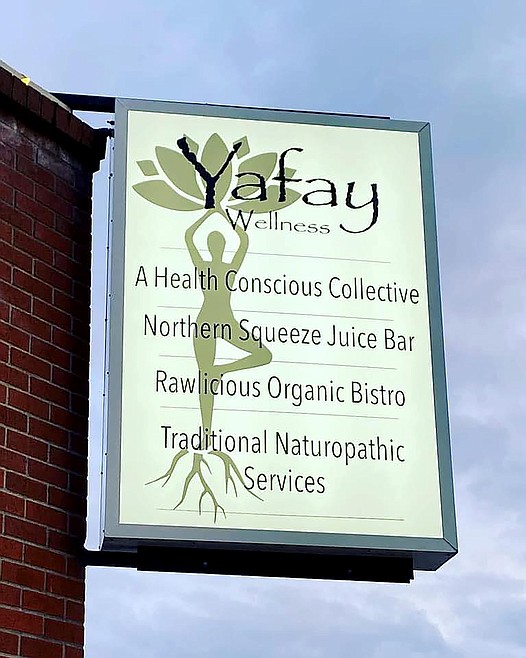 Yafay Wellness is now open in downtown Sandpoint offering a variety locally sourced goods and services.
(Photo courtesy YAFAY WELLNESS)
by
ANNISA KEITH
Staff Writer
|
January 14, 2022 1:00 AM
SANDPOINT — Sandpoint is getting a fresh outlet for all things natural. Yafay Beauty & Wellness Collective is now open to the public at 202 N. Second Ave., in downtown Sandpoint.
Offering an array of goods and services, Yafay wants to give residents a new opportunity to improve their wellbeing. From gluten-free waffles to massage therapy to an herbal tea bar, Yafay is partnering with licensed professionals and other local small businesses to promote health-oriented lifestyles.
"I asked myself, 'Why don't we have collectives in every town where people that want natural can go somewhere and get everything natural?'" said Jen Dillon, Yafay founder.
Yafay features a variety of food and drink options built from organic and locally sourced ingredients. Rawlicious Organic Bistro features a specialty menu designed by local culinary chef Ethan Dillon — including vegan and gluten free options. Rawlicious is located within Yafay and is open for lunch from 11 a.m.-3:30 p.m., Tuesday through Saturday.
Also located within Yafay, Northern Squeeze Juice Bar provides Sandpoint with its first cold-pressed juice bar. According to information provided by Tamra Kellogg, co-owner of Northern Squeeze, compared to other methods of juicing, cold-pressed juices contain fiber, making them more nutritious while enjoying a longer shelf life.
Beyond food, Yafay is partnering with licensed professionals in massage therapy, constitutional hydrology and naturopathy. Estheticians are also under the Yafay umbrella of services, providing manicures and pedicures with scent-free lacquer options. Although still under construction, Yafay's wellness room will soon be open to the public, appointments can be booked in advance on Yafay's website at yafaywellness.com.
From the Hebrew word for beautiful, Yafay's mission is to help people live well. Local hand-made cosmetics and other artisan products are available. Yafay is open Tuesday through Saturday from 8:30 a.m.-3:30 p.m.
"The collective concept, I really like it," Dillon said. "I want to bring in products that are local, that are clean, that fit with my values, and support local."
More information about Yafay can be found at their website and on their social media at Yafay Wellness.
Recent Headlines
---