Betty Jo Bliss, 91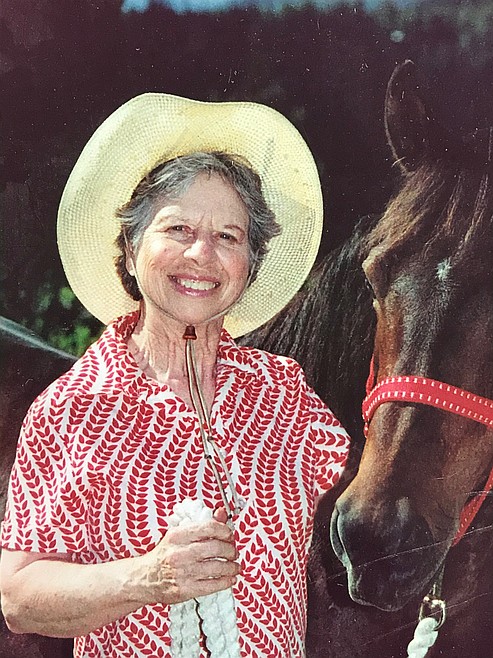 |
January 15, 2022 1:00 AM
Betty Jo Bliss, 91, passed away from natural causes on December 18, 2021, close to friends and the special place she loved in North Idaho.
An only child, Betty Jo was born Betty Joe Lawson March 8, 1930, to mother Hazel Lawson (Burleson) and father Gail Lawson in LaCrosse, Kansas.
Betty Jo's formative years were spent in and around Santa Maria and San Francisco, California, where she developed a unique wealth of lifelong friendships, social awareness, the deep and unfailing love of reading, and professional skills that endured the tests of time. Among these early skills was her own advanced technical form of shorthand that would serve her throughout her professional administrative career. In her private life, she was a prolific writer and maintained diaries and journals. Her complex shorthand was often strategically integrated into her personal journaling as an impossibly effective encryption!
Following her graduation from Santa Maria Union High School in 1947, Betty Jo joined the workforce and quickly excelled in secretarial-stenographic work in San Francisco where she remained for three years until the Korean "police action" provided an opportunity to relocate to Hawaii where she logged many volunteer hours as a Red Cross Grey Lady at Tripler Military Hospital. She remained in Hawaii for another three years as secretary to the Superintendent in charge of all Hawaii pineapple operations for California Packing Corporation.
Shortly after her return to the mainland, Betty Jo "met a soft Virginia drawl with much man attached" named Lewis H. Elswick. She and Lew enjoyed waterskiing, surfing, as well as square dancing and ballroom dancing. The couple built their home in Agua Dulce, California. While there, she continued her career with technical companies Pacific Airmotive Corp, Marquardt Aircraft, Tasker Instruments, and Rocketdyne (a division of North American Aviation).
After finalizing each other's careers in 1979, Betty Jo and Lew decided to pursue their dream of settling down on their new property just east of the Priest River in the North Idaho panhandle. After many years of living their dream horseback riding, volunteering, hiking, skiing, dancing, and gardening, her beloved Lew passed away at Coeur d'Alene Hospital September 9, 1989.
In 1992, Betty Jo and longtime friend and neighbor, Gordon F. Bliss, DC., found each other, married, and continued to be a part of this very special place called home in North Idaho.
A voracious reader and an abiding love of horses, dogs, and all pets, were paramount in Betty Jo's life. Betty Jo and Gordon embraced a deep and humbling satisfaction in volunteering with different local organizations including Hospice and Priest River Animal Rescue. They both continued enjoying their common interests in horseback riding, hiking, gardening, traditional Western music, and visiting with family, friends, and neighbors until Gordon's death at their home March 7th, 2007.
In leu of religious services, Betty Jo requests memorial donations be sent to an animal rescue organization.
A graveside memorial for close friends and family is to be held at the Priest River Evergreen Cemetery in May; a specific date to be announced.
Recent Headlines
---