Miners take down Lady Cats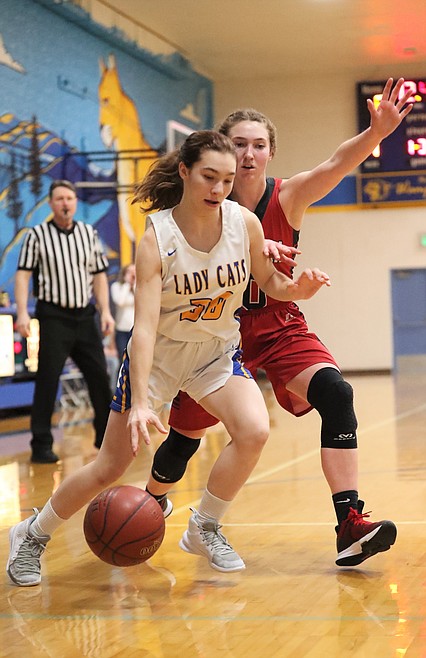 Freshman Hannah Thompson drives toward the basket during Friday's game against Kootenai at CFHS.
(File photo by DYLAN GREENE)
|
January 18, 2022 10:45 PM
WALLACE — Foul trouble hurt the Lady Cats in a 57-30 loss at Wallace on Tuesday night.
Starters Eloise Shelton and Katelyn Matteson both fouled out late in the third quarter when the Clark Fork girls were starting to mount a comeback, forcing head coach Jordan Adams to insert three JV players for the rest of the game.
"The JV girls stepped up, which was really cool," she said.
The Miners outscored the Lady Cats 18-5 in the second quarter to take control of the game.
Freshman Aliyah Leadbetter saw her first varsity minutes and freshman Jamie Herrick was on the court for an entire quarter, Adams said.
Lilly Reuter and Hannah Thompson each scored 8 points, Shelton had 6 and Grace Yancey added 5.
By the fourth quarter, most of Clark Fork's varsity lineup was on the bench, but that didn't stop the starters from cheering on and encouraging their teammates. Adams said her team showed just how much they care about one another.
"It just speaks volumes to how well this girls get along," she said. "I was really proud of that."
Clark Fork (2-8) heads to Kootenai at 5:30 p.m. Friday. With a win, the Lady Cats can lock up the No. 1 seed to the district tournament.
Clark Fork 10 5 14 1 — 30
Wallace 16 18 13 10 — 57
CLARK FORK — Matteson 2, Valliere 1, Shelton 6, Reuter 8, Yancey 5, Thompson 8, Weymouth 0, Herrick 0, Leadbetter 0.
WALLACE — Specht 1, Lewis 2, House 12, Phillips 20, Welch 9, Hendrick 2, Hemphill 4, Hunter 7, Taylor 0.
---