Priest River girls unable to keep up with Tigers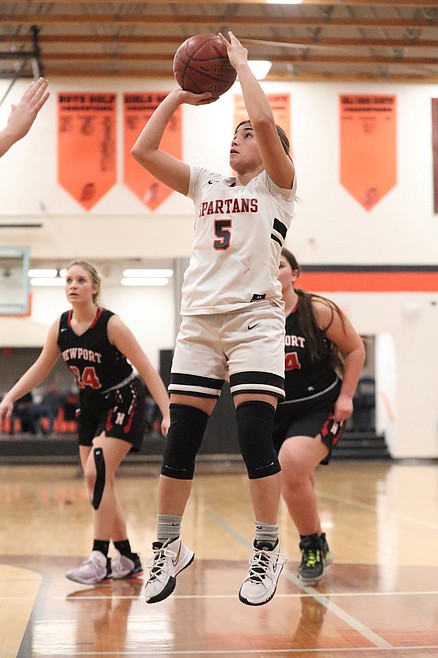 Lilly Freitas pulls up for a jumper during a game against Newport on Dec. 11 at PRLHS.
(File photo by DYLAN GREENE)
|
January 19, 2022 1:00 AM
SPIRIT LAKE — Priest River girls basketball finally got back on the court Saturday.
In their first game since Dec. 21, the Spartans suffered a 56-23 defeat to Timberlake, the defending 3A state champs, in the Battle of the Buck.
Priest River started strong despite the long layoff between games, and held the lead over the Tigers until the 1:46 mark of the first quarter. But then Timberlake started scoring in bunches, head coach Gary Stewart said.
"Playing Timberlake is all about how do you handle their pressure," he said, "and for the most part we did OK in the first quarter, then the wheels kind of fell off after that."
The Tigers, who won the spirit competition for the fourth straight time, knocked down 11 3-pointers.
"Honestly, we kind of shut down the dribble penetration, so I was happy with that," Stewart said. "It's just you kind of pick your poison with them. If you stop the three, then you're probably not going to get any help when they're driving, and you better hope they miss close up."
Lilly Freitas and Samantha Pound accounted for nearly all of Priest River's offense against Timberlake. Freitas scored 12 and Pound added 10.
Freitas was the only Spartan who had experience playing in the chaotic environment of the Battle of the Buck, and she showed up in a big way.
"I thought Lilly played probably her best game of the year," Stewart said.
Priest River (3-7, 0-3 Intermountain League) hosts Bonners Ferry at 6 p.m. Friday. The Badgers beat the Spartans 63-18 at home earlier this season. On Tuesday, Priest River travels to St. Maries.
Priest River 7 4 7 5 — 23
Timberlake 13 20 13 10 — 56
PRIEST RIVER — Burgess-Duquette 0, Pound 10, Freitas 12, Thompson 0, Humphrey 0, McCracken 0, Kingery 0, Barton 1.
TIMBERLAKE — Soumas 6, Webberley 2, Kronenberg 21, MacArthur 4, Wall 5, Osanai 0, Needs 5, Nelson 0, Patrick 0, Chase 13.
---