Tango Café honored as top chamber business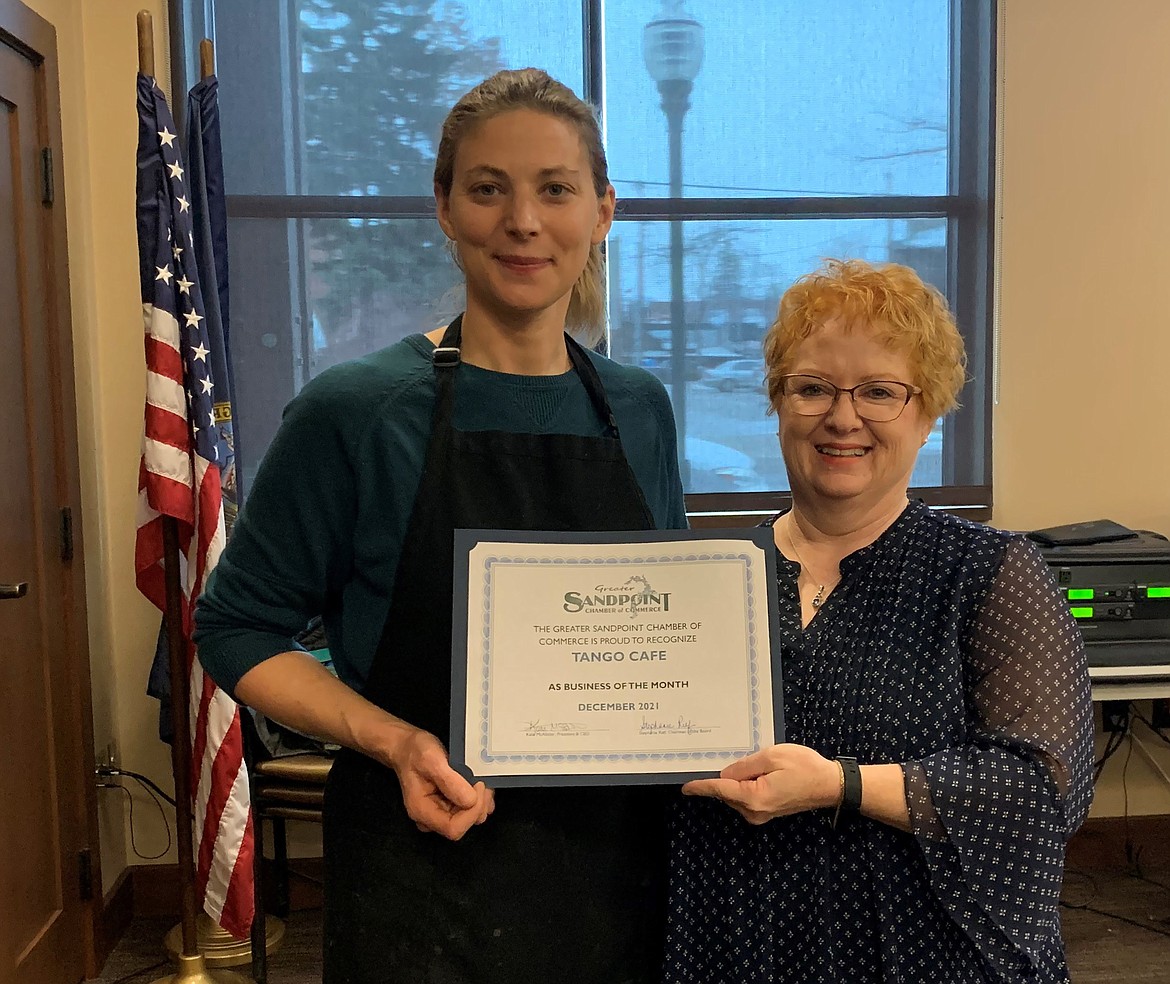 Tango Café's Judy Colgrove is presented with the Greater Sandpoint Chamber of Commerce's Business of the Month Award for December.
(Photo courtesy GREATER SANDPOINT CHAMBER OF COMMERCE)
|
January 25, 2022 1:00 AM
SANDPOINT — Tango Café's rich legacy began in 2010 under the outstanding leadership of owner Judy Colgrove.
Colgrove has always had a passion for food. Being in the restaurant/food business since she was 15, her career started at the Beach House with Barney Ballard, and she stayed on through Jorge O'Leary's tenure. After the Beach House, Colgrove moved on to the Idaho Club and her time there was unfortunately cut short when the club burned down. In 2010, she bought Tango from Barney when he was ready to retire.
Colgrove and her staff have made Tango Café a welcoming place for all who enter and serve as a true community partner. Tango serves a multitude of groups who meet here weekly and monthly. From Kiwanis, BNI, both Sandpoint and Ponderay Rotary, the QBs (Quiet Birdmen), the newly formed Level Up group and, of course, the Greater Sandpoint Chamber of Commerce.
There are numerous organizations Colgrove has helped over the years, catering for non-profits such as Community Cancer Services, Bonner General Health's Heart Ball, She and her staff even helped with several Angels Over Sandpoint high teas when volunteers were a no-show.
When the Tango staff was asked why they choose to work with Colgrove, the responses were nearly the same, even from Judy's sister-in-law who has worked with her for 22 years. Comments such as: "I was a customer before I worked here, and I wanted to be a part of this wonderful team." Another said, "I wanted to work with a crew of people who were talented and fun." "She is so good to her employees and to our community" and "She has a huge heart and is such a kind person."

It's no wonder then that Tango Café was chosen as the Greater Sandpoint Chamber of Commerce's business of the month for December.
"Congratulations Judy and crew," chamber officials said in a press release. "Thank you for everything you have done and continue to do."
Recent Headlines
---