BTAA volunteers honored by chamber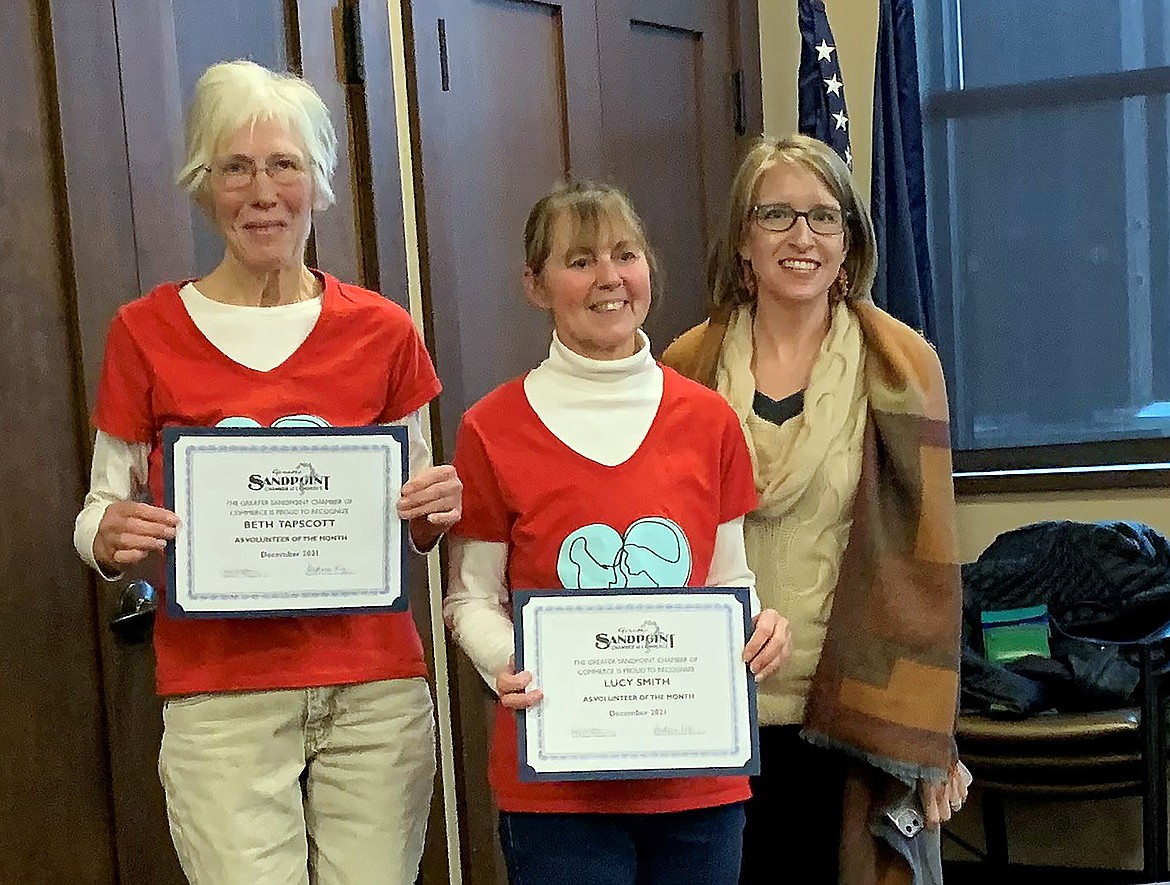 Beth Tapscott, left, and Lucy Smith, center, pose with Better Together Animal Alliance executive director Mandy Evans after the pair were honored by the Greater Sandpoint Chamber of Commerce as the organization's December volunteers of the month.
(Photo courtesy GREATER SANDPOINT CHAMBER OF COMMERCE)
by
KEELY GRAY Contributing Writer
|
January 26, 2022 1:00 AM
SANDPOINT — The Greater Sandpoint Chamber of Commerce recently honored Lucy Smith and Beth Tapscott as its December volunteers of the month.
That recognition led to the front table at the Greater Sandpoint Chamber of Commerce meeting to be filled with the animal loving staff, volunteers, and team of the Better Together Animal Alliance to honor Beth and Lucy.
With over six years of service and thousands of hours logged volunteering at BTAA, Lucy and Beth are the definition of dedication and selflessness, animal alliance officials said.
"They deserve all the accolades they receive," BTAA executive director Mandy Evans said. "I admire their dedication and heart. I think the two of them are amazing!"
She said she tries to arrive at the facility early so she can let the pair in so they can get a head start on walking, especially if there a lot of dogs.
"They want to make sure all of them have the opportunity to get some exercise … Come rain, shine, snow or sleet, they are always here at BTAA to volunteer," Evans said.
When Devin Laundrie learned Tapscott and Smith were being honored, she said the pair are the epitome of what selflessness looks like.
"I see the spirit of volunteerism inside them," Laundrie wrote about the pair. "They perform their jobs with pride, enthusiasm, kindness and love. They matter. They matter to the animals; they matter to the BTAA team and the world that they are changing one day at a time."
Recent Headlines
---