BTAA receives $2,500 Petco Love grant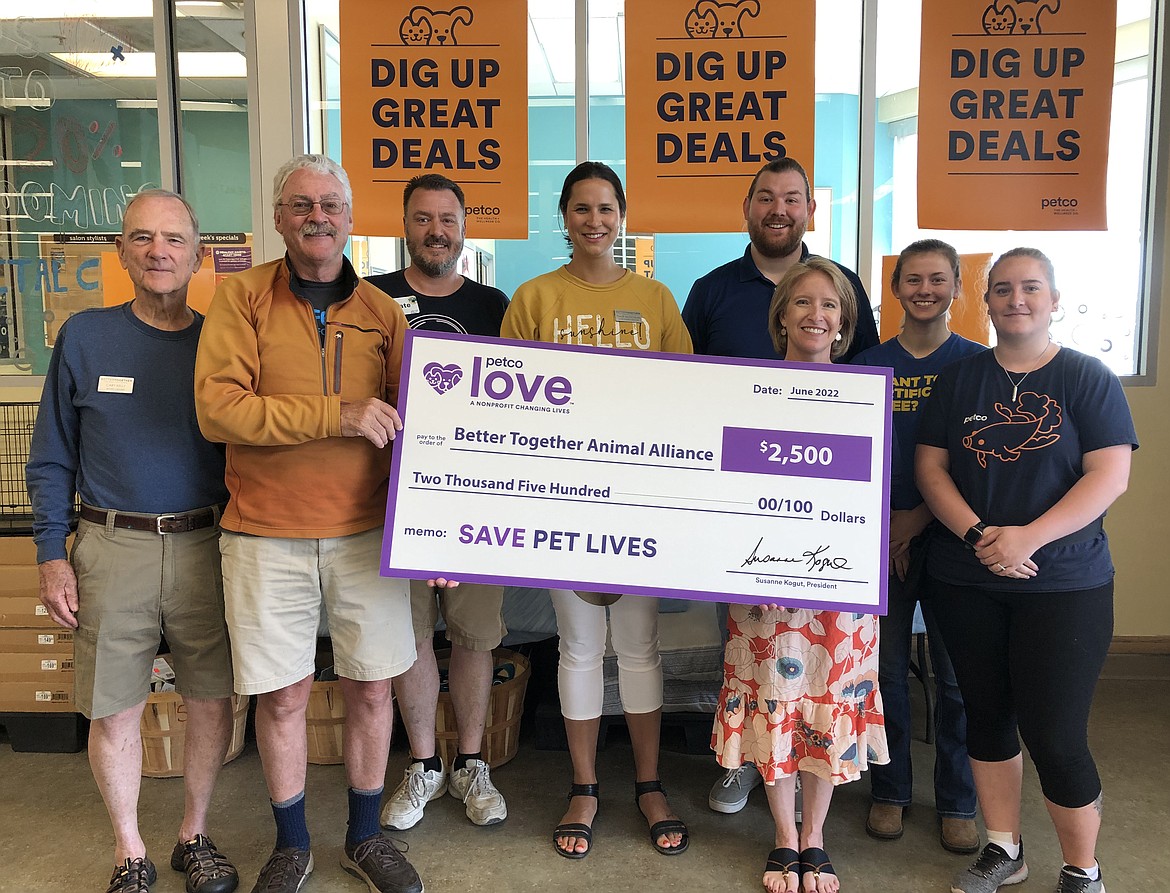 Better Together Animal Alliance officials and Petco officials gather for a photo after BTAA received a $2,500 Petco Love grant. Pictured, from left, are Cary Kelly, BTAA board member; Woody Sherwood, BTAA board member; Nathan Bartlett, Ponderay Petco store manager; Paige McGowan, BTAA development director; Joel Akins, BTAA volunteer and event coordinator; Mandy Evans, BTAA executive director; Jordie Breeden, Ponderay Petco; and McKenzy Samsee, Ponderay Petco.
(Courtesy photo)
Better Together Animal Alliance received a $2,500 grant from national nonprofit Petco Love during a special celebration at the Ponderay Petco on Thursday.
Petco Love is a national nonprofit that harnesses "the power of love" to make communities and pet families closer, stronger, and healthier. Since its founding in 1999, Petco Love has invested $330 million in adoption and other lifesaving efforts. In addition, the nonprofit helps find homes for pets in partnership with Petco and more than 4,000 organizations — like BTAA — across North America, with 6.5 million pets adopted and counting. 
"Our investment in Better Together Animal Alliance is part of more than $15 million in investments recently announced by Petco Love to power local organizations across the country as part of our commitment to create a future in which no pet is unnecessarily euthanized," Susanne Kogut, president of Petco Love, said. "Our local investments are only part of our strategy to empower animal lovers to drive lifesaving change right alongside us. We recently celebrated the one-year launch anniversary of Petco Love Lost, a national lost and found database that uses pet facial recognition technology to simplify the search for lost pets."
Mandy Evans, BTAA executive director, said the grant will help fund programs that help keep people and their pets together.
"Petco Love continues to be such an invested partner, and we're honored to accept this grant and use it to serve families in our region," Evans said.
Better Together Animal Alliance is a nonprofit organization whose mission is to create and support meaningful connections by enhancing the lives of dogs, cats, and the people who love them in Bonner, Boundary, and Kootenai counties. Programs offered by BTAA include a helpline, Pets for Life program and Home to Home, which helps people re-home pets without bringing them to an animal shelter. In 2021, the program has helped 667 pets in northern Idaho and 7,664 animals in the 100-plus shelters taking part in the program.
For more information about BTAA visit bettertogetheranimalalliance.org. Learn more about Petco Love here petcolove.org. 
Recent Headlines
---