Firefighters take rescue training to new heights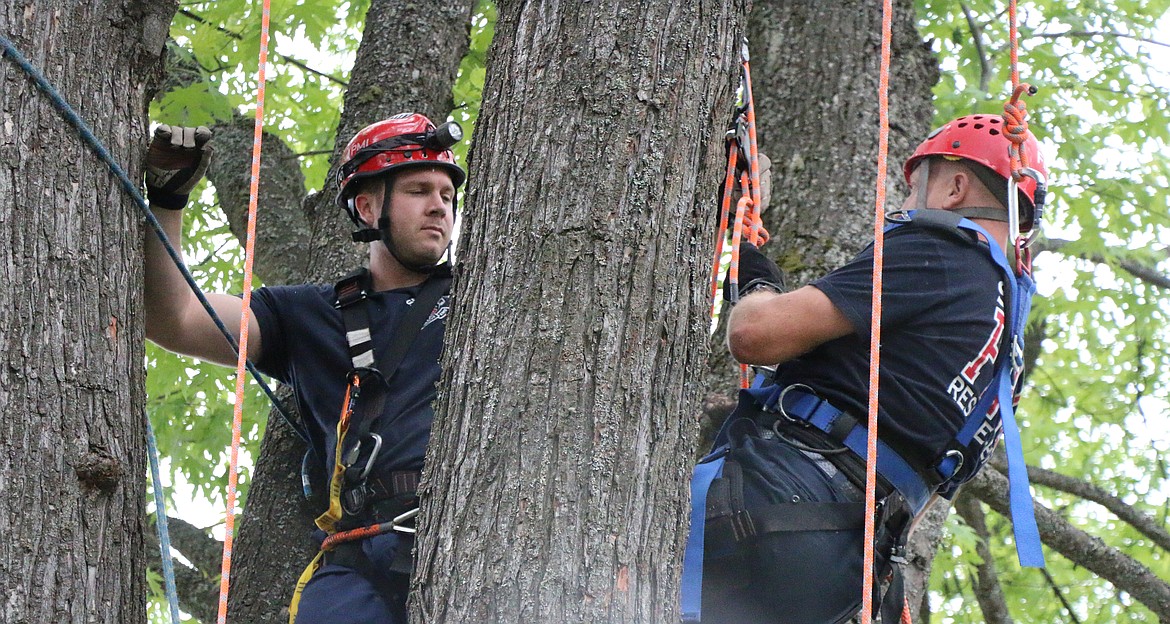 Area firefighters practice their tree rescue techniques during a mid-June training exercise.
(Photo by CAROLINE LOBSINGER)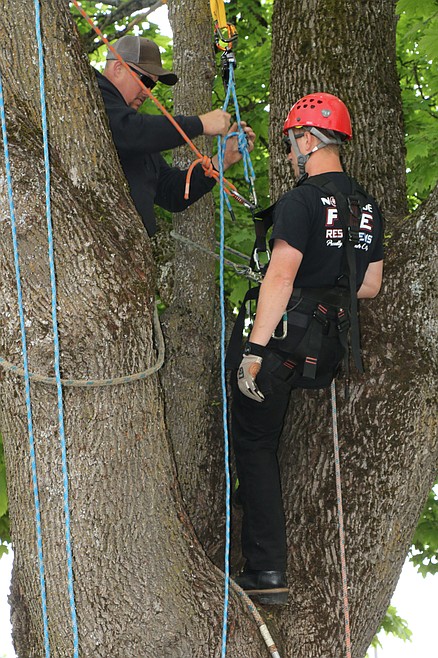 Area firefighters practice their tree rescue techniques during a mid-June training exercise.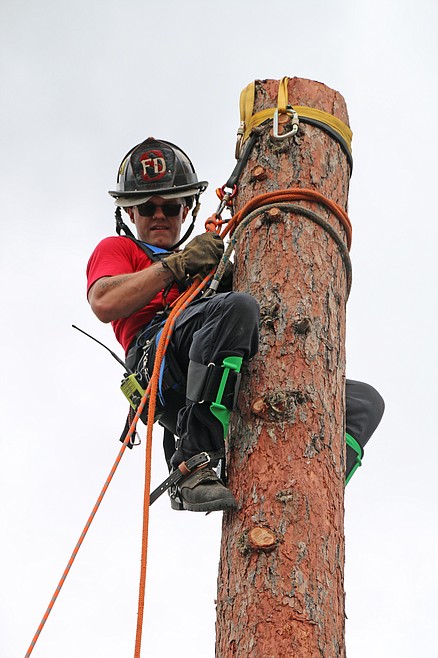 An area firefighter practices climbing a spar pole during a mid-June training exercise on tree rescues.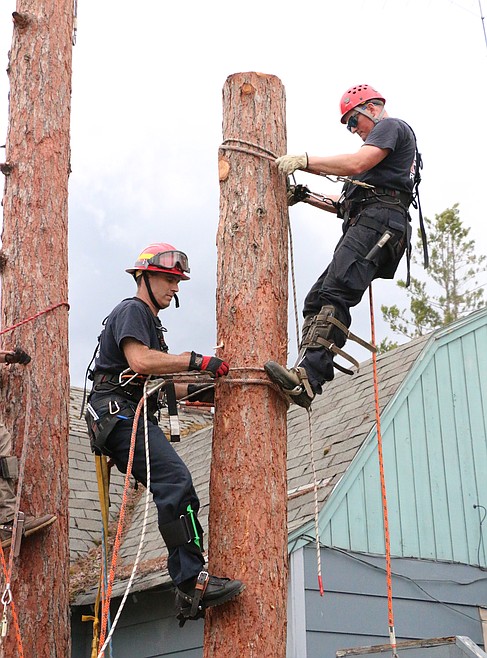 Area firefighters practice climbing a spar pole during a mid-June training exercise on tree rescues.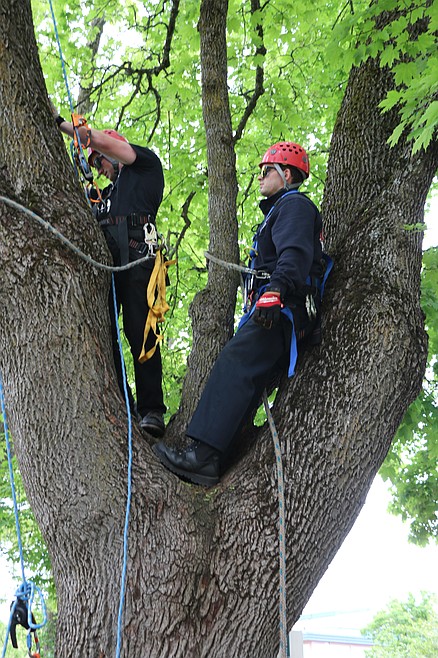 Area firefighters practice their tree rescue techniques during a mid-June training exercise.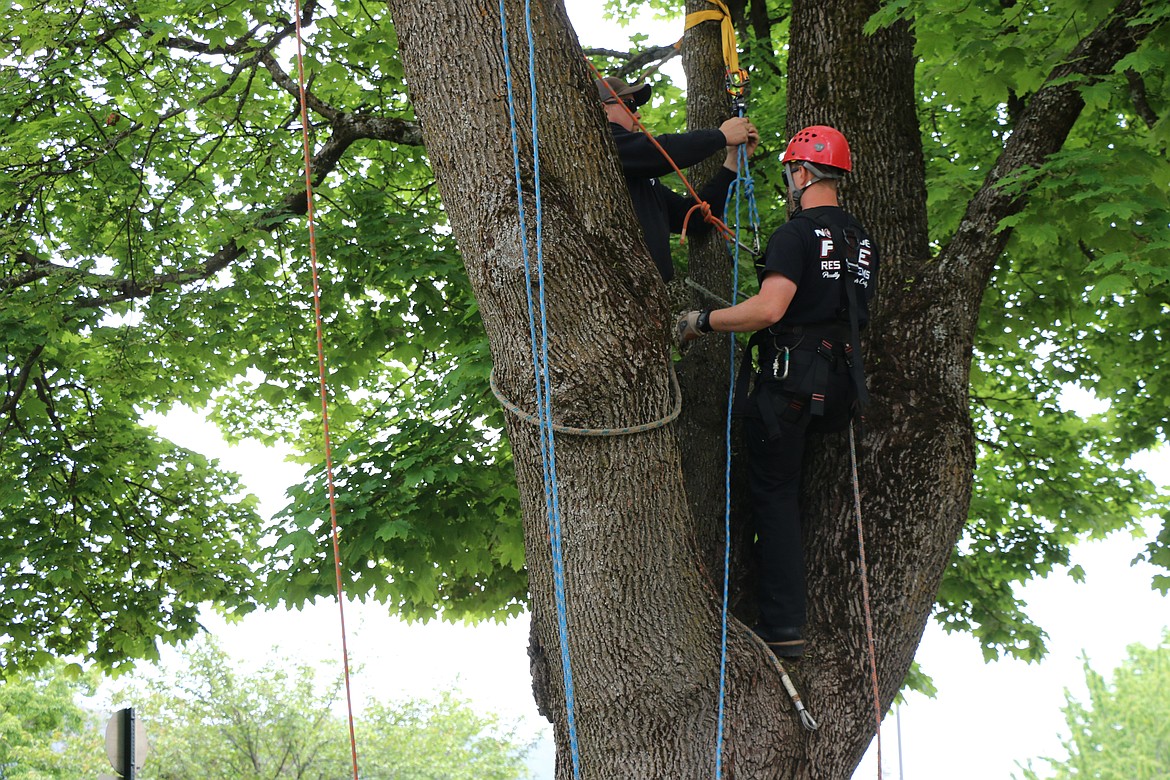 Area firefighters practice their tree rescue techniques during a mid-June training exercise.
Previous
Next
▶️ Listen to this article now.
SANDPOINT — You never know where you are going to see Selkirk Fire crews training. 
It might be off the side of a bridge or over a cliff. In mid-June, their training had them perched atop several of the majestic trees at Farmin Park.
It's all part of a continuous effort by the fire department to train for situations they hope never happen, but for which they want to be prepared in case they do. The most recent training was inspired by a situation a few years ago in which an arborist was injured at the top of a tree and unable to make his way down.
"He was all the way at the top of the tree, and was injured and couldn't get back down," Glen Cassidy, Selkirk captain and EMT, said. "Getting to him wasn't too bad, but trying to figure out how to get him down, [that was] a challenge because there's nothing above him for us to set anchors … so that we could get him into a rope system and lower him to the ground."
That inspired Cassidy to devise a tree rescue class — similar to the department's rope rescue class — to train as many firefighters as possible on how to both get up safely, but how to get themselves and their patients down safely as well.
"We taught them how to go up into a tree and help out anybody who has gotten themselves into a situation they can't get out of," Cassidy said. "Basically, how to safely get to the patient without injuring yourself. Then how to overcome obstacles that we don't normally run into to get the victim out."
In addition to practicing on the trees in Farmin Park, the firefighters also did spar pole training on the west side of Sandpoint. Training included everything from getting equipment into trees to how to set anchors in a tree high above the ground.
"Also how to get ourselves into the trees, too, because we're not arborists, we're just firefighters," Cassidy said. "So we need to learn how to use our equipment in another person's world."
While local arborist Ty Oliver of Oliver Tree Service attended the training along with a crew member so they could learn how to get themselves out of trouble, Cassidy said he also helped out. Not only did he help set up the course, Oliver taught the firefighters a few tricks on how to climb the trees. 
It's likely that when there is a tree rescue, Oliver might get a call. "He's way better at climbing trees than we are," Cassidy said, before chuckling.
The training will help firefighters rescue anyone from kids (or their parents) getting stuck in a tree to a hunter who has suffered a medical condition and is trapped in a tree stand or power line workers — or as was the case a few years ago, an arborist who's gotten hurt. Within the region, firefighters have responded to those types of calls and more.
"Instead of us not being trained, and then getting ourselves into the exact same situation where you know we get in trouble ourselves, we decided it was time to purchase some extra equipment for that situation and get ourselves trained," Cassidy said.
Toward that end, the department purchased arborist equipment — spurs, flip lines, handsaws, and more — to enable them to climb trees and poles to get to patients and get everyone to safety.
Cassidy first started climbing trees as a hobby a number of years ago, learning to limb them and bring trees down. When he's not working at the fire department, Cassidy works at Rescue Northwest, whose owner, Jim Thoen, attended the mid-June training to help teach the course. After running into several situations during his years at Spokane County Fire District 9, Thoen started researching arborist techniques that might be useful for fire and rescue crews.
The pair have also taken several tree rescue seminars held for arborists to learn what they can. They've adapted rope rescue and confined space rescue techniques as part of figuring out what works best in terms of getting into — and out of — the tree safely.
"Gasically, the biggest thing was learning how to get into the tree or on a pole," Cassidy said. "And then from there, we use our rope rescue techniques to get 'em out."
While the tree rescue class may have been one of the most visible training sessions held, it's only a small part of what firefighters and rescue crews do on a daily basis, Cassidy said.
"That's just one type of training we've done," he added. "We are at the fire department 24/7, and we train pretty much every day. We train on fire, rescue, EMS, all kinds of stuff, even stuff for ourselves, like command stuff and wildland firefighting. There's just so much that we train on."
Contrary to what some might think, Cassidy said firefighters are constantly working to help the community. They are, he added, on the go, constantly during their shifts.
"We do public education, we do building inspections to make sure that buildings are safe, holy cow, all kinds of stuff," he said.
In between running calls, fire crews pretty much work a regular job doing inspections and other duties and serving the public. During free time, fire crews often fit in training or practice what they've learned.
Training is an ongoing mission, and the fire and rescue crews are always looking for new rescue techniques and ways to address potential rescue situations.
"Our training, in our opinion, the more we can do to get better. It just makes it better for everybody else when we show up," Cassidy said. "We don't want to show up and not be able to help."
The more they practice, the more they figure out how to eliminate kinks or work through problems, the better they are when they show up during an emergency.
"We want to make sure we get there, we can get that person to safety and get them to a hospital, or get back to their family," he added.
Recent Headlines
---