State is mixed in terms of snowpack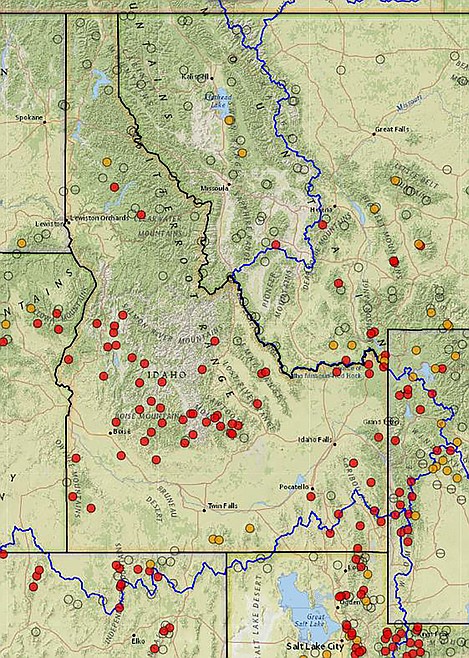 Red dots represent climate stations (SNOTEL) with record low precipitation during the Jan. 8 through April 8 period. Stations with the second lowest total precipitation are in orange.
(Graphic courtesy NATURAL RESOURCES CONSERVATION SERVICE)
by
DANIEL RADFORD
Staff Writer
|
July 3, 2022 1:00 AM
While the snowpack in northern Idaho is doing OK, overall the snowpack across the state is significantly below normal, per a joint report by the Idaho Department of Water Resources and the Natural Resources Conservation Service.
According to the Idaho Drought Update released on June 10, the 91-day period between Jan. 8 to April 8 was a record-setting low precipitation period and put Idaho on the brink of an unprecedented drought.
However, state officials said precipitation in April and May significantly improved drought conditions across southern Idaho and eliminated the drought north of Idaho County, which is located in central Idaho, just southeast of Lewiston.
In early May, state officials said the northern counties saw record amounts of snow and rain. Kootenai County received 10.1 inches of snow the month before as well as 3.22 inches of rain, nearly double the normal of 1.77 inches. The average daily temperature in the region during that time period was 42 degrees.
Data from state agencies show that northern Idaho, including much of Bonner and Shoshone counties and areas of Boundary and Kootenai counties, received above normal precipitation, place in the top 33 percent in the northwestern United States.
The five northern counties also recorded either record cold temperatures for the time period — or in the bottom 10 percent with much below normal temperatures for the northwestern United States.
"While most of southern Idaho remains in drought, the expected agricultural shortages based on April 1 forecasts have been largely ameliorated in the Weiser, Payette, and Boise basins," the June 10 update said.
"This spring, however, is not just a story of wet conditions, but also of cold conditions. The cold, wet weather has limited irrigation demand by delaying the growing season and melt of the snowpack," officials said.
Despite this, reservoir storage remains under duress, officials said.
"We still are expecting to see most of the reservoir storage utilized this summer, meaning we will likely enter next year with very little carryover in the reservoirs," they added.
Conditions are setting up a similar situation as last year, where the state needed a very healthy winter snowpack to fill reservoirs for the 2023 irrigation season. Significant shortages are still expected in the Big Wood, where the effects of drought in 2020 and 2021 water years are still impacting the basin, officials said in the report.
Recent Headlines
---