FSPW launches summer hike season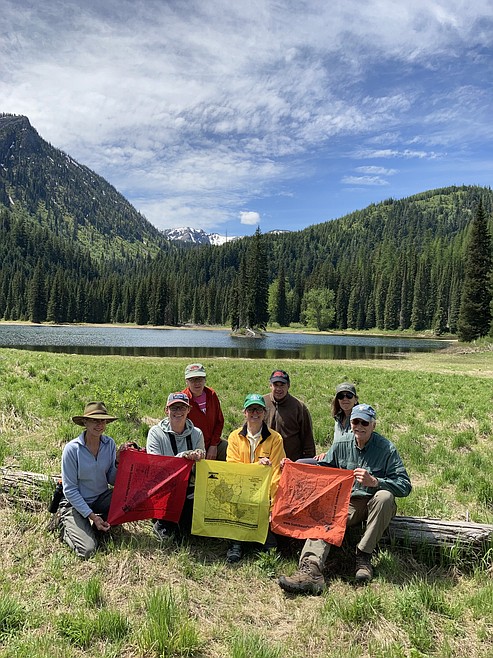 Hikers enjoy a guided FSPW hike up to Spruce Lake.
(Photo courtesy FRIENDS OF SCOTCHMAN PEAKS WILDERNESS)
The region's local trails are wild and rugged. There are endless opportunities to find solitude. Or enjoy a day with friends and family while exploring the area's shared public forests, Friends of Scotchman Peaks officials said. The Scotchman Peaks proposed wilderness area alone offers 88,000 acres to explore, most of which are seldom traveled.

"Most of us live here because we love being around and exploring truly wild country," Brooke Bolin, FSPW outreach coordinator, said. "But getting familiar with our local trails alone can be an overwhelming feat. And the general lack of trail signs and maps doesn't make things easier."
To ensure more people have the chance to get outside safely, the Friends of Scotchman Peaks Wilderness host a slew of free guided hikes every summer. There are hikes for both beginner and experienced hikers. All hikes are led by knowledgeable volunteers who have a passion for introducing others to the wonders of our local trails.
"Every hike is a chance to connect with neighbors and connect with our wild backyard," Bolin said. "We offer a variety of unique experiences outdoors so that we can provide an adventure for anyone and everyone in our community."
For example, The Friends will be hosting a writing workshop in the Ross Creek Cedars on Sunday, July 17. This hiking and writing event will be free and open to anyone with an open mind to creative writing and spending a day in the forest.
Other hikes offer the opportunity to learn about local forests. Volunteer hike leader, Juli Thurston, will be leading a hike all about foraging for edible food in August.
"I spend my free time getting kids and adults outside because I personally have benefitted so much from our local wild lands," said Juli Thurston, volunteer hike leader. "I want to make sure everyone else in our community can experience that same joy, peace and exhilaration the Scotchmans offer."
To view the full summer hiking schedule and sign up to join the Friends, go online to ScotchmanPeaks.org/hikes-events-schedule.
Recent Headlines
---