AHWF works to rehabilitate injured animals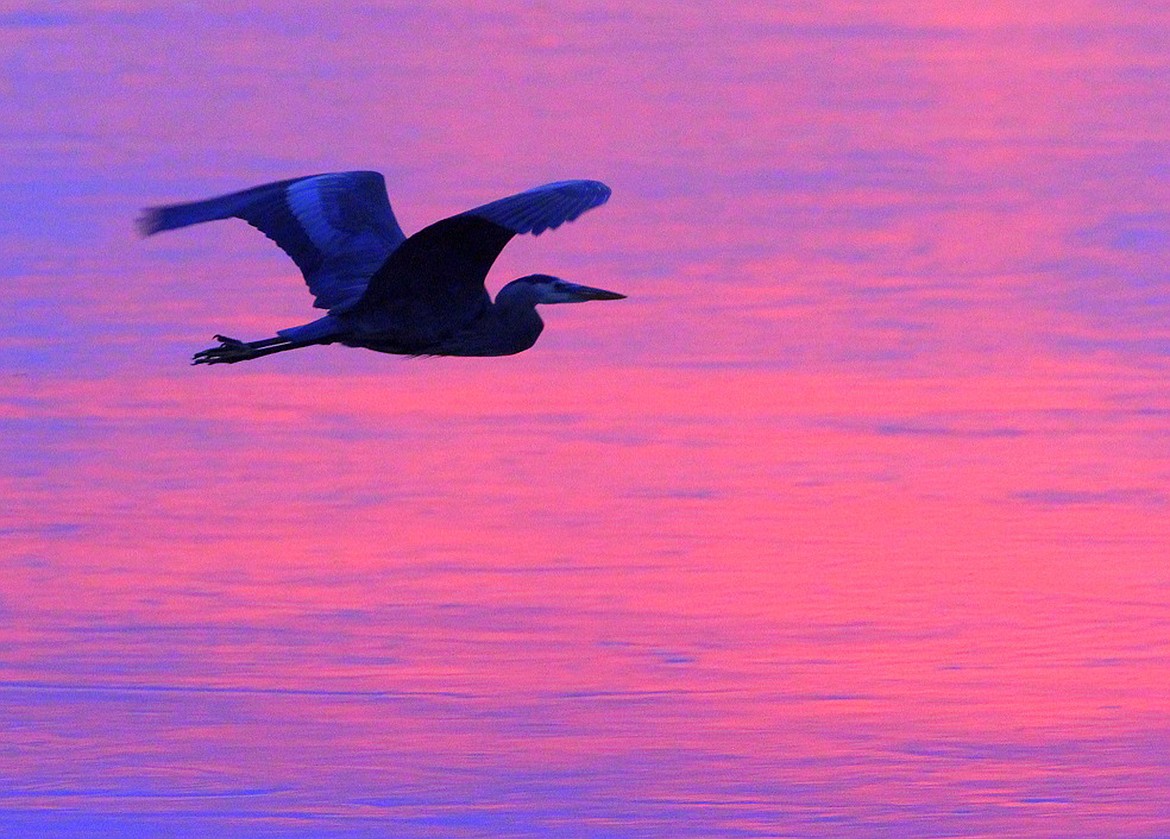 (Photo courtesy Seb Jones/AMERICAN HERITAGE WILDLIFE FOUNDATION) A great blue heron flies over the lake a sunset. Over the years, American Heritage Wildlife Foundation staff have treated two great blue herons.
by
DANIEL RADFORD
Staff Writer
|
July 14, 2022 1:00 AM
CLARK FORK — For over 20 years, Kathleen St. Clair has fought on behalf of the area's wildlife.
St. Clair began her journey as a wildlife advocate in the 1990s, when she worked at the then-new animal shelter. Due to her experience as a zookeeper, all calls about wild animals would be directed to her.
"That's when I realized there's no support for wildlife here," she said. "The closest place was the zoo in Spokane."
So, in 2001, St. Clair began the American Heritage Wildlife Foundation, a 501(c)3 dedicated to wildlife rehabilitation and public education. "They don't teach this in schools, so it falls to us," she said.
Due to the overwhelming demand for their expertise, St. Clair and her volunteers have been overwhelmed in recent years. "We are on the frontlines of new trends. [WIldlife rehabilitators] see the new parasites, viruses, bacteria [infecting wild animals] before anyone else."
These trends have been compounded by climate change in recent years. "Last summer was crazy. These animals aren't used to triple digit heat. This is North Idaho. It should be in the 80s," St. Clair said.
"We used to put in about 2,500 to 3,000 volunteer hours and receive about 200 calls a year, lately we've been getting about 400 calls a year and putting in 4,000 hours," said St. Clair, who also works five days a week at a local grocery store.
St. Clair is having to reassess their operations, as they have already had to significantly ration care. She will be considering shutting down over the winter, depending on how this summer goes.
"The most common calls are the 'my dog brought me this' or the 'my cat is playing with this,'" she said.
Most calls come in the summer months, with about 20 calls received during the winter.
AHWF is community-funded and volunteer-run. "We don't get funding from the federal, state, or county governments," St. Clair said.
Idaho Fish & Game are concerned primarily with sport-related species, leaving a significant gap for St. Clair and her volunteers to fill in.
"One of the issues we deal with the most is inadvertent kidnapping. [Residents] may find a wild animal and have a tender heart and try to save them," she said. "They think 'oh I can do this myself' and find a blog online, but when they don't get better they find us."
St. Clair said the ongoing development in the county poses challenges for area wildlife. "They are clearing habitats, ignoring dens," she said. "We encourage them to reconnect, reunite, and renest if possible. There are two types of people. Some are adamant that all [wild] animals be removed from their property."
People are either careful or careless, St. Clair said.

St. Clair has written several books about her experience as a wildlife rehabilitator. Her seventh book deals with "the apathetic versus the empathetic." Twelve of her books are sold on Lulu.com under Mrs. McGhee.
"It's part of our fundraising," she said. In addition to her personal experiences, she has also written and illustrated a few children's books.
She has also signed up for several benefit programs, from Amazon Smiles to eBay charity works and more.
There are several ways to support AHWF. On the nonprofit's website they have yearly and monthly sponsorship options, their Amazon Wishlist for needed items, and a sign-up form for interested volunteers.
"It's the animals that bring people here. It's the wildness that brings people here, but no one teaches them to keep it that way," St. Clair said.
A useful mnemonic device on their website for carefully living around wild animals is their same acronym "AHWF."
• Always be aware of the animals normally in your area.
• Hesitate before approaching any wild animal.
• Watch for signs of distress.
• Follow the appropriate steps.
If you find a wild animal that is out of place or in distress, St. Clair urges you to call the AHWF at 208-266-1488. "A wild animal is not a do-it-yourself project," the AHWF voicemail says.
Information: AHWF.org, 208-266-1488
Recent Headlines
---