For the love of PRIDE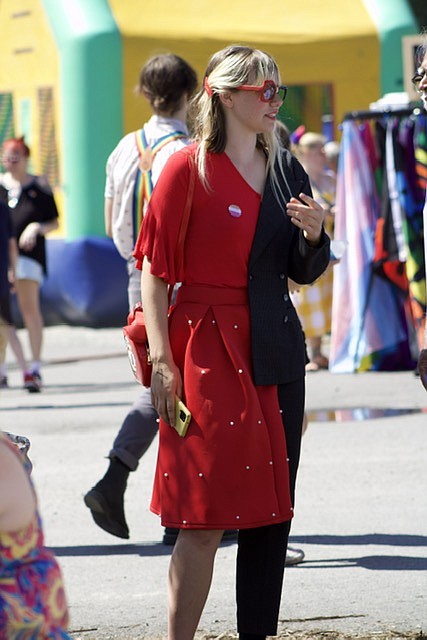 Pride Festival 2022
(Photo by BEAUX WHITE EAGLE)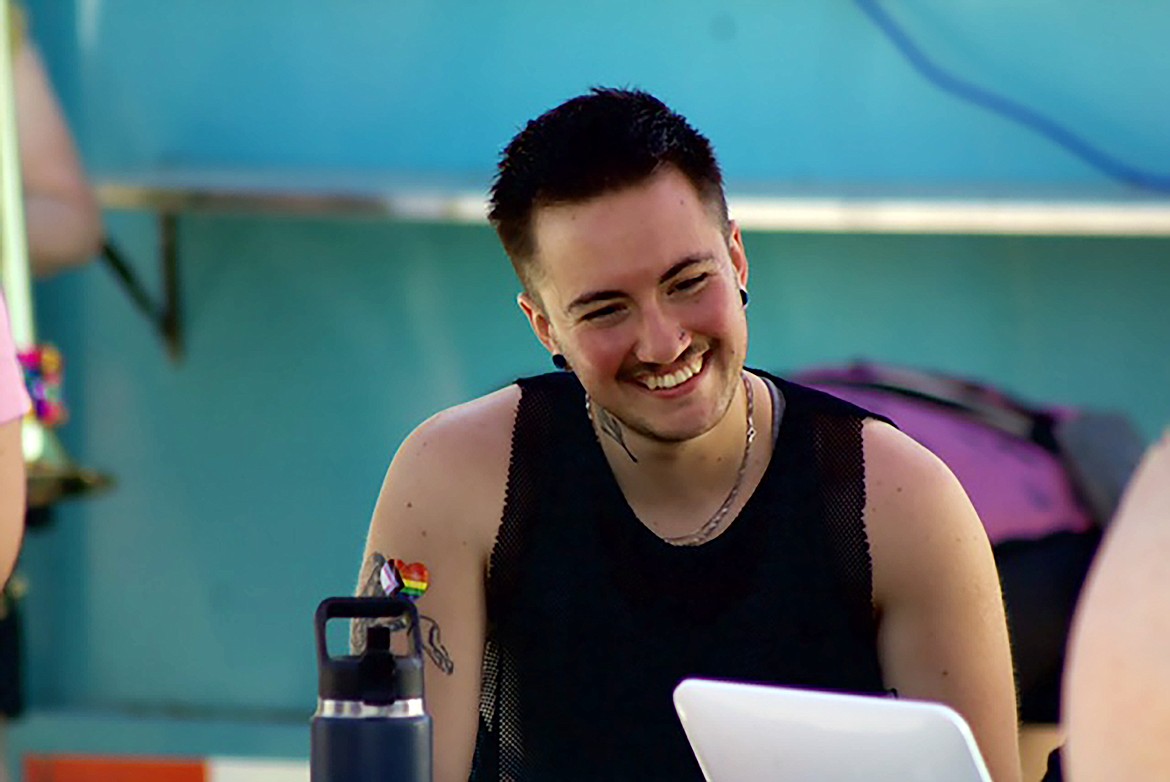 The Granary District became the grounds of celebration and honor with the second annual PRIDE Festival.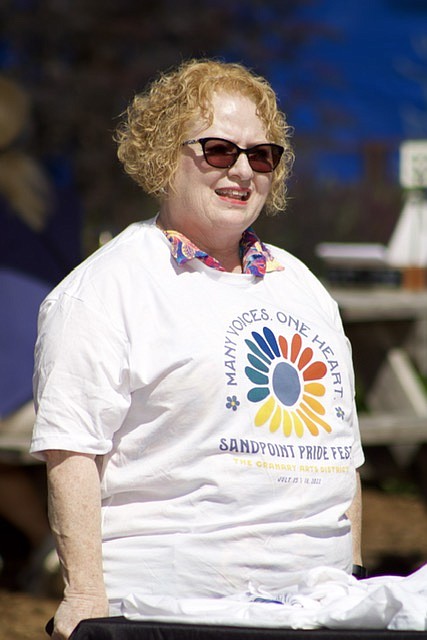 Chamber of Commerce CEO Kate McAlister could be seen sporting a PRIDE t-shirt during the event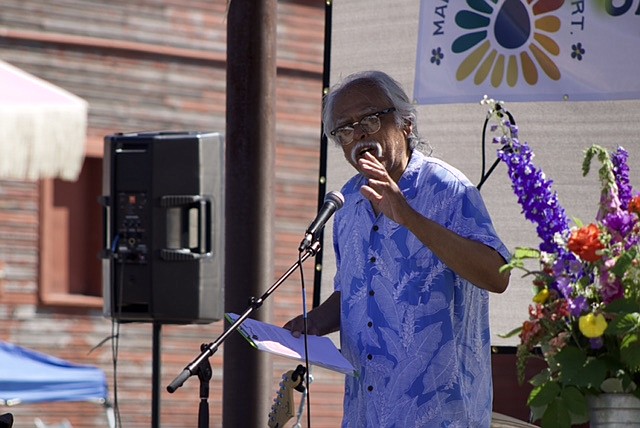 Adrian Murillo speaks to more than 50 gathered at the beiging of PRIDE festival 2022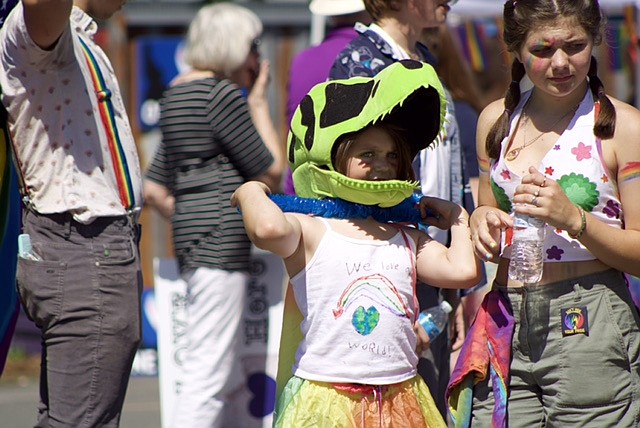 Pride festival 2022 was an event that allowed anyone to express pride in many ways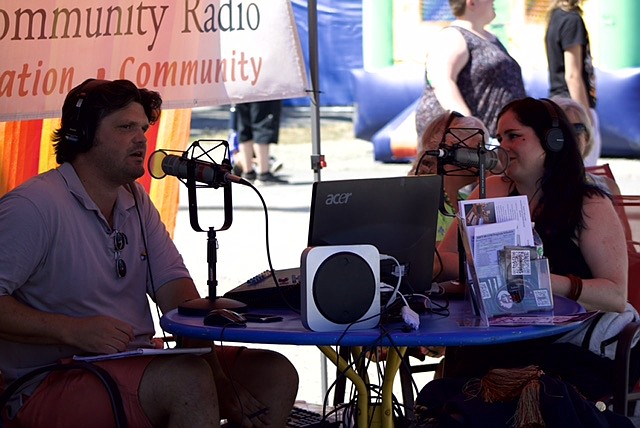 Community radio was live at PRIDE 2022 held in the Granary District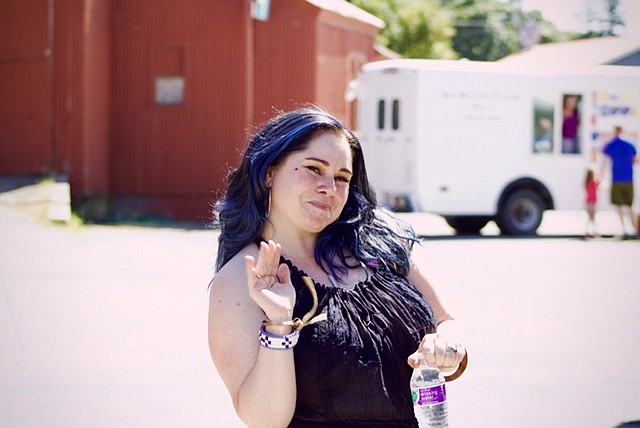 ACLU Idaho Digital communication specialist Les Hutchinson Campos poses during the second Annual Pride Festival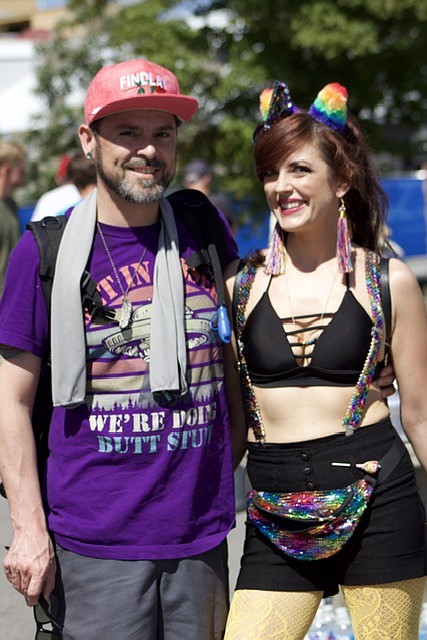 Couple poses at PRIDE Festival 2022 in the Granary Art District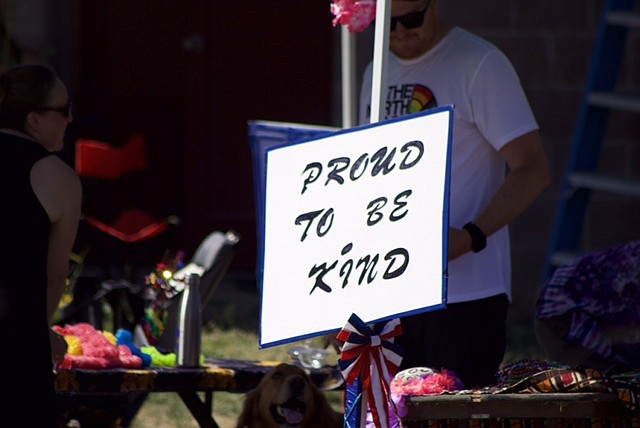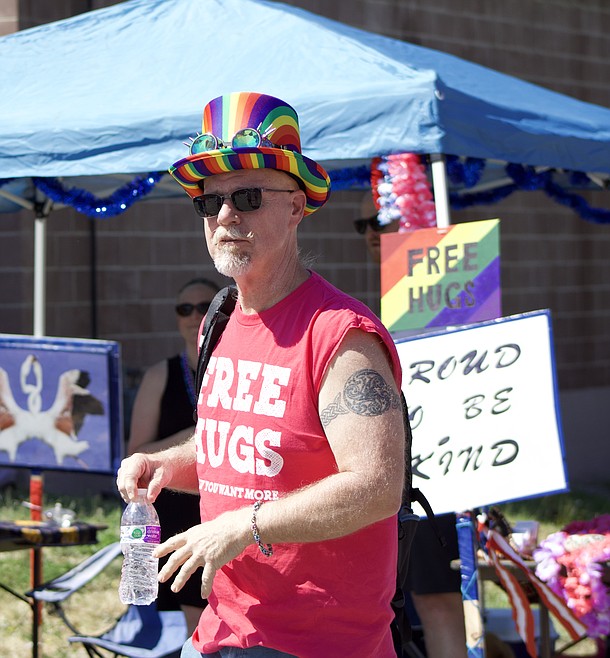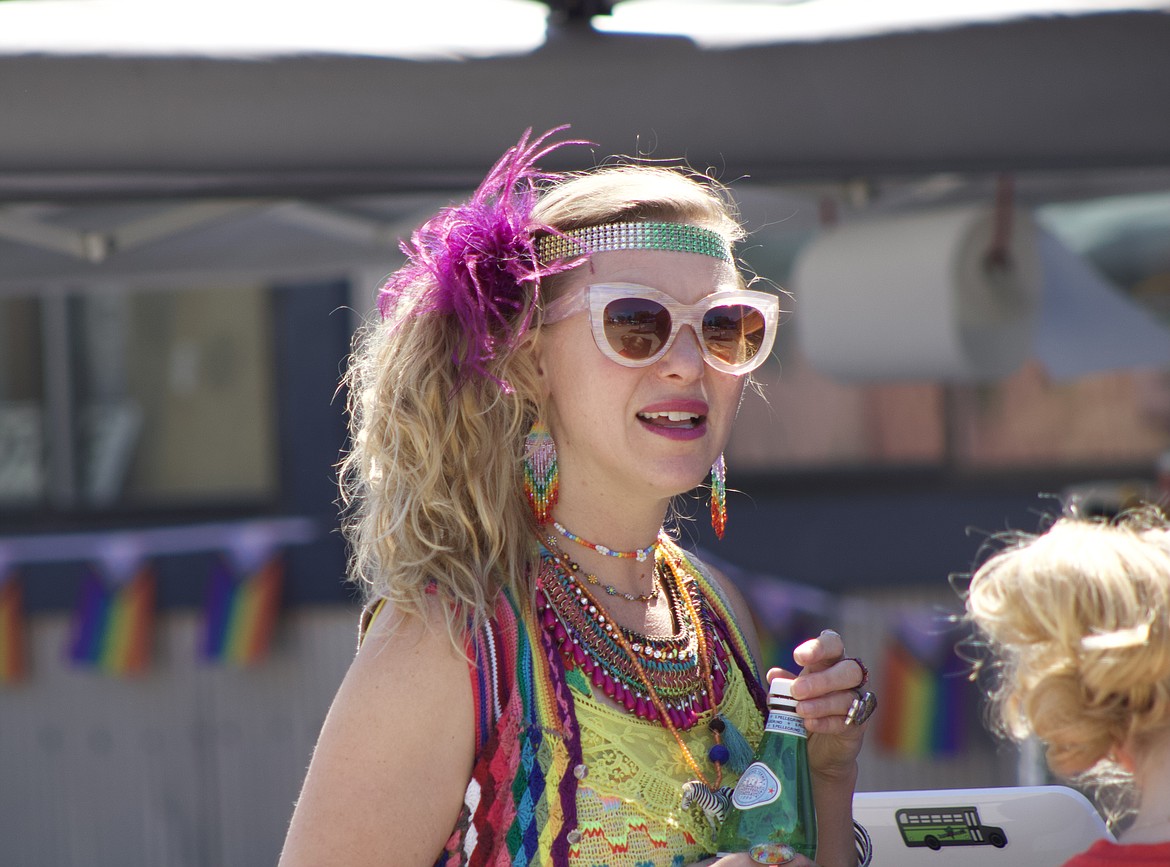 Previous
Next
SANDPOINT – The Granary District became the grounds of celebration and honor with the second annual PRIDE Festival.
The event, held between Matchwood Brewing and Evans Brothers Coffee, followed 2021's inaugural event for what PFLAG Sandpoint president called a "celebration of Pride." That sentiment was echoed at this year's event with the many speeches given throughout the day.
When Pride planning committee co-chair Adrian Murillo took the stage, he told the audience that Pride is more than celebrating love birthed from unconventional relationships. Murillo said the Pride Festival celebrates the history, strength, advocacy, and accomplishments of the LGBTQIA+ community. He said the celebration marks a time when all can come together to further strengthen and perpetuate a message that has seen the overturning of laws and enactment of others —- equality.
"We're here to inspire engagement and support for the ongoing movement to secure the rights, freedom, and safety of queer and trans people. When we come together like this, we build and strengthen our resilience. And we hold a vision and intention of creating a community of resilience, a culture of resilience," Murillo said. "We are here to affirm the beauty, dignity, and equality of LGBTQ-Two Spirit people."
While his opening speech was centered on strength and endurance, Murillo "got realistic for a moment," reminding the audience of why the LGBTQIA+ community has had to be so strong.
"Resilience will not eliminate our regrets, sorrow in grief, the grief of the losses we have endured and which accumulate in this day and age," Murillo said.
Murillo's words could remind those of the grief that has been caused by targeted violence against those identifying as or allied with the LGBTQIA+ movement. The grief that has been felt when their lives are taken. From the case of arson that claimed the lives of 32 individuals in a New Orleans gay bar in 1973 to the 2016 shooting in a Florida gay club that claimed the lives of more than 50.
Both a testament to how far this movement has come in furthering the acceptance of how far is left to go, Murillo's speech gave way to a roar of support applause, and shouts from more than 50 gathered at the start of the event.
Kate McAlister, Greater Sandpoint Chamber of Commerce CEO, furthered the testament of how far the equality movement has come when she told the audience that Sandpoint was the first city to enact an ordinance that prevents discrimination namely based on gender or sexual orientation. McAlister said this was actually one of the proudest moments in her long-standing career. She said she remembered getting the phone call from then-Mayor Gretchen Heller asking her to speak about the ordinance. Thinking she would be speaking with a panel of other people, McAlister said "yes." She said this ordinance and the opportunity to speak about it were important to her because of her ongoing advocacy for the LGBTQI+ community.
McAlister said that, throughout her life in one way or another, someone she has cared for has belonged to this community and who they have never bothered her but instead inspired her to speak up and speak out.
"I have been an ally for as long as I can remember. In the early '70s, in high school, my best friend, when we were taking a walk, said, 'Hey, I just need you to know something. I'm gay.' And I stopped for a minute. And I said, "So can we still be friends?" McAlister recalled.
As the day and the speeches continued, more Pride accomplishments could be heard. In a speech given by Less Hutchinson Campos, ACLU of Idaho digital communications specialist told the audience how again Sandpoint has led Idaho in progressive measures by having a Pride festival.
As someone who identifies as non-binary, uses they/them pronouns, and is a parent to two trans children, Campos said it is always a concern if and where they and their family will be accepted. They said that they chose to dress in feminine presenting clothes rather than the masculine aesthetic that they are most comfortable in because of this fear. They thanked the volunteers and the planning committee for creating a space where that is not a worry.
"Now I realize I could have been the grandpa-dad that I really am. And I just want to shout out to all of you for making that possible in Idaho when I wasn't sure it would be," Campos said.
More pride in accomplishment echoed as ACLU Idaho attorney Lauren Bramwell took the stage and spoke about her part in the effort to kill HB 675, a bill that would deny trans youth accessibility to gender-affirming care. Bramwell told the audience of the many policies the ACLU is currently working against and that days like Pride are a step in the right direction.
Bramwell furthered the message that resilience and action can enact change. Change that would be needed to see changes in issues such as racial inequality and reproductive health.
"Let today be an homage to the revolutionary black, brown, indigenous trans, and queer changemakers," Bramwell said "These fights, y'all, they're not going away. But together, we can continue to show up for one another. We can show up for one another in the statehouse, in the courts, in the streets at the polls, and demand better from those who are in power. And we won't stop fighting till everyone's free,"
The Pride Festival featured many other celebrations with musical performances, a drag show, a dance party, and many advocacy booths. Those who came could be seen embracing the day from rainbow suspenders to makeup and outfits that highlight specific groups within the LGBTQIA+ community such as wearing purple, pink, and blue to support the bisexual community or white pink, and blue to honor the transgender community.
The sounds of laughter, music and advocacy were more than enough to drown out the sounds of one lonely protester outside the event at the beginning of the day.
Recent Headlines
---