Vilsack: National forest management must improve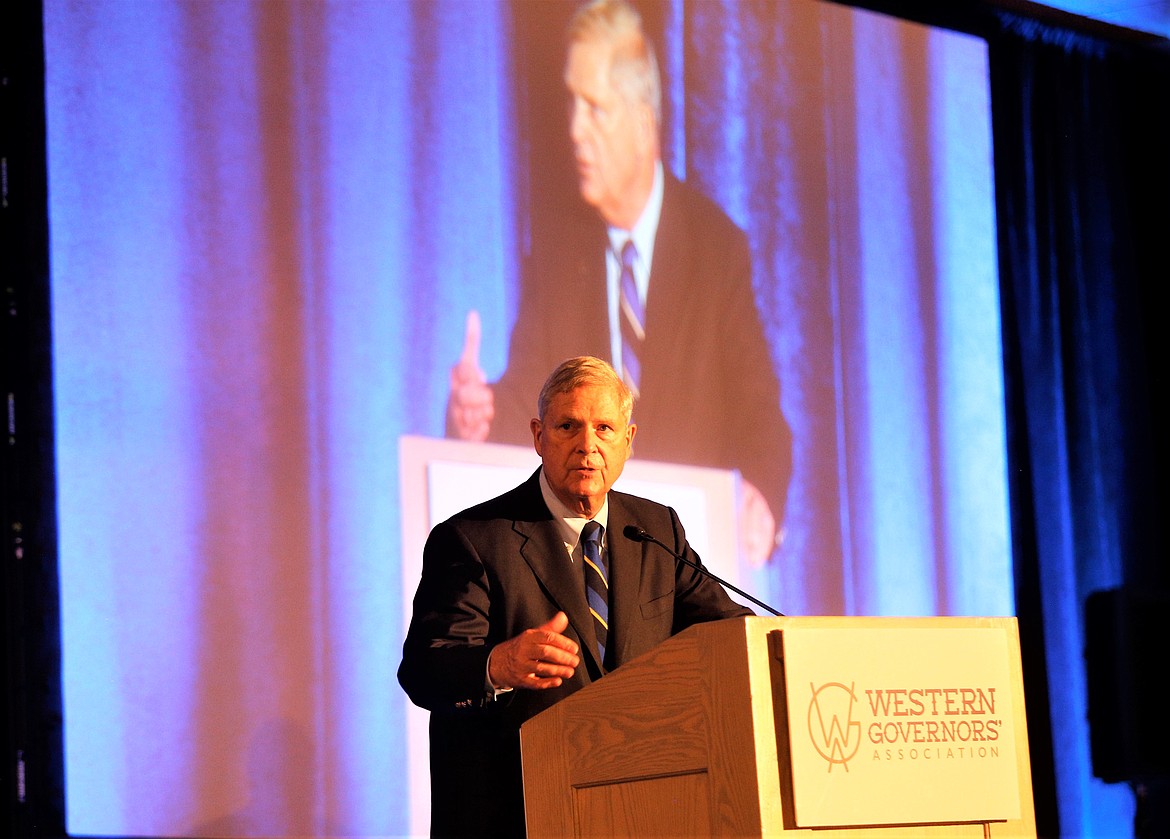 Tom Vilsack, Secretary of Agriculture, speaks during the Western Governors' Association meeting at The Coeur d'Alene Resort on Tuesday.
BILL BULEY/Press
by
BILL BULEY
Hagadone News Network
|
July 30, 2022 1:00 AM
COEUR d'ALENE — The death of a Post Falls man who died in a helicopter crash while fighting a fire was cited as motivation for federal and state governments to do all they can to minimize forest fires.
Tom Vilsack, Secretary of Agriculture, said the loss of 41-year-old Thomas Hayes of Post Falls and 36-year-old Jared Bird of Anchorage "emphasizes the important work that we have to do to try to reduce the risk of wildfire.
"It's obviously a very tragic circumstance and situation and I just want you to know our thoughts and prayers will continue to be with the families of those who have been lost," he said.
Vilsack spoke Tuesday during the Western Governors Association meeting at The Coeur d'Alene Resort on challenges facing western communities and how states and the federal government can work together to improve the lives of residents.
The two pilots were in a CH-47D Series "Chinook" helicopter when it crashed Thursday in the Salmon River near the town of Salmon. The military veterans were employees of the Anchorage-based ROTAK, which owned the aircraft and was contracted to help fight the Moose Fire burning about 21 miles north of Salmon.
While Vilsack touched on education, school nutrition, the creation of regional business centers and more than $1 billion to provide more access to high-speed internet, much of his 12-minute talk focused on forests.
"We owe it to the western governors, to those who live, work and raise their families in the western part of the United States, to do what we can to reduce the risk of these catastrophic fires, and it starts obviously, with doing a better job of managing our national forests," he said.
And that requires a strategy and the resources to reduce hazardous fuel buildup, "so that at the end of the day, we're in a better position to avoid the loss of life or loss of property and to provide greater opportunities for those who enjoy our forests."
He said the federal government plans to invest hundreds of millions of dollars in 10 priority landscapes that have been identified, and more such landscapes will be announced.
He said they also need to recruit and retain more firefighters for the Forest Service.
"We know that your economy is dependent in large part on the recreational activities and opportunities in our forests," Vilsack said.
He added they are looking for ways to include those recreational opportunities in over 500 projects being funded by the Great American Outdoors Act.
Vilsack said the Department of Agriculture recognizes the importance of finding innovative ways to use the wood being removed from forests, and to bring back an opportunity for more milling.
He cited sustainable aviation fuel and cross-laminated timber as possibilities for expanded economic opportunity associated with forests.
"Our goal is to be good stewards," Vilsack said.
He said they are offering financial incentives, too, in search of "cutting-edge" proposals.
The Department of Agriculture put a billion dollars on the table and challenged agriculture and forestry leaders "to give us ideas and thoughts about how they could use that to create climate, smart, agricultural and forestry products."
More than 1,050 applications were submitted, requesting nearly $20 billion of resources from the U.S. Department of Agriculture
"It's everything that I think the folks in the West benefit and recognize," Vilsack said. "It's an opportunity for us to put agriculture and forestry at the front of this effort to combat climate change."
"We're excited about the opportunities that the West will play," he said.
Recent Headlines
---