Carmen Jane named opener for Lindsey Stirling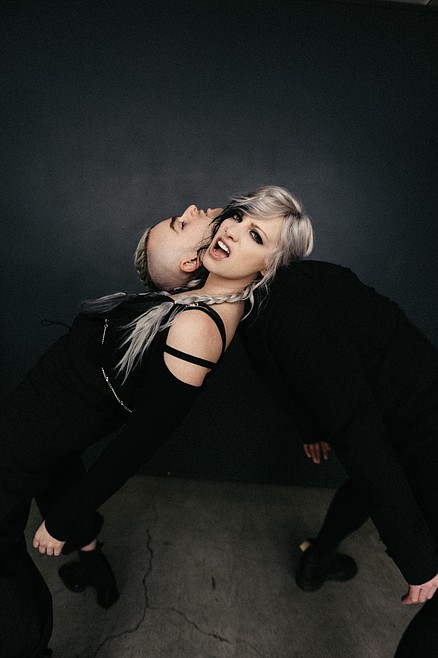 Dark pop duo, Carmen Jane and Benn Suede will kick off the evening at The Festival at Sandpoint's Lindsey Stirling concert on Saturday, Aug. 6.
(Photo courtesy FESTIVAL AT SANDPOINT)
The dark pop duo, Carmen Jane and Benn Suede will kick off the evening at The Festival at Sandpoint's Lindsey Stirling concert on Saturday, Aug. 6.
Carmen Jane is an American vocalist/instrumentalist/vocal engineer and songwriter. This Pacific Northwest musician, although immersed in music her entire life, only discovered herself as an artist over the last few years. Her sound and lyrics born from the stories of her personal journey of grief, introspection and raw reaction.
The second half of the duo consists of Bennett "Benn Suede," a producer/songwriter/vocalist/musician and engineer from the Pacific Northwest. Benn is a multi-faceted force as a creative/executive producer and a jack of all trades. Having a Billboard top 10 album under his belt as well as having toured nationally and internationally make their partnership one for the ages.
Together Carmen Jane and Benn Suede, have been diligently working on a novel, genre-bent album, breaking stereotypes of the general/expected sound of today. Their music forces you to dig deep and connect to the edge that's inside all of us. It is recognizably described as dark pop with a longing and ache that portrays an abrasive battle between classic and contemporary.
Carmen's voice draws you in, forcing you to hear every word that falls from her mouth. The soundscape is captivating, cinematic and digestible in its many facets. The kind of music that leaves you wanting more. The rise of their confidence and willful desire to stand on the precipice of what's expected, will surely bewilder and awe those who are familiar with her previous work as well as those that come to stumble upon her continued transformation for the first time.
Headlining the evening will be world renowned violinist and performer Lindsey Stirling.
Since the release of Lindsey Stirling's 2012 self-titled debut, the electronic music impresario, violinist, dancer, and artist quietly and humbly became one of the 21st century's most innovative stars by clinging to her groundbreaking vision of cinematic violin-driven electronic music. Known for her mesmerizing stage presence, powerful performance, and incredible control, fans from around the world travel to watch Stirling's concerts. After bowing at No. 2 on the Billboard Top 200 and No. 1 on the dance/electronic album chart, holding No. 1 on the classical album chart for 21 consecutive weeks, and receiving a Billboard Music Award for "Top Dance/Electronic Album," Stirling's sophomore opus "Shatter Me" would not only garner an RIAA Gold certification, but two Billboard music awards.
General admission tickets are $59.95 (before fees and taxes). The gates open at 6 p.m. with music starting at 7:30 p.m.
For more information and tickets, go online to festivalatsandpoint.com or email info@festivalatsandpoint.com.
Recent Headlines
---