MCS celebrates Little Carnegie Concert Hall's debut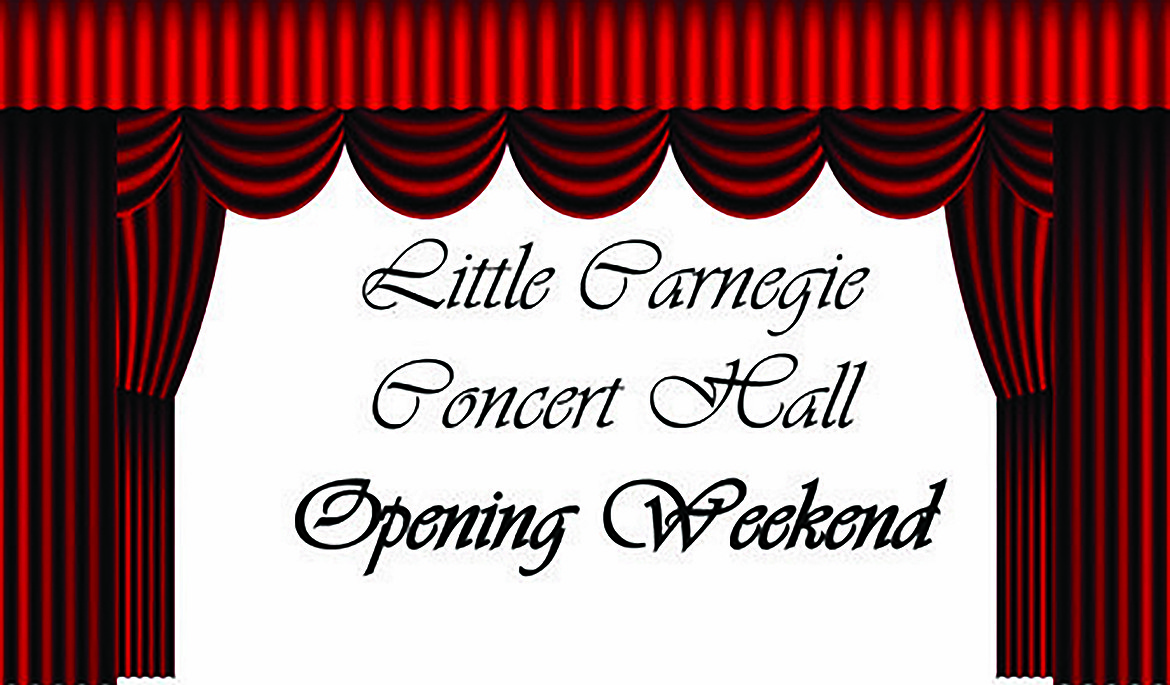 The Little Carnegie Concert Hall is ready to make its debut.
"We are building the stage of dreams—in stages," Wedemeyer said of the realization of a long-held vision of nurturing a vibrant culture of culture in the community. "We invite the community to participate, so that our students can dream up their musical future in Little Carnegie."
The new performance space at Music Conservatory of Sandpoint enhances the performing experience for students, teachers, and the community while complementing local history at the conservatory, a regionally renowned school of performing arts. North Idaho will have the opportunity to experience and enjoy the new concert hall in action with a bountiful grand opening weekend of public events over the first weekend of June, MCS officials said in announcing the project's completion.
Little Carnegie adorns the ground floor at MCs, 110 Main St., within a historical building that houses more than 11,000 square feet of teaching studios and rehearsal rooms. MCS officials said the spaces support private music study as well as a wide variety of groups including youth choirs, orchestra, contemporary ensembles, and handbell and percussion troupes. The new 90-seat concert hall is acoustically optimized to showcase musical talent from around the region, nation, and world.
"The resonant yet intimate performance space is designed to inspire future generations of musicians while engaging the public with fabulous performances," MCS officials said.
MCS faculty and students, joined by local performing artists, present the premiere public performance of Little Carnegie on Friday, June 3, with a grand opening gala event: "Evening in Madrid." The evening starts at 6 p.m. with a ribbon-cutting ceremony.
Concert doors open at 7 p.m. to reveal the new concert hall to ticket-holding concertgoers. The evening's feature presentation begins at 8 p.m. with a sumptuous, one-night-only concert showcasing a wide variety of Spanish classical music. Limited premium indoor seating is available. Concert tickets are $55 and include a cava toast to the new hall; a selection of superb, curated Spanish wines will be available for purchase.
For those willing to enjoy the concert from outdoors in their own chair, the historical firehouse doors will open to Second Avenue, with lawn-style street seating available free of charge for as many as can be accommodated. Silk shimmers, street performers, and caricature artists will be on hand to celebrate this historic event. Jalapeño's will offer Spanish-themed street-side food vending before and during the event, including piping hot churros and fresh sangria. The festivities will truly create an evening to remember!
Continuing the concert hall celebration into the weekend is a free Saturday Market Concert at 11 a.m. hosted by MCS, followed by an artist exhibit at 3 p.m. hosted by Pend Oreille Arts Council. The market concert presents standouts from the conservatory's spring semester classes and performances, followed by the Little Carnegie debut of the MCS Rock Ensemble.
Saturday evening, the conservatory's 2022 Honors Showcase presents top MCS students at the top of their game. Singers, flutists, pianists, and violinists will take the stage, their music resounding through the new performance space. The concert begins at 7 p.m., with a dessert reception immediately following. All tickets are $10 and available online or at the door.
On Sunday at 1 p.m., Heather Upton, curator of Bonner County Historical Museum, offers a free public discourse on historic figures and happenings at 110 Main St., commemorating the former home of Sandpoint City Hall and Fire Station. This talk is sponsored by the Idaho Humanities Council.
At 2 p.m., the concert hall returns to action with the conservatory's Music Matters! Firehouse Concert. This performance is free to the public and is likely to fill to standing room only. Weather permitting, firehouse doors will open to take the music into the streets.
Sunday evening brings MCS's beloved annual spring serenade fundraiser, showcasing the incredible talents of conservatory faculty in an intimate classical music setting. Following the performance, ticket-holders are invited to linger in the hall and enjoy a reception with savory edibles. The firehouse doors will be closed for this 7 p.m. event, so seating is limited. Adult tickets are $25 and youth are $5.
"All events not only exhibit Little Carnegie Concert Hall in action for our community, but also serve to raise funds for student scholarships and conservatory operations," MCS officials said.
Friday and Sunday evening performances feature a no-host wine bar, and an onsite silent auction will run over the weekend.
MCS students, faculty, and staff have utilized rehearsal rooms and learning resources in the downtown Main Street location since fall 2010. The grand opening of Little Carnegie will have a significant impact on the conservatory's many music ensembles, as well as provide ample space for early childhood programming and the first dedicated rehearsal space for the Youth Orchestra and Musical Theater in the school's 12-year history.
Wedemeyer said the historic renovation is made possible through the generosity of community partners, the Confidence Foundation, Idaho Forest Group, Idaho Pain Clinic, Idaho Heritage Trust, STCU, and Ting, plus private support. Its design and construction team included Architecture 311.5, Seven Bee Interiors, and Winterhawk Construction, among others.
Information: sandpointconservatory.org.
Recent Headlines
---